A Brief History of Georgia Women US House Nominees
In 2018, as many women were nominated for the U.S. House in Georgia by major parties as in each of the last five cycles combined
This is the fifth in a series of reports tracking women winning major party nominations to the House of Representatives in 2018. The first four reports featured Nebraska, Idaho, Virginia, and New Mexico.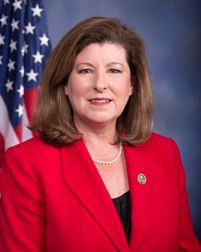 Georgia Democrats nominated two more women to the U.S. House in primary runoffs last week when activist Lucy McBath defeated businessman Ken Abel in the 6th CD and Georgia State professor Carolyn Bourdeaux narrowly beat businessman David Kim in the 7th CD.
Joining Bryan County Democratic Chair Lisa Ring in the 1st, registered nurse Tabitha Johnson-Green in the 10th, and freshman GOP congresswoman Karen Handel (pictured) in the 6th, the Peach State will have five major party women nominees for the U.S. House in the 2018 cycle – tied for the most in Georgia history.
By contrast, only five women were nominated out of the 117 nominations made by the two parties across the previous five cycles from 2008 to 2016.
Democrats and Republicans fielded nominees for 26 of the 28 major party slots on the ballot across the state's 14 congressional districts this cycle (92.3 percent) – the largest percentage in more than a decade (25 of 26 in 2006, 96.1 percent).
Women have now been nominated to the office a total of 42 times by major parties in general and special elections including at least one during 14 of the last 15 cycles since 1992 (all but 2014).
The 37 nominees prior to the 2018 cycle were victorious 14 times (37.8 percent):
1940 (8th CD, special): Democrat Florence Gibbs ran unopposed to fill the seat after the death of her husband, freshman Willis Gibbs
1946 (5th CD, special): Democratic state legislator Helen Mankin defeated more than a dozen candidates in the special election to fill the seat caused by the resignation of nine-term Democrat Robert Ramspeck
1954, 1956, 1958, 1960 (8th CD): Democratic state Senator Iris Blitch narrowly defeated four-term Democrat Don Wheeler in the 1954 primary and won election to four terms through the 1960 cycle
1992, 1994 (11th CD), 1996, 1998, 2000, 2004 (4th CD): Democratic state Representative Cynthia McKinney won the newly formed 11th CD after reapportionment in 1992. McKinney won a third term in the newly drawn 4th CD in 1996 and reelection victories against Republican U.S. Marine Corps veteran Sunny Warren in 1998 and 2000. McKinney won back her seat in 2004 with a 27.5-point win over human resources manager Catherine Davis.
2002 (4th CD): Democratic state court Judge Denise Majette defeated McKinney in the primary by 16.6 points and rolled to a 54.1-point win against former schoolteacher Cynthia Van Auken that November
2017 (7th CD, special): Former Georgia Republican Secretary of State Karen Handel eked out a 3.6-point win over Jon Osoff to fill the seat caused by the resignation of Tom Price to join Donald Trump's cabinet
The 1940 cycle saw the first two women nominated for the office in Georgia – the aforementioned Florence Gibbs who won October 1940's special and Mrs. J. Ben Warren – a Republican from Monticello.
Warren won less than two-dozen votes (0.1 percent) against 14-term congressman Carl Vinson.
In July 1946, despite winning the popular vote by 10.3 points with a majority 51.5 percent, Representative Helen Mankin lost her renomination bid to Superior Court Judge James Davis due to the county unit system that was still in effect in Georgia primaries that favored rural areas.
Mankin ran a general election write-in campaign that November and won 38.3 percent, but lost by 23.4 points.
Following congresswoman Blitch's retirement in 1962, no women were nominated to the U.S. House from Georgia for seven straight cycles until Republican Louise Wofford – a housewife from Gainesville – in 1976's open 9th CD race.
Wofford won 20.9 percent in a 58.1-point loss to attorney Ed Jenkins.
Just two women won nominations through the next seven cycles.
State Senator Virginia Shapard was nominated in 1978's six-candidate 6th CD Democratic primary field (that included Betty Talmadge, ex-wife of U.S. Senator Herman Talmadge).
Shapard faced educator Newt Gingrich in his third attempt at winning the seat. Shapard came up 8.8-points short that November in what would be Gingrich's second closest electoral victory during his congressional career.
In 1986's open seat race in the 5th CD, Republican journalist Portia Scott was nominated in a primary runoff but lost by 50.6 points to famed civil rights leader John Lewis.
Over the last quarter-century, more than a dozen other women nominees have lost in November:
1992 (1st CD): Democratic school principal Barbara Christmas by 15.7 points in an open seat race to state legislator Jack Kingston
1992 (4th CD): Democratic state Senator Cathey Steinberg by 1.1 points in an open seat race to former state Representative John Linder
1996 (1st CD): Democrat Rosemary Kaszans by 36.4 points to two-term congressman Jack Kingston
1998 (10th CD): Democratic Baptist minister Denise Freeman by 19.2 points to two-term congressman Charlie Norwood
2000 (1st CD): Democratic attorney Joyce Griggs by 38.3 points to four-term congressman Jack Kingston
2000 (3rd CD): Democratic McDonough City Council member Gail Notti by 27.0 points to four-term U.S. Representative Mac Collins
2000 (10th CD): Democrat Denise Freeman by 26.6 points in a rematch against three-term U.S. Representative Charlie Norwood
2004 (8th CD): Democratic businesswoman Silvia Delamar by 51.1 points in an open seat race to state Representative Lynn Westmoreland
2006 (4th CD): Republican 2004 nominee Catherine Davis by 24.6 points to DeKalb County Commissioner Hank Johnson
2006 (13th CD) Republican physician D. Ann Honeycutt by 38.5 points to two-term congressman David Scott
2008 (13th CD) Republican D. Ann Honeycutt by 38.1 points in a rematch against three-term congressman David Scott
2012 (1st CD): Democratic businesswoman Lesli Messenger by 26.0 points to 10-term congressman Jack Kingston
2010 (4th CD): Republican businesswoman Liz Carter by 49.3 points to two-term congressman Hank Johnson
2016 (3rd CD): Democrat Angela Pendley by 36.7 points in an open seat race to West Point Mayor Drew Ferguson
2016 (12th CD): Democratic freelance journalist Tricia Carpenter McCracken by 23.2 points to freshman Rick Allen
The 2018 6th CD race between Rep. Handel and Lucy McBath is the fifth matchup between two major party women nominees.
The five women nominated in 2018 ties the high water mark previously set in 2000 when congresswoman McKinney, Joyce Griggs, Gail Notti, Sunny Warren, and Denise Freeman all appeared on the general election ballot. Three women were nominated in 1992, 1998, and 2004.
Follow Smart Politics on Twitter.