Kobach vs. Colyer Nail-Biter Is Closest Gubernatorial Primary in Kansas History
The less than 0.1-point lead currently held by Kobach over Colyer ranks as the closest race among the 88 major party gubernatorial primaries in state history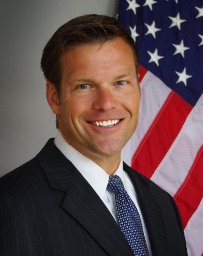 The fierce GOP gubernatorial nomination battle in Kansas ended up even closer than expected on Tuesday with Secretary of State Kris Kobach (pictured) holding a lead over Governor Jeff Colyer by just dozens of votes with some absentee and provisional ballots still to be counted and a recount likely on the horizon.
The eventual winner will move on to the general election to face state senator and Democratic nominee Laura Kelly who coasted to a 30+-point victory.
Kobach received 40.6 percent of the vote – but the fact that whichever GOP candidate escapes with a win in the coming days will do so with a plurality is not unusual in the annals of Kansas political history.
Over the 44 cycles during which gubernatorial primaries have been held in the state since 1910, the Republican nominee has emerged with a plurality in 17 of them (38.6 percent). Nine of these did so with less than 40 percent of the vote.
But the headline coming out of Kansas was the razor-thin margin between the incumbent governor and the two-term secretary of state – the likes of which Kansans had never seen.
A Smart Politics analysis finds that the less than 0.1-point margin between Kris Kobach and Jeff Colyer stands as the narrowest victory margin across the 88 Republican and Democratic gubernatorial primaries held in Kansas since 1910.
Including the 2018 cycle, more than one-third of Republican gubernatorial primaries have been decided by single digits – 15 of 44 (34.1 percent) – with Democrats hosting seven primaries decided by less than 10 points.
Of the nearly two-dozen competitive major party primaries, just two others were decided by less than a percentage point:
1956 (Democratic): 1954 nominee George Docking eked out a 0.6-point primary victory against former Governor and three-time nominee (1930, 1932, 1946) Harry Woodring in a head-to-head contest
1974 (Republican): State Senator Robert Bennett defeated Hugoton attorney Don Concannon by 0.3 points in a four-candidate field which stood for the next 44 years as the most closely-decided major party primary for governor in the state
Ten other Democratic and Republican primaries were decided by less than five points:
1926 (Democratic): Former embattled Governor Jonathan Davis defeated Anthony attorney Donald Muir by 1.0 point
1928 (Democratic): Former U.S. Representative Chauncey Little beat Wellington attorney and former state legislator Ed Hackney by 3.6 points
1942 (Republican): Kansas Corporation Commission Chair Andrew Schoeppel beat Lieutenant Governor Carl Friend by 4.7 points
1924 (Republican): Lieutenant Governor Ben Paulen beat Public Utilities Commission member Clyde Reed by 3.5 points
1960 (Republican): State Attorney General John Anderson defeated newspaper publisher Huck Boyd by 4.3 points
1964 (Republican): Five-term U.S. Representative William Avery ended Huck Boyd's second attempt at winning the GOP nomination with a 3.7-point victory
1968 (Republican): Restaurant owner Rick Harman edged Lieutenant Governor John Crutcher by 1.8 points
1982 (Republican): Wichita businessman Sam Hardage beat former Lieutenant Governor Dave Owen by 3.0 points
1990 (Republican): Governor Mike Hayden survived a scare from real estate executive Nestor Weigand with a 2.4-point win
1990 (Democratic): Five-term Treasurer Joan Finney beat former two-term Governor John Carlin by 1.1 points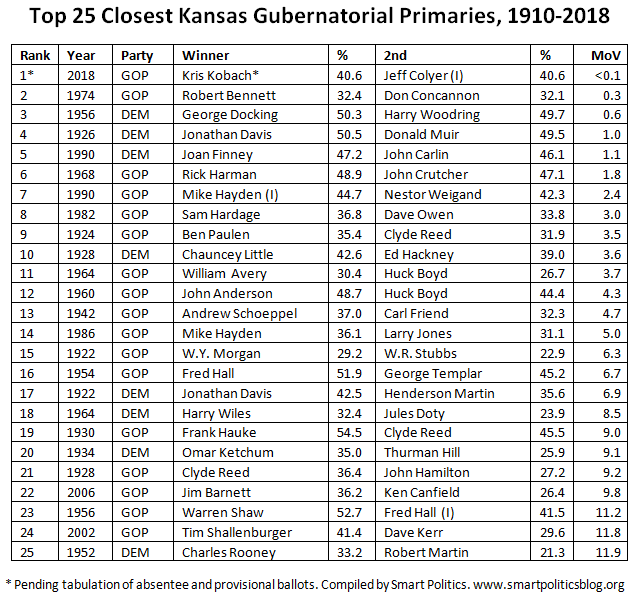 The average victory margin in the 44 GOP primaries has been 34.7 points with Democratic races decided by an average of 51.7 points.
The seven candidates on the Republican primary ballot in 2018 is one shy of the state's all-time high water mark of eight set in 1964's aforementioned open seat race between Congressman William Avery and newspaper publisher Huck Boyd.
The GOP also had seven primary candidates for governor in 1922 (won by former Lieutenant Governor W.Y. Morgan) and 1986 (state House Speaker Mike Hayden).
The five Democratic candidates was also the second highest number of primary hopefuls behind the six who ran in 1934 (won by Topeka Mayor Omar Ketchum) and 1964 (Kansas Corporation Commission member Harry Wiles). Five candidates also ran in 1952 (won by Topeka attorney Charles Rooney) and 1994 (Congressman Jim Slattery).
The Republican primaries for governor in Kansas have usually not had a problem attracting multiple gubernatorial hopefuls with only five of the 44 nominees since 1910 winning the GOP nomination uncontested. Each nominee has faced at least one opponent during the last 22 cycles since 1954.
Republican newspaper publisher Arthur Capper (1914, 1916), McPherson farmer and publisher Will West (1936), Governor Andrew Schoeppel (1944), and Governor Edward Arn (1952) are the only candidates who faced no opposition en route to the general election.
Democrats, meanwhile, have run uncontested nominees in 14 cycles including four in a row prior to 2018 and 11 of the last 19 since 1958.
Follow Smart Politics on Twitter.