Dodson Attempts to End Undefeated Renomination Streak By Wyoming US Senators
Incumbents have won all 29 nomination bids during Wyoming's direct primary era with no challenger winning 30 percent; Barrasso has drawn more challengers in 2018 than any Wyoming senator in history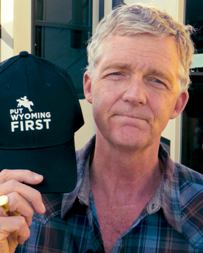 While Wyoming is one of the few states where Democrats are not expected to be competitive in U.S. Senate races this November, a political novice has put the Cowboy State on the map for its primary on Tuesday.
Businessman Dave Dodson, who was endorsed by the Casper Star-Tribune editorial board this weekend, is hoping to add two-term U.S. Senator John Barrasso's name to the list of incumbents who have lost their party's nomination in the 2010s.
Dodson initially launched his 2018 bid as an independent in February before switching to seek the GOP nomination at the 11th hour in May.
To be sure, Barrasso's campaign has a substantial funding advantage of millions of dollars, but all signs point to Dodson – at the very least – holding the incumbent to the worst primary showing by a senator from either party in state history.
Overall, Wyoming U.S. Senators running for reelection are a perfect 29 for 29 in renomination bids in the direct primary era. [The state's primary law was enacted in 1917].
Republicans in the upper legislative chamber are 17-0 when seeking another term while Democrats have won all twelve such nomination attempts.
Incumbents who coasted to their party's nomination are Republican Francis Warren (1918, 1924), Democrat John Kendrick (1922, 1928), Democrat Joseph O'Mahoney (1934 – special, 1934, 1940, 1946, 1952), Republican Robert Carey (1936), Democrat Harry Schwartz (1942), Republican Edward Robertson (1948), Republican Frank Barrett (1958), Democrat J.J. Hickey (1962 – special), Democrat Gale McGee (1964, 1970, 1976), Republican Clifford Hansen (1972), Republican Malcolm Wallop (1982, 1988), Republican Alan Simpson (1984, 1990), Republican Craig Thomas (2000, 2006), Republican Mike Enzi (2002, 2008, 2014), and Barrasso (2008 – special, 2012).
And coasted they have.
For starters, Wyoming U.S. Senators never even had to face a single primary challenger during 18 of these 29 bids.
During the 11 cycles with a contested primary, the lowest support given to an incumbent senator was the 72.4 percent recorded by Republican Robert Carey in 1936.
Carey defeated Glenrock rancher A.F. Brubaker by 44.8 points in the two-candidate race. Brubaker's 27.6 percent is the all-time high water mark for a primary challenger to a sitting Wyoming senator.
No other Republican U.S. Senator from Wyoming has received less than 80 percent of the vote in a primary and Democrat Gale McGee is the only other incumbent to fall short of that mark – though just barely. Senator McGee received 79.6 percent winning renomination to a third term in 1970 against attorney and state Senator Mike Svilar.
Wyoming is currently one of just eight states in which U.S. Senators seeking reelection have never lost their party's nomination in the direct election era along with Hawaii, Kentucky, Massachusetts, New Mexico, Rhode Island, Vermont, and Washington.
Dodson is one of five challengers inspired to take on Barrasso this cycle – the most candidates ever to launch a primary campaign against a sitting Wyoming U.S. Senator.
Dodson is joined on the GOP primary ballot by 2014 Democratic nominee and former Roman Catholic priest Charlie Hardy, retired U.S. Air Force veteran and judge John Holtz of Laramie, Cheyenne sales associate Anthony Van Risseghem, and California's Rocky De La Fuente who has appeared on multiple state ballots in U.S. Senate primaries this cycle.
Prior to 2018, the most primary challengers to a sitting senator in the state was four – two-term GOPer Malcolm Wallop faced four opponents in 1988 as did three-term Republican Mike Enzi in 2014.
Across the country, five U.S. Senators have failed to win their party's nomination so far this decade: Pennsylvania Democrat Arlen Specter (2010) and Republicans Lisa Murkowski of Alaska (2010), Bob Bennett of Utah (2010), Dick Lugar of Indiana (2012), and Luther Strange of Alabama (2017).
Follow Smart Politics on Twitter.