Evers vs Walker: Wisconsin Poised for Yet Another Tight Gubernatorial Race
Wisconsin is one of four states to see each of its last five gubernatorial elections decided by single digits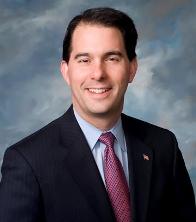 Scott Walker suffered through an embarrassingly short-lived 2016 presidential campaign and now, three years later in a bid for reelection, the Wisconsin Republican is hoping his incumbency advantage will be enough to stave off incoming national Democratic headwinds in his race with Tony Evers – another officeholder who has won election to statewide office three times.
All signs indicate the Evers vs Walker contest should be a tight, competitive affair – something Badger State voters are quite used to in recent cycles.
Wisconsin enters the 2018 race having hosted a competitive gubernatorial election for five consecutive races, which is tied for the second longest streak in the nation.
Each of Wisconsin's last five elections for governor have been decided by single-digits: Democratic Attorney General Jim Doyle by 3.7 points against Governor Scott McCallum in 2002, Doyle by 7.4 points over Congressman Mark Green in 2006, Walker by 5.8 points against Milwaukee Mayor Tom Barrett in 2010, Walker by 6.8 points over Barrett in 2012's recall election, and Walker by 5.7 points over businesswoman Mary Burke in 2014.
Only three other states are in the midst of an equal or greater streak when it comes to competitive gubernatorial contests.
Rhode Island has done so for the last six cycles:
1994: Republican attorney Lincoln Almond by 3.8 points over state Senator Myrth York
1998: Governor Almond by 8.8 points against York in a rematch
2002: Republican businessman Don Carcieri by 9.5 points over York
2006: Carcieri by 2.0 points over Lieutenant Governor Charles Fogarty
2010: Independent and U.S. Senator Lincoln Chafee by 2.5 points over Republican businessman John Robitaille
2014: Democratic Treasurer Gina Raimondo by 4.5 points over Cranston Mayor Allan Fung
Two states are tied with Wisconsin with five in a row: neighboring Minnesota (1998-2014) and Oregon (2002-2016).
Maine and Washington have hosted four consecutive gubernatorial races decided by single digits with Florida and West Virginia at three and Connecticut, Illinois, Indiana, Massachusetts, Montana, New Hampshire, Pennsylvania, Vermont, and Virginia with two in a row.
Overall, the last gubernatorial election in 26 states was decided by single digits (Alaska, Colorado, Georgia, Kansas, Kentucky, Maryland, Michigan, Missouri, and North Carolina also doing so in their last respective contest for the office).
By contrast, victory margins were in single digits in the most recent U.S. Senate elections in just 11 states: Alabama, Colorado, Florida, Indiana, Missouri, Nevada, New Hampshire, North Carolina, Pennsylvania, Virginia, and Wisconsin.
That makes sense, of course, as candidates can run for state office slightly more immune from the partisan infections that plague national politics.
However, the 2018 battle in Wisconsin between Evers and Walker will have to be a bona fide nail-biter to come close to gaining the status as the most competitive gubernatorial race in state history.
To date, four of Wisconsin's gubernatorial races since statehood have been decided by less than one percentage point:
1857: Republican Alexander Randall, a former independent Democratic state assemblyman, defeated Milwaukee Mayor James Cross by 0.5 points
1875: Republican Milwaukee Mayor Harrison Ludington beat Governor William Taylor by 0.5 points
1940: Republican Governor Julius Heil defeated former Progressive Attorney General Orland Loomis by 0.9 points
1962: Democratic Attorney General John Reynolds beat former GOP state party Chairman Philip Kuehn by 0.9 points
[Note: The state's 1855 contest was originally won by Democratic Governor William Barstow by 0.2 points (157 votes) over state Senator Coles Bashford, but the Supreme Court eventually ruled Bashford the winner by more than 1,000 votes].
In total, 38 of the state's 74 elections for governor have been decided by single digits (51.4 percent) with a record nine in a row held between 1954 and 1970.
Follow Smart Politics on Twitter.