What Will the GOP's US Senate Electoral Record Be Under Trump?
Democrats have to defend plenty more competitive seats this cycle, but a bad November for Republicans could write them into the history books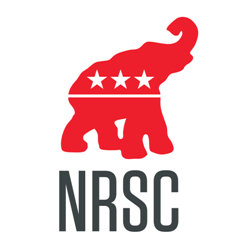 With the political environment still pointing to notable Democratic gains in gubernatorial and U.S. House elections around the country this November (as well as scores of state legislative seats), the big question mark revolves around the battle for control of the U.S. Senate: will a GOP-favored electoral map prevent the Democratic caucus from netting two seats and gaining a majority?
Most of the 10 Democratic incumbents running in states won by Donald Trump appear to have the advantage in their respective November matchups including Debbie Stabenow (Michigan), Tammy Baldwin (Wisconsin), Bob Casey (Pennsylvania), Sherrod Brown (Ohio), Joe Donnelly (Indiana), Joe Manchin (West Virginia), and Jon Tester (Montana).
But as Republicans try to pick off seats from a shrinking pool that still includes Claire McCaskill (Missouri), Heidi Heitkamp (North Dakota), and Bill Nelson (Florida), they continue to be exposed in open seats in Arizona and Tennessee as well as with incumbents Dean Heller (Nevada) and, in the eyes of a few prognosticators, perhaps even Ted Cruz (Texas).
However, due in part to the electoral oddities of this cycle, even if Republicans are able to hold onto seats in these four aforementioned states and pick off one held by the Democrats – which would be a banner night for the party – Donald Trump will finish his second year in office presiding over the worst record for a president's party in U.S. Senate races in the direct election era.
Republicans are currently 0-1 with Trump in office, losing the high profile U.S. Senate special election for Jeff Sessions' old seat in deep red Alabama last December.
Winning what would be an impressive 10 of the 35 seats on the ballot this November would give the GOP a 10-26 record during Trump's first two years, or a winning percentage of 27.8 percent.
That would be the worst showing for a president's party during the first two years of an administration, edging out Gerald Ford (10-24, 29.4 percent), Richard Nixon (11-24, 31.4 percent), Harry Truman (13-27, 32.5 percent), Barack Obama (13-26, 33.3 percent), and Dwight Eisenhower (15-26, 36.6 percent).
Of course, Trump would see this winning percentage increase in 2020 with the GOP controlling at least 21 of the 34 seats scheduled to be on the ballot and Democrats owning only 11. [The control of two remaining seats will be determined this November in special elections in Minnesota and Mississippi].
But whether Trump serves one term or two, it would hardly be unusual if Republicans ended up losing a good deal more U.S. Senate elections than they won over the course of his presidency.
In fact, none of the previous eight presidents beginning with Richard Nixon were able to shepherd their party to a winning record in U.S. Senate races during their administrations.
Since Lyndon Johnson, the president who came closest was George W. Bush. Republicans won 65 of 136 senate races during his eight years in office, or 47.8 percent.
Bill Clinton fared next best at 46.8 percent followed by George H.W. Bush (44.4 percent), Ronald Reagan (43.7 percent), Barack Obama (43.1 percent), Richard Nixon (41.4 percent), Jimmy Carter (39.1 percent), and Gerald Ford (31.3 percent).
From Nixon through Obama, the president's party has won 360 of 832 U.S. Senate contests (43.3 percent).
So far just four of the 18 presidents in the direct election era have led their party to winning records:
Franklin Roosevelt: 63.9 percent (145 of 227)
Calvin Coolidge: 62.5 percent (70 of 112)
John Kennedy: 62.5 percent (25 of 40)
Lyndon Johnson: 60.0 percent (63 of 105)
After Ford, the presidents with the worst records are Herbert Hoover (32.1 percent), Warren Harding (35.9 percent), and Dwight Eisenhower (35.5 percent).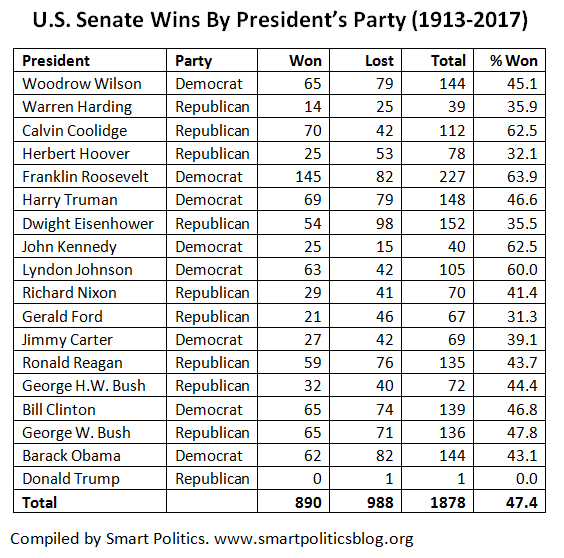 Republicans have failed to win 10 seats in an election cycle seven times: in 1932 (seven), 1934 (eight), 1936 (seven), 1948 (nine), 1958 (eight), 1964 (seven), and 2006 (nine).
Democrats have done so just once, in 1920 (nine).
Follow Smart Politics on Twitter.