Wisconsin's 1st CD Could Be 1st Open Seat of House Speaker to Flip Since 1846
Over the last 170+ years, each of the last 15 times a U.S. House Speaker retired, resigned, or died in office, his party held the seat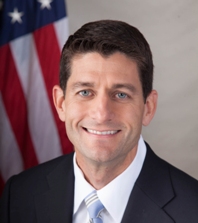 As Congressman Paul Ryan rides off into the political sunset this cycle, the eyes of Democrats in Wisconsin's 1st Congressional District are getting wider as the party attempts to win back a seat that has been in the Republican Party's hands since the mid-1990s.
In order to capture the +5 GOP district, iron worker and quasi-Internet sensation Randy Bryce will rely in part on the Democratic-friendly national winds in his quest to defeat University of Wisconsin Board of Regents member Bryan Steil in what is projected to be a very competitive race.
In addition to the possibility that the 1st CD could be in Democratic hands for the first time in a generation, there is the added intrigue that it is the seat of the outgoing U.S. House speaker.
And that is a feat an opposing party hasn't accomplished in over 170 years.
A Smart Politics analysis finds that if Democrat Randy Bryce wins Wisconsin's 1st CD election this November it will be the first time an opposing party has flipped an open or vacant seat of a U.S. House speaker since the 1840s.
Each of the previous 15 times a speaker's seat was on the ballot due to death, resignation, or retirement, the outgoing speaker's party has held the seat. [Meanwhile, three speakers running for reelection were defeated during this span: New Jersey Republican William Pennington in 1860, Pennsylvania Republican Galusha Grow in 1862, and Washington Democrat Tom Foley in 1994].
Recent examples include Democrat Joseph Kennedy II winning retiring Tip O'Neill's 8th CD seat in Massachusetts in 1986, Democrat Pete Geren narrowly winning a 1989 special election in Texas' 12th CD after the resignation of Jim Wright, and Republican Warren Davidson easily winning the 2016 special election in Ohio's 8th CD after John Boehner's resignation.
The last time an outgoing speaker's seat was picked off by the minority party was during the 1846 cycle in an open seat race for Indiana's 6th CD held by Democratic Speaker John Davis.
Whig attorney George Dunn defeated Democrat David Dobson by 12 votes (0.1 percent) in a district Davis had won by 21.8 points two years prior.
In the subsequent 15 elections for open or vacant speaker seats, the opposition party only came close to flipping the district twice.
In 1868, Indiana Republican and Speaker Schuyler Colfax did not run for reelection (and instead was elected vice-president on Ulysses Grant's ticket).
New district maps were drawn that cycle in the Hoosier State with most of Colfax's 9th CD in Northeastern Indiana now occupying the newly drawn 11th CD. Republican La Porte County Auditor Jasper Packard defeated Democratic attorney Mulford Farrand by 4.1 points to hold the district for the party en route to three terms in the chamber.
The only other race decided by single digits was Democratic attorney Pete Geren's 2.1-point special election win over pediatric allergist Bob Lanier in 1989 following the resignation of Speaker Jim Wright in TX-12.
Since the 1700s, only three of 24 open or vacant seats of U.S. House speakers have flipped.
In addition to the aforementioned 1846 election in Indiana's 6th CD, the other two contests were:
1800 (MA-01, Western): Federalist Speaker Theodore Sedgwick did not run for reelection and former state senator and Jeffersonian-Republican John Bacon defeated Federalist Ephraim Williams by 18.0 points.
1834 (VA-11): Jacksonian Andrew Stevenson resigned during the 23rd Congress. Stevenson had defeated Virginia's long-serving attorney general and National Republican nominee John Robertson by 24.5 points during the previous cycle but Robertson ran again in the 1834 special and routed former Congressman William Roane by 35.1 points.
It should be noted that when Federalist Speaker Jonathan Dayton did not run for reelection to his at-large seat in New Jersey in the 1798 cycle, the state's five at-large seats were carved into five individual districts for one cycle (thus yielding no comparable district/seat for analysis).
Also, in the 1850 cycle, when Georgia Democrat and Speaker Howell Cobb ran for governor instead of reelection to his 6th CD seat, he did so as a Georgia Union Democrat. His successor, former judge Junius Hillyer, also ran as a unionist. [Hillyer ran for reelection in 1852 as a Democrat].
Since the 1850s, the party of the outgoing speaker has held its respective U.S. House seat by an average of 42.0 points.
Follow Smart Politics on Twitter.