In Which States Have Incumbent Governors Struggled to Win Reelection?
Over the last 60+ years, Alaska is the only state in the nation where governors have lost more bids for another term than they have won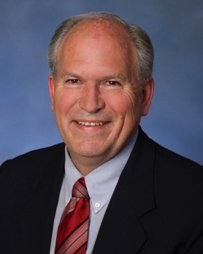 Independent Governor Bill Walker's (pictured) dim reelection hopes took another setback this week when his running mate, Byron Mallot, resigned after making what are being described as 'inappropriate comments' to an unnamed person.
Valerie Nurr'araaluk Davidson was sworn in to replace Mallot but his name will still appear on the general election ballot.
Walker was already facing approval ratings of just 25 percent in the latest round of Morning Consult surveys – tied for third lowest in the nation.
As a result, the one-term incumbent continues to stare at double-digit deficits in matchup polling against Republican nominee and former state Senator Mike Dunleavy.
The latest Alaska Survey Research poll found Dunleavy with a 43 to 27 percent advantage over Walker with former Democratic U.S. Senator Mark Begich at 26 percent.
If Walker loses in November as expected he will add his name to an ever-growing list of gubernatorial incumbents in the state who failed to win a second term.
In fact, Alaskans have had the shortest leash with their state executives over the last six decades.
Smart Politics reviewed the more than 500 elections involving gubernatorial incumbents since the mid-1950s and found that Alaska is the only state in which sitting governors have lost more than they have won at the ballot box.
Alaska – poised to elect a different governor for the sixth consecutive cycle (the longest current streak in the nation) – has seen governors struggle to win another term several times over the decades, winning in just four of 10 attempts since statehood (a percentage that will drop to 36.4 percent after Walker's expected defeat). Falling short were:
Democrat William Egan: Lost to businessman Wally Hickel by 1.6 points in 1966 and to Bristol Bay Borough Mayor Jay Hammond by 0.3 points in 1974
Republican Keith Miller: Lost to Egan in 1970 by 6.3 points
Democrat Bill Sheffield: Defeated by former state Representative Steve Cowper by 6.3 points in the 1986 primary
Republican Frank Murkowski: Lost his party's nomination in 2006 to former Wasilla Mayor Sarah Palin by 31.5 points
Republican Sean Parnell: Lost the 2014 general election to independent (and former GOPer) Bill Walker by 2.2 points
The lack of success by Alaska's governors in securing second terms might be due in part to the fact they rarely secure a majority of voter support in the first instance.
Over the last 11 cycles since 1974, eight governors were elected with a plurality of the vote in the state.
Alaska is the only state since 1955 in which sitting governors have not been victorious at the ballot box at least half of the time.
[With the exception of Virginia, each state currently permits governors to serve at least two consecutive terms, although other southern states did not allow governors to serve a second full term during the entire period of this analysis].
Governors from Alabama, Mississippi, and New Mexico only have a .500 record during this span while incumbents from Louisiana (57.1 percent), Missouri (57.1 percent), Massachusetts (58.3 percent), and Minnesota (58.3 percent) have also struggled.
By contrast, no incumbent has been defeated in Connecticut (out of 10 attempts) or Tennessee (five) during this period under analysis and governors in Vermont (95.2 percent) and Arizona (91.7 percent) have only lost once in 21 and 12 contests respectively.
Vermont governors have won each of their last 19 bids for another term since 1964 and Republican Phil Scott appears likely to make that 20 in a row in three weeks.
The last Vermont governor to lose at the ballot box was GOPer F. Ray Keyser in 1962 – falling 1.1 points short to state legislator Phillip Hoff.
Arizona governors have been victorious during their last eight attempts since 1966 when Democrat Samuel Goddard was unseated by former Phoenix Mayor Jack Williams. Republican Doug Ducey is favored to win a second term this cycle.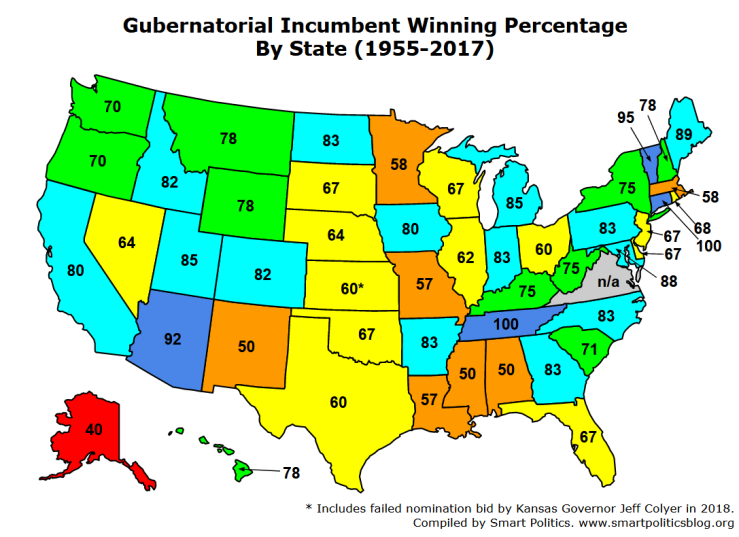 Overall, governors in the Midwest have had the most difficult time winning reelection over the last 60+ years, succeeding in 95 out of 137 elections (69.3 percent) with governors from the South faring only slightly better at 70.0 percent (77 of 110).
Northeastern governors have won 79.0 percent of the time (109 of 138) with those from the West at 73.3 percent (99 of 135).
In addition to Alaska's Walker, Republican Governor Bruce Rauner of Illinois is also expected to lose by double-digits next month.
A few other incumbents are facing competitive races and might well be unseated including Republicans Scott Walker of Wisconsin and Kim Reynolds of Iowa.
On the Democratic side, only Governor Kate Brown of Oregon appears to be vulnerable this cycle, although she has held a single-digit lead over her GOP opponent (state Representative Knute Buehler) in most non-partisan surveys.
Follow Smart Politics on Twitter.