The Longest Partisan State Attorney General Streaks in the Nation
The impressive Democratic electoral winning streak in Minnesota is not even the fifth biggest for the party across the country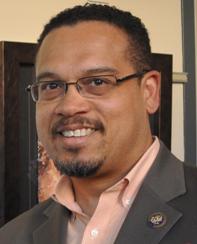 After sweeping all constitutional offices during the 2010 and 2014 GOP waves, it seemed implausible at the start of the year that Minnesota Democrats could be in a position to lose the race for attorney general in 2018.
But an 11th hour exit by three-term Attorney General Lori Swanson followed by the nomination of polarizing U.S. Representative Keith Ellison has brought the DFL to the brink of losing its first statewide race since 2006 after 14 consecutive victories.
Ellison is opposed by former state Representative Doug Wardlow who is hoping to end a 12-cycle DFL winning streak for the office that dates back to 1970 – the longest current partisan streak in the Gopher State.
Wardlow polled ahead of Ellison 43 to 36 percent in a mid-October MPR survey as Minnesota Democrats scramble to unify their party – and convince enough independents to get behind their nominee.
But as jarring as it would be for the DFL to lose an office they have held for nearly a half-century, Minnesota does not have the biggest Democratic winning streak for attorney general in the nation.
In fact, the state does not rank in the Top 5.
Leading the way are Mississippi Democrats, who have won each of the last 36 elections for attorney general since the end of Reconstruction in 1877.
That streak may come to an end in 2019, however, as popular incumbent Jim Hood declared he would run for governor instead of a fifth term.
As the Magnolia State turned deep red in recent cycles, Hood has managed to win each of his terms by double-digits, including a 10.6-point win in 2015 as his party's nominee for governor, Robert Gray, lost by 34.1 points at the top of the ticket.
Democrats have also won an impressive 31 consecutive elections for attorney general in North Carolina since 1900.
The party's 2016 nominee, Josh Stein, nearly saw that streak come to an end two years ago, but eked out a 0.5-point win against state Senator Buck Newton.
[Note: The GOP briefly held the office from 1974-1975 when James Carson was appointed to fill the seat vacated by Robert Morgan who was elected to the U.S. Senate].
With an electoral winning streak approaching 100 years, Maryland Democrats are hoping Attorney General Brian Frosh can win the party's 25th consecutive election for the office dating back to 1923 this November.
[Note: Republican Edward Rollins held the office from 1952-1954 when he was appointed following Attorney General Hall Hammond's resignation to become an associate judge on the Maryland Court of Appeals].
Maryland Republicans have come within single digits of victory during only three of these previous 24 losses:
1950: William Gunter lost by 8.3 points to incumbent Hall Hammond
1954: Attorney General Edward Rollins lost by 6.5 points to state Senator C. Ferdinand Sybert
1994: Former U.S. Attorney Richard Bennet came up 7.2 points short of unseating two-term Attorney General Joe Curran
Democrats also have amassed winning streaks of 18 in a row in Kentucky since 1947 and 15 in a row in Connecticut since 1958.
Massachusetts (12 straight victories since 1970), Iowa (10 since 1978), and Vermont (10 since 1998) also have double-digit winning streaks for the Democratic Party.
While the GOP currently holds 24 of the 43 seats in states where the attorney general is elected directly by voters, the party only owns winning streaks of more than a half-dozen consecutive victories in two states.
In Nebraska, the Republican streak rests at 21 heading into the 2018 cycle – a number that would be 27 were it not for a 1950 special election victory by Democrat Harold Caldwell which resulted in him serving just a few days in office.
Nebraska Democrats have only come within single digits of victory once over the last half-century – Deputy Attorney General Gene Crump's 7.6-point loss to (current treasurer) Don Stenberg in 1990.
Republicans have also won 11 straight races in South Dakota since Bill Janklow unseated Kermit Sande in 1974.
Democrats did not even field a nominee in two of the previous five contests in the Mount Rushmore State (1998, 2014).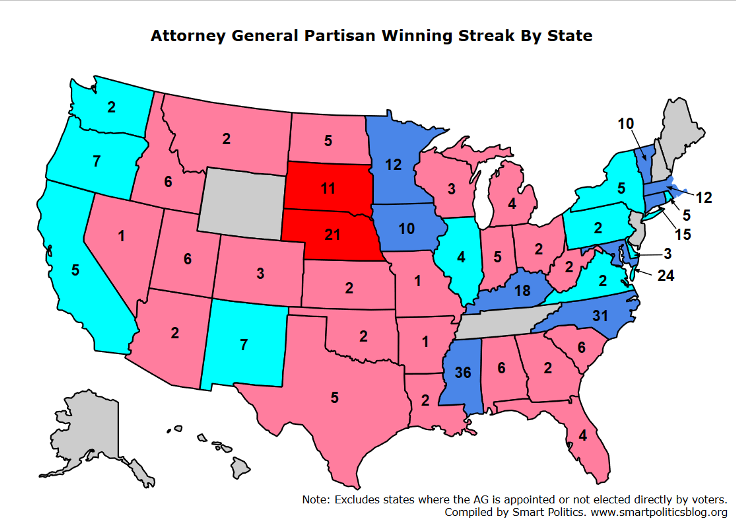 Poised to pick up multiple gubernatorial seats around the country in 2018 – particularly in the Midwest – Democrats are hoping that success will translate down the ballot in races for attorney general.
Minnesota's race, however, may prove to be the outlier.
Follow Smart Politics on Twitter.