Massachusetts Poised to Cast Historic Gubernatorial and US Senate Split Ticket Vote
The winning margins between the two parties in races for governor and U.S. Senate in 2018 may be the largest with a split ticket outcome in state history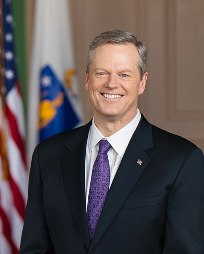 Of the few dozen must-watch gubernatorial and U.S. Senate elections to be held across the country on Tuesday, none are held in Massachusetts.
At the top of the ticket, popular Republican Governor Charlie Baker is expected to cruise to reelection over attorney and former Massachusetts Secretary of Administration and Finance Jay Gonzalez.
Baker has consistently enjoyed one of the nation's highest approval ratings during his first term following a narrow 1.9-point win against state Attorney General Martha Coakley in 2014.
Meanwhile, first-term U.S. Senator Elizabeth Warren should roll against state Representative Geoff Diehl – a Republican who, unlike Governor Baker, has been less inclined to distance himself from President Donald Trump whose approval ratings are languishing in the mid-30s in this dark blue state.
The prospects of Bay State voters splitting their ticket in 2018 and electing gubernatorial and U.S. Senate candidates from different political parties is hardly out of the norm.
The state has split their ticket in such races in 14 of 29 cycles since 1914 including four of the last five cycles since 1990:
1990: Republican William Weld (governor) and Democrat John Kerry (U.S. Senate)
1994: Weld (governor) and Democrat Ted Kennedy (U.S. Senate)
2002: Republican Mitt Romney (governor) and Kerry (U.S. Senate)
2014: Baker (governor) and Democrat Ed Markey (U.S. Senate)
But what could be particularly noteworthy in 2018 is the massive expected gap between the two-party vote in each race.
Baker has enjoyed a 40-point lead in public opinion surveys in recent weeks while Warren has notched a 25-point advantage.
If those respective margins are accurate,  the collective difference in victory margins between the two races on Tuesday (65 points) will be the largest in state history with a split ticket outcome.
To date, the biggest split ticket vote came during the aforementioned 1994 cycle.
Governor Weld defeated Democratic state Representative Mark Roosevelt by 42.6 points while Senator Kennedy beat GOP nominee Mitt Romney by 17.1 points for a 59.7-point difference across the two contests.
[Note: Republicans did not field a candidate against Senator John Kerry in 2002 so that cycle was eliminated from the analysis].
Other cycles with eye-opening split-ticket victory margins for these offices in Massachusetts include:
1964 (49.8 points): Former Republican Governor John Volpe eked out a 1.0-point win against Lieutenant Governor Francis Bellotti while Senator Ted Kennedy defeated former GOP Newton Mayor Howard Whitmore by 48.8 points
1970 (39.0 points): Republican Lieutenant Governor Francis Sargent beat Boston Mayor Kevin White by 13.9 points and Senator Kennedy cruised to a 25.2-point win against Republican businessman Josiah Spaulding
1944 (37.1 points): Democratic Boston Mayor Maurice Tobin beat Lieutenant Governor Horace Cahill by 7.7 points as Republican Governor Leverett Saltonstall won a special U.S. Senate election by 29.4 points against Democrat John Corcoran
Baker's popularity and  ability to politically navigate the deep blue Bay State is an impressive accomplishment for the Republican governor.
Outside of the offices of governor/lieutenant governor, Democrats control all other Massachusetts constitutional offices, enjoy supermajorities in each legislative chamber, have won 110 consecutive U.S. House elections, and were victorious in 15 of the last 16 U.S. Senate contests.
If the polls have accurately read the electorate this cycle, Baker may also flirt with the largest gubernatorial victory in over 150 years.
Since Governor Alexander Bullock's 55.0-point win against Democrat Theodore Sweetser in 1866, only one of the next 89 Massachusetts gubernatorial elections was decided by at least 40 points (Weld's 42.6-point win against Roosevelt in 1994).
The remaining seven cycles during which Massachusetts voters split their ticket in gubernatorial and U.S. Senate races are:
1918: Republican Calvin Coolidge (governor) and Democrat David Walsh (U.S. Senate)
1926: Incumbent Republican Alvan Fuller (governor) and former Democratic Senator David Walsh (U.S. Senate) in a special election
1928: Republican Frank Allen (governor) and Walsh (U.S. Senate)
1936: Democrat Charles Hurley (governor) and Republican Henry Cabot Lodge, Jr. (U.S. Senate)
1940: Incumbent Republican Leverett Saltonstall (governor) and Walsh (U.S. Senate)
1948: Democrat Paul Dever (governor) and Senator Saltonstall (U.S. Senate)
1952: Republican Christian Herter (governor) and Democrat John Kennedy (U.S. Senate)
Eleven of the 14 times Massachusetts has split its ticket between these two offices voters backed a GOP governor and Democratic U.S. Senator.
Follow Smart Politics on Twitter.