New Jersey GOP Endures Worst Cycle for US House Races in Party History
Only the Election of 1912 saw Republicans win as low a percentage of seats to the chamber since the founding of the party in the mid-1850s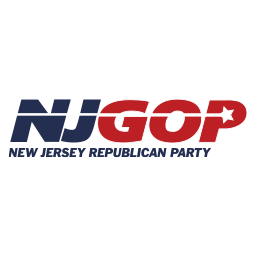 As discussed in a Smart Politics report two months ago, New Jersey Republicans bottomed out with a century-low election night by recording only a single victory in elections to the U.S. House of Representatives.
Democrats flipped the open seats of Frank LoBiondo in the 2nd CD by six points (with state Senator Jeff Van Drew) and Rodney Frelinghuysen in the 11th by approximately 12 points (with former federal prosecutor and military veteran Mikie Sherrill).
The party also ousted five-term GOPer Leonard Lance in the 7th CD (with former Obama State Department official Tom Malinowski recording a three-point win) and two-term Congressman Tom MacArthur in the 3rd CD (with former national security official Andy Kim). [Kim held a 0.9-point lead with approximately 99 percent of the vote counted and declared victory late Wednesday].
Only long-serving 4th CD Representative Chris Smith coasted to victory for the party, notching a double-digit win.
The net result is that New Jersey Republicans are guaranteed to have won the lowest number of U.S. House seats for the party since the Election of 1912.
In 1912, Democrats took advantage of a split Republican Party to ride a national wave that resulted in winning 11 of 12 seats to the nation's lower legislative chamber in the Garden State.
In that cycle, only 1st CD freshman William Browning was victorious for the GOP, winning his second of five terms.
Beginning with the 1914 election, New Jersey Republicans won no fewer than three U.S. House seats and claimed at least five seats in 49 of the 52 subsequent cycles through 2016.
After adjusting for the number of U.S. House seats in the New Jersey delegation and number of Republican seats lost, the 2018 cycle is the worst for the party in state history.
With Rep. MacArthur's loss, Republicans won only 8.3 percent of house seats on the ballot last week (1 of 12). Only the 1912 cycle (also 8.3 percent) saw Republicans do as poorly at the ballot box since the party organized in New Jersey over 160 years ago in the mid-1850s.
All things considered, however, the 2018 cycle was more devastating for the GOP, which lost only two seats in 1912 and shed four this cycle.
Democrats had a 7-3 seat advantage in the state heading into the 1912 cycle and proceeded to win two new seats awarded after reapportionment, pick off one incumbent (Wildwood Mayor Jacob Baker unseated 10-term congressman John Gardner by 10.2 points), and win one open GOP seat (former state legislator Allan Walsh beat William Blackman by 15.7 points). That left Republicans with just one of the state's 12 seats (the 1st CD, where freshman William Browning won his second of five terms).
Republicans won 20.0 percent of U.S. House seats during the Elections of 1862 (1 of 5 seats) and 1974 (3 of 15), 25.0 percent in 1892 (2 of 8), 26.7 percent in 1964 (4 of 15) and 1976 (4 of 15), 28.6 percent in 1874 (2 of 7) and 1890 (2 of 7), and 30.0 percent in 1910 (3 of 10).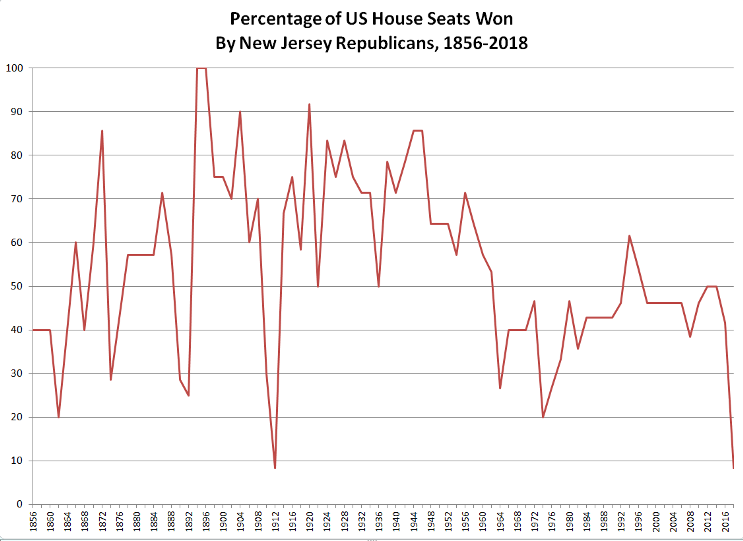 In every other cycle, the GOP won at least one-third of the U.S. House seats on the ballot.
For their high water mark, Republicans swept each of the state's eight congressional districts in 1894 and 1896.
Overall, Republicans have won 507 of the 928 general elections to the U.S. House since the party first fielded nominees in the state in 1856 (54.6 percent).
Follow Smart Politics on Twitter.