George HW Bush's Longevity By the Numbers
The 41st president lived to be the oldest in U.S. history and almost cracked the Top 10 in years lived following his first appearance on a national ticket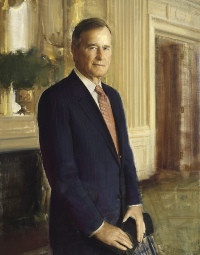 The late President George H.W. Bush has (temporarily) etched his name in the record books for the longest life span of all presidents – passing last week at the age of 94 years, 5 months, 19 days.
Bush is just a few months older than Jimmy Carter (94 years, 2 months) who will set the record in his own right on March 14, 2019.
Only four other presidents have lived to the age of 90: Gerald Ford (93 years, 5 months, 13 days), Ronald Reagan (93 years, 4 months), John Adams (90 years, 8 months, 5 days), and Herbert Hoover (90 years, 2 months, 11 days).
President Bush also lived 38+ years after first appearing on a national ticket – winning the vice-presidency with Ronald Reagan in 1980.
That ranks twelfth all-time among candidates on a presidential ticket who carried at least one state.
Dixiecrat Strom Thurmond holds that record, living more than 54 years after his failed 1948 presidential campaign, passing away in 2003. Thurmond won Alabama, Louisiana, Mississippi, and his home state of South Carolina that cycle.
Next is Kansas Republican Alf Landon who lived 51 years after suffering popular and electoral vote blowouts during the Election of 1936 against President Franklin Roosevelt. Landon carried only Maine and Vermont.
The only other candidate on a national ticket to survive for another half-century following the election was 1924 Progressive Vice-Presidential nominee Burton Wheeler.
Wheeler, a Democratic U.S. Senator from Montana, was only 42 that cycle and lived for a shade more than 50 years after carrying running-mate Senator Bob La Follette's home state of Wisconsin.
Next are the three nominees from the Election of 1976 who are still alive some 42+ years later: Democrats Jimmy Carter and Walter Mondale and Republican Bob Dole.
Five other candidates lived at least 38 years following their (first) appearance on a national ticket:
Republican Richard Nixon (1952): 41 years (died April 1994)
Republican John Bricker (1944): 41 years (died March 1986)
Democrat George McGovern (1972): 40 years (died October 2012)
Democratic-Republican Aaron Burr (1796): 40 years (died September 1836)
Democrat Sargent Shriver (1972): 38 years (died January 2011)
Two nominees died the year of their election: Democratic presidential nominee Horace Greeley in 1872 (on November 29th) and Republican Vice-President James Sherman in 1912 (who passed away a week before the election; Nicholas Butler was picked to receive any electoral votes garnered by Sherman).
More than two-dozen others nominees died within a half-decade of their appearance on a presidential ticket.
Follow Smart Politics on Twitter.