Partisan Gubernatorial Election Records Abound in 2018 Cycle
Democrats and Republicans in 18 states have now set or tied their longest gubernatorial winning streak in party history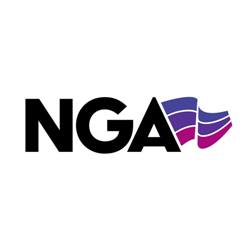 Heading into the 2018 cycle, Democrats and Republicans in 15 states were aiming to tie, break, or extend the longest gubernatorial winning streaks the party had recorded in state history.
Parties in 13 of these states were successful: Democrats in California, Minnesota, and Oregon and Republicans in Alabama, Arkansas, Florida, Georgia, Idaho, Maryland, Oklahoma, South Carolina, Tennessee, and Texas.
As a result, more than one-third of the states in the nation are now governed by a political party that is enjoying its longest (or tied for the longest) winning streak for the office.
In California's open seat race to succeed term-limited Jerry Brown, Democrats won their third consecutive gubernatorial election for the first time in state history.
The party had won two elections in a row for governor five times: 1851-1853, 1882-1886, 1958-1962, 1974-1978, and 1998-2002.
Gavin Newsom's victory with 61.8 percent of the vote was the strongest showing ever for a Democratic nominee in state history, the third best by a non-incumbent, and the fifth best by a nominee from any party.
Oregon Democrats passed up Washington for the party's current largest winning streak in the nation at 10 in a row with Kate Brown recording a 6.4-point reelection victory.
The previous best streak for the party in the state was just three straight wins, logged more than a century ago (1870-1878).
With his 11.4-point victory in Minnesota's open seat contest, Congressman Tim Walz tied the DFL/Democratic record with his party notching its third consecutive victory since 2010. Democrats won three in a row from 1904 to 1908 (with John Johnson) as did the DFL from 1954 to 1958 (with Orville Freeman) – though each of these streaks were for two-year terms.
The 2018 cycle marked the first time Gopher State Democrats won back-to-back elections with different nominees since statehood.
On the Republican side of the ledger, two streaks came to an end.
In Nevada, the five-cycle Republican winning streak was upended by Democratic Clark County Commissioner Steve Sisolak's 4.1-point victory over state Attorney General Adam Laxalt.
Meanwhile, in New Mexico, Democrats stopped the GOP bid at a record three consecutive gubernatorial wins as Congresswoman Michelle Lujan Grisham cruised to a 14.4-point win over fellow delegation member Steve Pearce.
New Mexico Republicans had won two straight elections during five additional periods: 1918-1920, 1926-1928, 1950-1952, 1966-1968, and 1994-1998.
However, Republicans did equal or set new party records in 10 other states.
The party extended its record streaks in four southern states:
Texas: Seven in a row (1994-2018) with Governor Greg Abbott's 13.3-point win against Dallas County Sheriff Lupe Valdez
Florida: Six straight (1998-2018) after Congressman Ron DeSantis' narrow 0.4-point victory against Tallahassee Mayor Andrew Gillum
Alabama: Five in a row (2002-2018) with Governor Kay Ivey's 19.1-point rout of Tuscaloosa Mayor Walter Maddux
Georgia: Five consecutive (2002-2018) with Secretary of State Brian Kemp's 1.4-point victory over state Representative Stacey Abrams
New party records were also set in four other states – three in the South and one out West:
Idaho: Seven in a row (1994-2018) with Lieutenant Governor Brad Little cruising to a 21.6-point win against state Representative Paulette Jordan. The GOP had previously won six straight elections twice (1918-1928 and 1946-1966).
South Carolina: Five in a row (2002-2018) as Governor Henry McMaster defeated long-serving state Representative James Smith by 8.0 points. The Palmetto State GOP had won four straight during Reconstruction from 1868-1874.
Oklahoma: Three straight (2010-2018) as businessman Kevin Stitt won an open seat race by 12.1 points against former state Attorney General and Sooner State political royalty Drew Edmonson. Republicans had also won back-to-back races in 1994-1998.
Tennessee: Three consecutive wins (2010-2018) following businessman Bill Lee's 21.1-point win over former Nashville Mayor Karl Dean. Volunteer State Republicans had previously won two straight elections for governor four times (1865-1867, 1910-1912, 1978-1982, and 1994-1998).
Republicans also tied state party records with incumbents notching back-to-back wins in two states:
Arkansas: Governor Asa Hutchinson cruised to a 33.6-point win against Jared Henderson to match back-to-back wins recorded by Winthrop Rockefeller (1966-1968) and Mike Huckabee (1998-2002)
Maryland: Popular Governor Larry Hogan scored an 11.8-point reelection victory over Ben Jealous. Republicans also won the office two times in a row behind Theodore McKeldin in 1950-1954.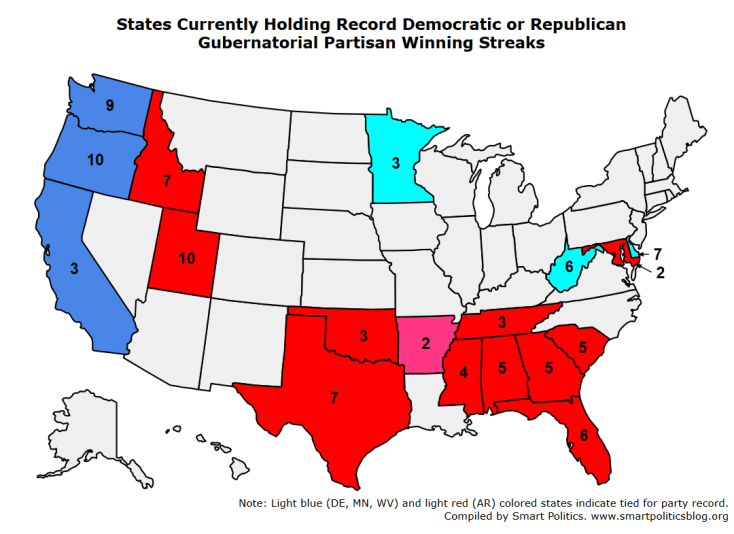 Looking ahead to the 2019 and 2020 cycles, Washington Democrats can build on their party record of nine straight wins with the state's next election in 2020. Democrats in Delaware and West Virginia are currently tied with their party's best mark and look to break it in 2020 with their eighth and seventh consecutive wins respectively.
Republicans, meanwhile, are in the midst of their longest gubernatorial winning streaks in two other states that did not hold elections in 2018: winning 10 in a row in Utah and four in a row in Mississippi. The GOP can also tie party records in Kentucky in 2019 (two in a row; 1885-1889) and Indiana in 2020 (five in a row; 1968-1984).
Follow Smart Politics on Twitter.