4 Gubernatorial Nominees Set State Party Records in 2018
Winning candidates in four states – two Democrats and two Republicans – received the largest support recorded by their party in a race for governor since statehood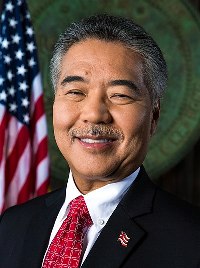 Last week, Smart Politics highlighted how Democrats and Republicans in 13 states extended, set, or tied party record winning streaks in gubernatorial races this cycle.
This site also documented how Gavin Newsom turned in the strongest performance by a California Democrat in a race for governor.
Sifting through the election results across each of the 36 states holding gubernatorial contests this cycle reveals three other candidates set state party records en route to victory – in Arkansas, Hawaii, and Wyoming.
In Hawaii, once embattled Democratic Governor David Ige (pictured) enjoyed quite a turnaround in 2018.
The former state senator began his reelection campaign with double-digit polling deficits against a formidable intraparty challenger – Congresswoman Colleen Hanabusa.
But Ige's support surged in the summer and the incumbent managed to win his party's nomination with a 7.0-point primary victory in August.
Ige won his first term with only plurality support from Hawaii voters – garnering 49.5 percent against former GOP Lieutenant Governor Duke Aiona with former Honolulu Mayor Mufi Hannemann receiving double-digit support as an independent candidate.
In 2018, Ige's reelection prospects against state Representative Andria Tupola were never in doubt, but the governor not only was victorious as expected but he won in historic fashion.
Ige received 62.7 percent of the vote – the best showing by his party in Hawaii or by any gubernatorial nominee across the 16 gubernatorial elections held since statehood.
Democrats have now won 13 of these 16 races, with the previous high water mark coming from Governor John Waihee's 1990 reelection bid where he received 59.8 percent.
Ige also narrowly bested the all-time record held by GOP Governor Linda Lingle who won reelection in 2006 with 62.5 percent of the vote.
The 33.7 percent won by Tupola was not the worst showing in Hawaii Republican Party history. State Senator Andy Anderson won 26.1 percent in 1982 and former Congresswoman Patricia Saiki received 29.2 percent in 1994 – each placing third behind Democrats and third-party candidate Frank Fasi.
In Arkansas, the Republican Party does not have a rich tradition of electoral success over the decades – winning just seven gubernatorial races since Reconstruction.
Nevertheless, Governor Asa Hutchinson was overwhelmingly reelected last month with 65.3 percent against Jared Henderson, a former executive director for Teach for America in Arkansas.
Support for Hutchinson ticked up 9.9 points from his 2014 performance and easily bested Governor Mike Huckabee's party record of 59.8 percent set in 1996.
The 65.3 percent was also the best showing by any gubernatorial candidate in Arkansas since Governor David Pryor won 83.2 percent more than 40 years ago in 1976 – a span of 14 election cycles.
Henderson's 31.8 percent is the lowest support ever registered in a cycle with an Arkansas Democratic gubernatorial nominee on the ballot (the party did not run a candidate in 1872).
Out West in the deep red state of Wyoming, an open seat race to replace term-limited Republican Governor Matt Mead did not give Democrats the opening they had hoped to make inroads for their nominee, former state Representative Mary Throne.
State Treasurer Mark Gordon captured 67.1 percent of the gubernatorial vote against Throne for the best showing by a GOP nominee for the office in Wyoming history.
Gordon eclipsed the 65.9 percent Mead received in 2010.
Despite the GOP winning 20 of 37 gubernatorial races since statehood, only two other Wyoming Republican gubernatorial nominees ever reached the 60 percent mark: Governor Bryant Brooks in 1906 (60.2 percent) and Governor Stanley Hathaway in 1970 (62.8 percent).
Gordon's performance was the best showing in a race for governor by any non-incumbent in Equality State history and the second best overall, trailing only Democratic Governor Dave Freudenthal's 70.0 percent in 2006.
The 27.5 percent won by Throne was the third lowest support for a Democratic gubernatorial nominee in the state, ahead of only Leslie Petersen in 2010 (22.9 percent) and Pete Gosar in 2014 (27.3 percent).
As outlined last month, California Democrat Gavin Newsom's 61.9 percent broke the party record set by Jerry Brown in 2014 (59.97 percent).
It is was also the third best showing by a non-incumbent (behind Republican San Francisco Mayor James Rolph's 72.2 percent in 1930 and Republican Lieutenant Governor Clement Young's 71.2 percent in 1926) and fifth overall (also trailing Governor Earl Warren's 91.6 percent in 1946 and 64.9 percent in 1950).
Cox's 38.1 percent does not crack the Bottom 5 list of the lowest vote share for a GOP nominee in the state.
Follow Smart Politics on Twitter.