Doug Ducey Will Become 14th Governor to Appoint 2 US Senators Since 1913
Only three other governors have made more than one appointment to the chamber during the last 64 years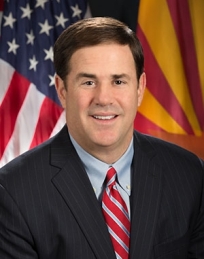 Senator Jon Kyl's decision to resign from the U.S. Senate at the end of the year means Arizona Republican Governor Doug Ducey is tasked with making his second appointment to fill the late John McCain's seat in less than four months.
Speculation as to which political figure Ducey will appoint has included congresswoman and failed 2018 U.S. Senate nominee Martha McSally, state Treasurer Eileen Klein, Ducey's Chief of Staff Kirk Adams, and (unlikely) Ducey himself.
Barring the so-called 'self-appointment' scenario (in which the outgoing governor technically does not appoint himself to the seat but instead is immediately appointed by his successor), Ducey will have the opportunity to make more than one U.S. Senate appointment.
How common is such a feat?
Smart Politics examined the nearly 200 U.S. Senate appointments made during the direct election era and found that Doug Ducey will become just the 14th governor to make more than one appointment to the chamber, and the 118-day interval between his appointments will be fifth shortest during this period.
[Note: Not included in this tally are appointments made after the strategic resignation of exiting U.S. Senators so that his or her state's newly elected delegation member would gain a seniority advantage in the chamber. Usually such resignations occurred inside of a week before the new senator was to be sworn into office for the upcoming congress. This practice has not been allowed for the last four decades].
Over the last 60+ years, just three governors have made two appointments to the U.S. Senate.
The most recent to do so was Massachusetts Democrat Deval Patrick.
Patrick filled the seats of two long-serving Democratic U.S. Senators following the death of Ted Kennedy in 2009 (Paul Kirk) and resignation of John Kerry to become U.S. Secretary of State in 2013 (Mo Cowan).
Also appointing two senators during the last 50 years were New Hampshire Republican Mel Thomson and Minnesota DFLer Rudy Perpich – the former under particularly unusual circumstances.
The results of New Hampshire's 1974 U.S. Senate election between GOP Congressman Louis Wyman and former state Insurance Commissioner John Durkin flipped from an initial 355-vote Wyman win, to a 10-vote Durkin win after a recount, to a two-vote Wyman victory after a partial recount by the New Hampshire State Ballot Law Commission.
Retiring Republican U.S. Senator Norris Cotton resigned on December 31, 1974 and Governor Thomson appointed Wyman to the seat. However, Wyman served only four days as he was not seated by the Democratic-controlled chamber for the 94th Congress as Durkin contested the election.
Committee hearings were held over the course of several months until the seat was overwhelmingly declared vacant by the senate in August 1975.
On August 8, 1975, Governor Thomson appointed Cotton back to the senate where he served until Durkin easily won a September 1975 special election.
In Minnesota, DFL Governor Wendy Anderson joined the ranks of 'self-appointed' governors – resigning to fill the seat of Vice President-elect Walter Mondale. Anderson was immediately appointed by his Lieutenant Governor-turned Governor Rudy Perpich on December 30, 1976. [Anderson's electoral fate followed that of most governors who pulled this political maneuver – losing his bid for another term in 1978].
Governor Perpich also appointed Muriel Humphrey in January 1978 following the death of her husband, Senator Hubert Humphrey.
The record-holder for gubernatorial U.S. Senate appointments during the direct election era is Pennsylvania Republican William Sproul.
Sproul made three appointments within a span of 9 months, 22 days from October 1921 to August 1922.
Governor Sproul first appointed state Senator William Crow five days after the passing of Republican Senator Philander Knox on October 12, 1921.
Less than three months later, GOP Senator Boise Penrose died and Sproul appointed attorney and University of Pennsylvania trustee George Pepper to the seat on January 9, 1922.
Senator Crow then died that summer forcing Sproul to make a third appointment – Pittsburgh attorney David Reed, who took the seat on August 8, 1922.
The remaining governors who appointed two U.S. Senators since 1913 are:
Oregon Republican James Withycombe: Republican Charles McNary in May 1917 and December 1918
New Jersey Republican Morgan Larson: Republicans David Baird, Jr. (November 1929) and W. Warren Barbour (December 1931)
Florida Democrat Dave Sholtz: Democrats Scott Loftin (May 1936) and William Hill (July 1936)
Alabama Democrat Bibb Graves: Democrats Dixie Bibb Graves (August 1937) and J. Lister Hill (January 1938)
South Carolina Democrat Burnet Maybank: Democrats Alva Lumpkin (July 1941) and Roger Peace (August 1941)
California Republican Earl Warren: Republicans William Knowland (August 1945) and Thomas Kuchel (January 1953)
Ohio Democrat Frank Lausche: Democrats James Huffman (October 1945) and Thomas Burke (October 1953)
North Carolina Democrat William Umstead: Democrats Alton Lennon (July 1953) and Sam Ervin (June 1954)
Nebraska Republican Robert Crosby: Republicans Eva Bowring (April 1954) and Sam Reynolds (July 1954)
The shortest span between appointments was logged by Governor Maybank of South Carolina at just 19 days: Lumpkin was appointed on July 17, 1941 after the resignation of James Byrnes but died on August 1st. Roger Peace was appointed four days later on August 5th.
Other short periods between appointments were recorded by Governor Sholtz of Florida (36 days), Governor Crosby of Nebraska (78 days), and Governor Sproul of Pennsylvania (84 days between his first two appointments).
The 118-day period between Ducey's two appointments (if the new senator is seated on December 31st) would be the fifth shortest on record since 1913.
The longest stretch between appointments is held by Governor Lausche of Ohio at 8 years, 5 days. Lausche made appointments during his first and fourth (non-consecutive) terms.
Governor Ducey would join Sproul, Graves, Sholtz, and Maybank as the only governors to make consecutive appointments to the U.S. Senate.
Follow Smart Politics on Twitter.