Martha McSally and a Brief History of Failed US Senate Nominees Later Appointed to the Chamber
Less than 10 failed U.S. Senate nominees in the direct election era were later rewarded with an appointment to a senate seat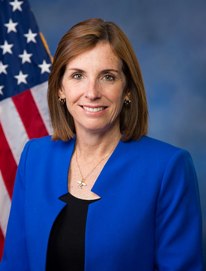 While last week's announcement that Congresswoman Martha McSally would be appointed to the U.S. Senate to replace resigning Senator Jon Kyl was not a surprise, it continued to raise eyebrows considering McSally lost her senate race against fellow delegation member Krysten Sinema just last month.
McSally is not the first failed U.S. Senate candidate to later receive an appointment to the chamber – but the quick 55-day turnaround between her general election loss and landing the state's other seat is noteworthy.
So just how rare is this McSally appointment?
Smart Politics examined the nearly 200 appointments to the U.S. Senate during the direct election era and found that Martha McSally will be the ninth nominee to lose a general election to the office and then later get appointed to the chamber. None were appointed in a shorter amount of time.
The first nominee to lose a direct U.S. Senate election and then receive an appointment was New Mexico Democrat Dennis Chavez.
A two-term at-large U.S. Representative, Chavez narrowly lost (by less than a percentage point) in his 1934 challenge of Senator Bronson Cutting.
However, Cutting died in an airplane crash in May 1935 and Chavez was appointed by Democratic Governor Clyde Tingley on May 11th – 6 months and 5 days after his general election defeat.
About a decade later, in 1948, Idaho Republican U.S. Senator Henry Dworshak was unseated by state Supreme Court Justice Bert Miller coming up 1.5 points short of winning a second term.
Miller served just nine months before passing away in October 1949. GOP Governor C.A. Robins appointed Dworshak back to his old seat on October 14th – 11 months and 12 days after losing at the ballot box.
Back to New Mexico, Republican Governor Edwin Mechem ran for the state's Class II seat in 1954 and came up 14.5 points short of defeating Senator Clinton Anderson.
Mechem won a fourth nonconsecutive gubernatorial term in 1960, but was defeated in 1962 by Democrat Jack Campbell.
Two weeks after the election, however, the aforementioned Senator Chavez died and Mechem, with just over a month left in his term as governor, resigned so that his lieutenant governor Tom Bolack could succeed him and be immediately appointed to the vacated Class I seat.
Mechem was appointed on November 30, 1962 – some 8 years, 26 days after his U.S. Senate defeat.
The next appointed U.S. Senator who had previously lost a race for the office had recorded two failed attempts.
Alaska Republican Ted Stevens was his party's nominee for the state's fourth U.S. Senate election in 1962, losing by 16.3 points to Senator Ernest Gruening for the state's Class III seat.
After serving two terms in the state legislature, Stevens made a second bid for Gruening's seat in 1968, but lost the GOP nomination to Elmer Rasmussen in August's open primary with 17.1 percent.
In December 1968, three-term Democratic Senator Bob Bartlett passed away and Governor Wally Hickel appointed Stevens to the Class II seat on December 24th – 6 years, 1 month, 18 days since his general election defeat and 3 months, 27 days since his primary loss.
In 1970, former Ohio Democratic state Senator Howard Metzenbaum defeated John Glenn for his party's nomination for the open Class I seat, but lost to Congressman Robert Taft, Jr. by 2.2 points that fall.
Three-plus years later, Metzenbaum was appointed on January 4, 1974 by Governor John Gilligan to fill the vacancy of the state's Class III seat caused by the resignation of GOP Senator William Saxbe – 3 years, 2 months, 1 day after his failed bid.
[Note: Metzenbaum would lose the Democratic primary to Glenn that May, but win in a rematch against Senator Taft in 1976].
Texas Democrat Robert Krueger would wait a particularly long time for his appointment to the U.S. Senate following his 1978 loss: 14 years, 2 months, 14 days.
Krueger, a two-term congressman, challenged three-term Senator John Tower for the state's Class II seat and narrowly lost by 0.5 points.
Krueger would go on to win a statewide election as Railroad Commissioner in 1990 and was appointed to the Class I seat on January 21, 1993 after Lloyd Bentsen resigned to become Bill Clinton's secretary of the U.S. Treasury.
Prior to McSally, the most recent appointee to the chamber who had lost a U.S. Senate general election was Minnesota's Dean Barkley.
Barkley won 5.4 percent as the Independence nominee in 1994 and 7.0 percent as the Reform Party nominee in 1996 in races won by Republican Rod Grams and DFL Senator Paul Wellstone respectively.
Senator Wellstone died in a plane crash in October 2002 and, following the election, Governor Jesse Ventura appointed Barkley to his seat on November 4th – 7 years, 11 months, 27 days after his first U.S. Senate defeat and 5 years, 11 months, 30 days after losing to Wellstone.
One other U.S. Senator could also qualify for this list for technically being appointed to the chamber after losing a general election – however he had both previously received an appointment and won a U.S. Senate race.
Idaho Republican John Thomas was appointed to the U.S. Senate in June 1928 by Governor H.C. Baldridge after the death of Frank Gooding. Thomas won a special election to the seat that November but was defeated in 1932 by Boise Mayor James Pope.
Thomas waited 7 years, 2 months, and 19 days for his return and was appointed to the state's other U.S. Senate seat in January 1940 by Governor C.A. Bottolfsen following the death of William Borah.
Over the last several decades, many other appointed U.S. Senators had previously lost a bid for their party's nomination including:
1925, Indiana: Republican Arthur Robinson (lost 1916 primary)
1933, Tennessee: Democrat Nathan Bachmann (lost 1924 primary)
1933, Nebraska: Democrat William Thompson (lost 1912 primary)
1933, Wyoming: Democrat Joseph O'Mahoney (lost 1924 primary)
1937, Tennessee: Democrat George Berry (lost 1915 primary)
1939, Kentucky: Democrat Happy Chandler (lost 1938 primary)
1945, Idaho: Democrat Charles Gossett (lost 1942 primary)
1946, Vermont: Republican Ralph Flanders (lost 1940 special primary)
1961, Texas: Democrat (and former U.S. Senator) William Blakley (lost 1958 primary)
2000, Georgia: Democrat Zell Miller (lost 1980 primary runoff)
McSally's 55-day turnaround from a U.S. Senate general election loss to receiving an appointment is the quickest in history.
Follow Smart Politics on Twitter.