What a US House Vote to Decide the 2020 Presidential Election Might Look Like
Despite Democrats controlling the nation's lower legislative chamber by more than 35 seats, Republicans currently have a partisan advantage in 26 U.S. House state delegations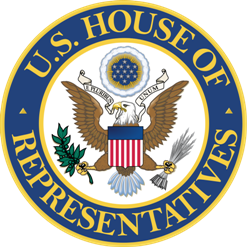 With the midterms in the rear-view mirror and multiple candidates publicly exploring presidential runs, the focus is quickly turning to the 2020 election cycle and its top of the ticket race.
While there has been speculation that prominent third party candidates (e.g. John Kasich, Mark Cuban) might emerge next year to create an electoral map that could hypothetically deny an outright Electoral College winner, the chances of this fanciful scenario are truthfully quite remote.
It's been a half-century since three candidates carried at least one state in a presidential election and nearly 200 years since no candidate won a majority of Electoral College votes.
If this unlikelihood becomes a reality and no candidate emerges with an electoral majority, then the presidential election will be determined by a vote in the U.S. House of Representatives. The top three candidates in the presidential race are considered and each state delegation receives one vote.
While Democrats enjoy a healthy 36-seat majority at the onset of the 116th Congress, the Republican presidential nominee is currently poised to win such a vote in the chamber by state delegation.
The GOP owns a majority of U.S. House seats in the delegations of 26 states: Alabama, Alaska, Arkansas, Florida, Georgia, Idaho, Indiana, Kansas, Kentucky, Louisiana, Mississippi, Missouri, Montana, Nebraska, North Carolina, North Dakota, Ohio, Oklahoma, South Carolina, South Dakota, Tennessee, Texas, Utah, West Virginia, Wisconsin, and Wyoming.
Democrats, meanwhile, have a majority in just 22 states: Arizona, California, Colorado, Connecticut, Delaware, Hawaii, Illinois, Iowa, Maine, Maryland, Massachusetts, Minnesota, Nevada, New Hampshire, New Jersey, New Mexico, New York, Oregon, Rhode Island, Vermont, Virginia, and Washington.
Two states are currently deadlocked – Michigan (seven each) and Pennsylvania (nine each).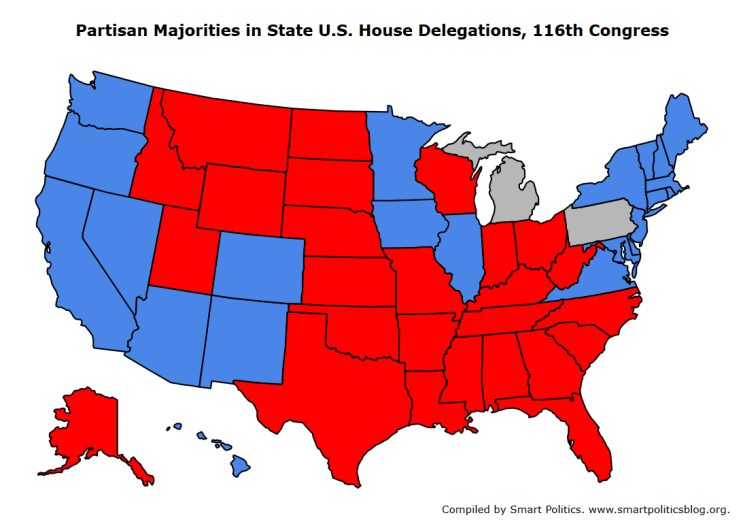 Unless Democrats are able to make inroads in a few of these states in the 2020 cycle, it appears the Republican nominee would likely emerge as the victor in the event of such a contingent election in the chamber in January 2021 (the vote would be held during the first week of the 117th Congress).
While the presidential popular/Electoral College vote in a given state would generally be highly correlated to its the U.S. House delegation vote, one could easily envision a scenario in which a Democratic nominee carried a state's popular vote but lost its delegation vote (e.g. Wisconsin). This also presumes no newly elected delegation members would (courageously) bind their vote to the popular vote of their state.
Four seats were decided by less than 10 points in Michigan in 2018 – the 6th (Fred Upton, 4.6 points) and 7th (Tim Walberg, 7.6 points) won by Republicans and the 8th (Elissa Slotkin, 3.8 points) and 11th (Haley Stevens, 6.7 points) by Democrats. Two GOP seats in Pennsylvania were won by single digits – the 10th (Scott Perry, 2.6 points) and 16th (Mike Kelly, 4.3 points) – plus the Democratic 8th CD (Matt Cartwright, 9.3 points).
Aside from the seven states with one at-large U.S. Representative (Alaska, Delaware, Montana, North Dakota, South Dakota, Vermont, and Wyoming), just three states currently find a party with only a one-seat advantage in its delegation.
Republicans hold a 14-13 seat advantage in Florida while Democrats control four of the seven seats in Colorado and five of nine in Arizona.
Three GOP districts in Florida were won by single digits in 2018: the 15th (Ross Spano, 6.0 points), the 16th (Vern Buchanan, 9.1 points), and the 18th (Brian Mast, 8.6 points). Each of the four Democratic-held seats in Colorado were carried by double-digits but two Democratic-held districts in Arizona were won by single digits: the 1st (Tom O'Halleran, 7.7 points) and 2nd (Ann Kirkpatrick, 9.5 points).
Two of the nation's seven at large seats were decided by less than 10 points: Alaska (Don Young, 6.6 points) and Montana (Greg Gianforte, 4.6 points).
Eleven other states currently have a two-seat separation for partisan control of the delegation: Republicans have a two-seat advantage in Idaho, Kansas, Mississippi, and Utah while Democrats have the same in Hawaii, Iowa, Maine, Minnesota, Nevada, New Hampshire, and Rhode Island.
Follow Smart Politics on Twitter.