Can Democrats Sweep 2019's Gubernatorial Elections?
Democrats have won just four of 135 elections to statewide office in the Deep South since Barack Obama became president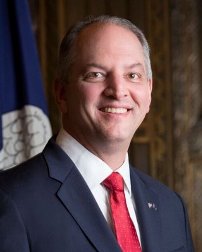 Since the election of Barack Obama in 2008, Democratic statewide victories in the South have been scarce – although the party is lining up strong candidates that should make each of the three gubernatorial elections to be held in November 2019 fairly competitive.
For starters, Louisiana Democratic Governor John Bel Edwards (pictured) has generated strong approval ratings (+13 net approval per Morning Consult's October 2018 survey) that have to this point left most of the state's prominent GOP officeholders gun-shy and opting not to launch a challenge.
Among established politicians in the state, only three-term Congressman Ralph Abraham has declared a gubernatorial bid while many have publicly declined (e.g. colorful Senator John Kennedy, U.S. Representatives Steve Scalise and Garret Graves, and state Attorney General Jeff Landry).
In neighboring Mississippi's open seat gubernatorial race, Democrats landed popular four-term Attorney General Jim Hood, who along with Edwards, is one of just three Democrats in the Deep South to win statewide office since 2009.
In Kentucky, Democrats are having no trouble fielding established candidates to challenge Governor Matt Bevin with one current constitutional officer (Attorney General Andy Beshear), one former constitutional officer (ex-Auditor Adam Edelen), and a well-known state legislator (state House Minority Leader Rocky Adkins) all suited up to run.
Scoring two wins for statewide office in the Deep South generally this cycle, let alone for the top executive office, would be quite an achievement for Democrats who have struggled mightily in the region over the last decade.
Since Obama's presidential victory in 2008, Republicans have won 131 of 135 elections for non-judicial statewide offices in the five-state Deep South region (Alabama, Georgia, Louisiana, Mississippi, South Carolina), or 97.0 percent.
Each of the four contests the GOP failed to win either involved a Democratic incumbent or was an open seat race:
Mississippi, 2011 (Attorney General): Incumbent Jim Hood was reelected to a third term by 22.1 points against Department of Public Safety Commissioner Stephen Simpson
Louisiana, 2015 (Governor): Democratic state Representative John Bel Edwards defeated U.S. Senator David Vitter in a run-off by 12.2 points
Mississippi, 2015 (Attorney General): Hood was reelected to a fourth term with a 10.6-point victory over assistant U.S. Attorney Mike Hurst
Alabama, 2017 (U.S. Senate, special): Democratic U.S. Attorney Doug Jones eked out a 1.6-point victory against former state Supreme Court Chief Justice Roy Moore
Two of the four contests listed above also involved Republican nominees who were embroiled in well-publicized controversies (Vitter and Moore) that helped enable Democrats to pick up the seats.
Democrats made some inroads in the Deep South during the 2018 cycle, particularly in Georgia where several nominees for statewide office came up just a few points shy of victory:
Governor: Democratic House Minority Leader Stacey Abrams lost to Secretary of State Brian Kemp by 1.6 points
Lieutenant Governor: Democratic businesswoman Sarah Riggs Amico lost by 3.3 points to state Representative Geoff Duncan
Secretary of State: Former Blue Dog Democratic Congressman John Barrow lost in a runoff to state Representative Brad Raffensperger by 3.8 points
Attorney General: Democratic prosecutor Charlie Bailey came up 2.6 points shy of unseating Chris Carr
Insurance Commissioner: Democratic insurance agent and business owner Janice Laws lost to former Deputy Insurance Commissioner Jim Beck by 3.4 points
Public Service Commission (Seat 3): Democrat Lindy Miller lost a runoff to Commissioner Chuck Eaton by 3.5 points
Public Service Commission (Seat 5): Democrat Dawn Randolph fell 3.1 points short of unseating Commissioner Tricia Pridemore
When looking at the South generally – folding in the remaining nine states (Arkansas, Florida, Kentucky, North Carolina, Oklahoma, Tennessee, Texas, Virginia, and West Virginia) – Republicans have been victorious in 260 of 307 non-judicial statewide elections since 2009 (84.7 percent).
Eleven of these 47 Democratic victories have come in West Virginia, with 10 in North Carolina, nine in Virginia, seven in Kentucky, four in Arkansas, and two in Florida. [Democrats have failed to win such a statewide race in Oklahoma, Tennessee, and Texas].
However, only seven of these 47 wins have been pick-ups and only one of those unseated an incumbent. In addition to the pick-ups notched by Doug Jones in Alabama and John Bel Edwards in Louisiana documented above, the other five are:
Florida (Agriculture and Consumer Services Commissioner, 2018): Democratic attorney Nikki Fried won an open seat race by 0.1 point against state Representative Matt Caldwell
North Carolina (Governor, 2016): Democratic state Attorney General Roy Cooper unseated Governor Pat McCrory by 0.2 points
Virginia (Governor, 2013): Former DNC Chairman Terry McAuliffe defeated state Attorney General Ken Cuccinelli by 2.5 points
Virginia (Lieutenant Governor, 2013): Democratic state Senator Ralph Northam beat Earl Jackson by 10.6 points
Virginia (Attorney General, 2013): Democratic state Senator Mark Herring escaped with a 907-vote win (0.04 points) over fellow state Senator Mark Obenshain
Twenty-nine victories were by Democratic incumbents with 11 others for open Democratic-held seats.
Overall, Democrats have won nine gubernatorial races in the South since 2009 plus nine for attorney general, eight for U.S. Senator, five for auditor, five for secretary of state, four for treasurer, two for lieutenant governor, two for agricultural commissioner, and one each for insurance commissioner and superintendent of public instruction.
Follow Smart Politics on Twitter.