2020 Democratic Presidential Candidates Still Trailing Pace of 2008 Field
At this point in the 2008 cycle, nearly twice as many Democrats had officially launched their White House campaigns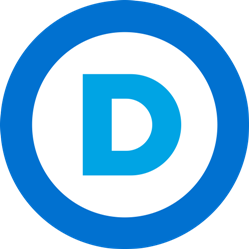 California U.S. Senator Kamala Harris made it official on Monday – launching her presidential bid on Martin Luther King, Jr. Day, as the number of Democrats lining up for the chance to take on Donald Trump in November 2020 continues to grow as expected.
Harris is the fourth current or former Democratic officeholder to formally launch a campaign for the White House, joining former three-term Maryland U.S. Representative John Delaney, former West Virginia state Senator Richard Ojeda, and former San Antonio Mayor and Secretary of Housing and Urban Development Julian Castro.
[U.S. Senators Elizabeth Warren of Massachusetts and Kirsten Gillibrand of New York have formed exploratory committees as well as Hawaii U.S. Representative Tulsi Gabbard].
The number of Democrats expected to make a run at the White House is far more than have officially declared to date, and, as a result, the party is not quite as fast out of the gate as it was the last time a Republican was president.
Of the 13 presidential election cycles in the modern primary era (1972-), the 2020 cycle currently ranks second behind 2008 for the most major party candidates officially launching their bids by January in the year before the election.
In the 2008 cycle, eight Democrats were actively campaigning in the open seat race to replace exiting George W. Bush by the end of January 2007:
Former Alaska U.S. Senator Mike Gravel (April 17, 2006)
Former Iowa Governor Tom Vilsack (November 30, 2006)
Ohio U.S. Representative Dennis Kucinich (December 11, 2006)
Former North Carolina U.S. Senator John Edwards (December 28, 2006)
Connecticut U.S. Senator Chris Dodd (January 11, 2007)
New York U.S. Senator Hillary Clinton (January 20, 2007)
New Mexico Governor Bill Richardson (January 21, 2007)
Delaware U.S. Senator Joe Biden (January 31, 2007)
[Note: Three Republicans had also entered the race by then – Kansas U.S. Senator Sam Brownback (January 20, 2007), California U.S. Representative Duncan Hunter (January 25, 2007), and former Arkansas Governor Mike Huckabee (January 28, 2007)].
In six of these 13 cycles, no candidate from either party had officially entered the race by the end of January in the year before the election:
1984: The earliest to run was California Democratic U.S. Senator Alan Cranston (February 2, 1983)
1992: Former Massachusetts Democratic U.S. Senator Paul Tsongas (April 30, 1991)
1996: Texas Republican U.S. Senator Phil Gramm (February 24, 1995)
2000: Ohio Republican U.S. Representative John Kasich (February 15, 1999)
2012: President Barack Obama (April 4, 2011) or, among challengers, former New Mexico Governor Gary Johnson (April 21, 2011)
2016: Texas Republican U.S. Senator Ted Cruz (March 23, 2015)
In the 1976 cycle, three Democrats jumped into the race before February of 1975: Arizona U.S. Representative Mo Udall (November 23, 1974), outgoing Georgia Governor Jimmy Carter (December 12, 1974), and former Oklahoma U.S. Senator Fred Harris (January 11, 1975).
In 1972, only South Dakota Democratic U.S. Senator George McGovern was in the race this early (January 18, 1971).
In 1980, two Republicans were quick out of the gate with the hopes of taking on President Carter: Illinois U.S. Representative Phil Crane (August 2, 1978) and former Texas governor and Treasury Secretary John Connally (January 24, 1979). [This analysis does not include perennial/fringe GOP candidates Ben Fernandez of California (November 29, 1978) and Harold Stassen of Minnesota (December 7, 1978)].
In 1988, the lone candidate to launch a bid before February 1987 was former Delaware Governor Pete du Pont (September 16, 1986).
And in 2004, Democrats Al Sharpton (January 3, 2003) and Connecticut U.S. Senator Joe Lieberman (January 13, 2003) were that cycle's early birds.
President Trump technically launched his 2020 reelection bid on Inauguration Day – January 20, 2017.
Follow Smart Politics on Twitter.