Will a Westerner Finally Land on a Democratic Presidential Ticket in 2020?
Democrats have never nominated a westerner for their presidential or VP slots across the 42 cycles since the first western state voted in a presidential election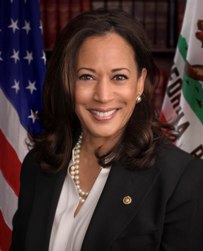 Of the five Democratic candidates who have formally launched their 2020 presidential bids, two are from the West: California U.S. Senator Kamala Harris (pictured) and Hawaii U.S. Representative Tulsi Gabbard.
With many more members of their party yet to jump in the race, it is unlikely that Harris and Gabbard will be the only westerners making their case to Democratic voters (and fundraisers) across the country.
For example, former Colorado Governor John Hickenlooper, Montana Governor Steve Bullock, Washington Governor Jay Inslee, Oregon U.S. Senator Jeff Merkley, California U.S. Representative Eric Swallwell, and Los Angeles Mayor Eric Garcetti are among the most likely Democratic names from the 13-state region that could still launch bids in the coming months.
None of these candidates mentioned are currently favored to win the nomination over, say, former Vice President Joe Biden, but could the time be right for a westerner to finally land on a Democratic presidential ticket?
Smart Politics studied the last 42 cycles since the first western state voted in a presidential race (California, 1852) and the last 48 cycles since the formation of the party in 1828, and that Democrats have never selected a westerner to be their presidential or vice presidential nominee – while the GOP has done so 15 times.
[Note: Some Democratic nominees were born in the West, such as John Kerry (Colorado) and Barack Obama (Hawaii), but none rose to political prominence in the region].
To be sure, in recent election cycles, the Democratic Party has established a noticeable foothold in the West – creating a strong regional bench that helps to explain why so many westerners may run for the nation's highest elected office this cycle.
Democrats currently hold eight of the 13 Western governorships (61.5 percent), 15 of 26 U.S. Senate seats (57.7 percent), and an impressive 75 of 102 U.S. House seats (73.5 percent).
But the closest Democrats have ever come to putting forth a Western presidential nominee are Plains state politicians William Jennings Bryan (Nebraska, 1896, 1900, 1908) and George McGovern (South Dakota, 1972) and southerner Lyndon Johnson from Texas (1964). Definitely west of the Mississippi, but not the West.
Even with the potential of several westerners in the 2020 race, there is little guarantee that the Democratic nominee's VP pick will come from this field (see Tim Kaine in 2016, Joe Lieberman in 2000, Al Gore in 1992, Lloyd Bentsen in 1988, Geraldine Ferraro in 1984, Walter Mondale in 1976).
Democrats have never nominated a Westerner for the vice-presidential slot – unless one counts the Southern Democratic ticket in 1860. [In that cycle, U.S. Senator Joseph Lane from Oregon was nominated as the running-mate on John Breckinridge's pro-slavery ticket].
The furthest West the Democratic Party has ventured to select its vice presidential nominee is Nebraska (Charles Bryan, 1924) and Texas (John Garner, 1932 and 1936; Lyndon Johnson, 1960; Lloyd Bentsen, 1988).
Republicans, meanwhile, have nominated westerners for president eight times beginning with their first nominee, former California Senator John Frémont in 1856.
After overlooking the region for the next 100+ years, the GOP then nominated several presidential hopefuls from the West over the last half-century: former California U.S. Senator Richard Nixon in 1960, 1968, and 1972, Arizona U.S. Senator Barry Goldwater in 1964, former California Governor Ronald Reagan in 1980 and 1984, and Arizona U.S. Senator John McCain in 2008.
Republicans have also selected Western politicians for the VP slot, doing so in seven cycles: Oregon U.S. Senator Charles McNary in 1940, California Governor Earl Warren in 1948, California U.S. Senator Richard Nixon in 1952 and 1956, former Wyoming U.S. Representative Dick Cheney in 2000 and 2004, and Alaska Governor Sarah Palin in 2008.
There have been a handful of Democratic presidential candidates from the West who have had a decent run at the nomination, but fell short.
The aforementioned Joseph Lane of Oregon was placed into nomination at the 1852 and 1860 Democratic conventions, peaking at fifth (14 votes) and fourth (20.5 votes) place respectively.
U.S. Supreme Court Justice Stephen Field of California also received support at two conventions reaching a high of 13 votes and fifth place in 1868 and 65.5 votes and fourth place in 1880.
Former Treasury Secretary William McAdoo (who became a westerner later in life, winning a U.S. Senate seat from the Golden State in the 1930s) ran second at the 1920 DNC and led for several ballots at the chaotic 1924 convention.
It would be nearly 50 years before the next Democrat from a western state made any waves at the DNC. In 1972, Washington U.S. Senator Scoop Jackson came in a distant second in balloting behind George McGovern with 525 delegates.
Four years later, Arizona U.S. Representative Mo Udall and California Governor Jerry Brown placed second and third at the DNC with 330 and 301 convention votes respectively.
In 1984, Colorado U.S. Senator Gary Hart won several primaries and finished second at the DNC with 1,201 delegates.
Brown, who had also run for president in 1980, came in second in the 1992 race for the Democratic nomination with 596 delegates.
Other Democratic presidential campaigns by westerners that had smaller footprints during the modern primary era include Los Angeles Mayor Sam Yorty in 1972, Hawaii U.S. Representative Patsy Mink in 1972, Scoop Jackson again in 1976, California U.S. Senator Alan Cranston in 1984, former Arizona Governor Bruce Babbitt in 1988, Gary Hart again in 1988, former Irvine Mayor Larry Agran in 1992, former Alaska U.S. Senator Mike Gravel in 2008, and New Mexico Governor Bill Richardson in 2008.
Even if there was a geographical advantage in selecting a presidential or VP nominee, there will likely be very few electoral votes up for grabs in the West.
In a normal cycle, Democrats will likely garner 83 votes from California, Hawaii, New Mexico, Oregon and Washington while the GOP can count on 30 in Alaska, Arizona, Idaho, Montana, Utah, and Wyoming. [In a GOP-favored cycle, New Mexico, Oregon and Washington could be competitive as might Arizona in a Democratic-favored cycle].
That leaves just 15 electoral votes up for grabs in the region: Colorado (nine), Nevada (six).
Follow Smart Politics on Twitter.