Walter Jones Ranks 2nd for North Carolina GOP US House Service
Only Howard Coble served longer among the five-dozen Republicans elected to the office in state history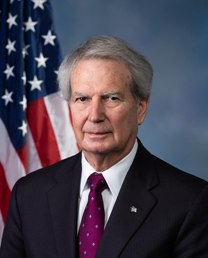 Public condolences and accolades poured in following the death of long-serving North Carolina U.S. Representative Walter Jones on Sunday.
The maverick former Democratic state representative and Republican U.S. House member from North Carolina's 3rd Congressional District was considered to be one of the more principled members of the chamber – willing to work and vote with the other side of the aisle when his policy preferences did not align with party leadership.
All told, Jones served the state's coastal 3rd CD for 24 years, 1 month, 8 days – the second-longest tenure among the 60 Republican U.S. Representatives to serve the state since the 19th Century.
Jones passed away trailing only former Congressman Howard Coble. Coble served the 6th CD for 15 full terms (30 years).
Only three other North Carolina GOPers were elected to 10 or more terms:
Jim Broyhill (11 terms, 1963-1986): Served 23 years, 6 months, 11 days
Charles R. Jonas (10 terms, 1953-1973): 20 years, 1 day
Cass Ballenger (10 terms, 1986-2005): 18 years, 2 months
To date, just two other Republicans served more than 15 years:
Sue Myrick (9 terms, 1995-2013): 18 years, 1 day
Charles Taylor (8 terms, 1991-2007: 16 years, 1 day
With Jones' departure from the chamber, the longest-serving Republican members of North Carolina's current U.S. House delegation are Virginia Foxx of the 5th CD and Patrick McHenry of the 10th CD. Each are in their eighth term.
The first Republicans were elected from the state after the Civil War in 1868.
Twenty-three different GOPers won seats to the chamber through the end of the 19th Century, although only three were elected to more than two terms: Clinton Cobb (1869-1875), Richmond Pearson (1895-1899; 1900-1901), and Romulus Linney (1895-1901).
Ten other Republicans won seats from the start of the 20th Century until the passage of the Civil Rights Act in 1964 – with only the aforementioned Jonas and Broyhill winning more than two terms.
Since 1964, 27 additional GOPers have won U.S. House seats from the Tar Heel State.
With Jones' passing and the fate of the 9th CD 2018 election still up in the air, North Carolina now has two U.S. House vacancies.
Follow Smart Politics on Twitter.