North Carolina Has 2 US House Vacancies For 1st Time Since 1930
The Tar Heel State is enduring two vacancies in its delegation to the chamber for just the fourth time since statehood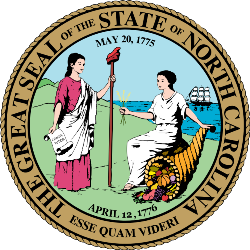 With North Carolina's State Board of Elections unanimous decision on Thursday to order a new election in 9th Congressional District in light of abundant evidence of election fraud, it may soon become clear when the nearly two-month vacancy that commenced with the start of the 116th Congress will end.
The district is scheduled to hold a primary following the passage of a new state law – a Republican maneuver to give the party an opportunity to run a stronger candidate than 2018 nominee and pastor Mark Harris whose campaign has been tainted by the scandal.
As Smart Politics documented earlier this month, the 9th CD vacancy is one of just three in state history to occur at the beginning of a new congress.
Since that report was published, the death of 3rd CD Representative Walter Jones has resulted in two vacancies in North Carolina's U.S. House delegation – a rarity in the state's political history.
Smart Politics reviewed the more than four-dozen U.S. House vacancies in North Carolina since statehood and on only three previous occasions have two overlapped. [Note: The vacancies that took place for the entire state delegation during and after the Civil War are excluded from this analysis].
Prior to the current vacancies in NC-03 and NC-09, the last time there were two vacancies in North Carolina was nearly 90 years ago in 1930.
Two Democratic delegation members passed away within three days of one another in September of that year: 10-term Congressman Charles Stedman of the 5th CD died on September 23, 1930 at the age of 89 and five-term U.S. Representative William Hammer of the 7th CD died on September 26th at the age of 65.
Special elections to fill the seats for the remainder of the 71st Congress were conducted simultaneously for both seats during the November 4, 1930 midterms. [The seats were won by Democrats Frank Hancock and Winton James].
Each of the other two pairs of vacancies took place during the 19th Century.
On April 9, 1816, 10-term Jeffersonian Republican Richard Stanford of the 8th CD passed away at the age of 49 and his seat was not filled until a December 2nd special election of that year (won by Democratic-Republican Samuel Dickens).
Nearly seven months later, on November 4th, three-term Jeffersonian Republican William King of the 5th CD resigned from the chamber.
King's seat was vacant alongside Stanford's seat for less than a month when Democratic-Republican Charles Hooks was elected in a December 2nd special.
More than a half-century later during Reconstruction, two Republican-held seats were vacant at the same time for a period of slightly more than five months.
On February 28, 1870, two-term Congressman John Deweese of the 4th CD resigned after becoming embroiled in a scandal for selling an appointment to the United States Naval Academy.
Nearly four months later, two-term Representative David Heaton of the 2nd CD passed away on June 25th.
Heaton's seat was held by the GOP in an early December special election by Joseph Dixon but Deweese's seat was flipped that December by Democrat John Manning.
No official timeline has yet been set for the 2019 3rd and 9th CD primaries in the state.
Follow Smart Politics on Twitter.