King's Candidacy Could Lead Iowa to an Electoral First in 2020
Iowa may be represented by different political parties in its 117th Congress U.S. House and U.S. Senate delegations for the first time in state history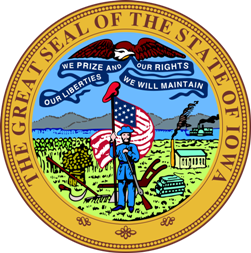 Steve King doubled-down this past week in the face of continued criticism and a growing number of Republican primary challengers by stating he will in fact run for a 10th term next year.
As documented at Smart Politics last month, King is at risk of becoming the first U.S. Representative from Iowa to lose a renomination bid since the 1940s.
Democrats may privately be hoping that the controversial lawmaker wins his 2020 primary (or subsequent nomination via party convention if no candidate reaches the current 35 percent threshold in the primary) in order to maximize their chances of flipping this heavily Republican district.
Last cycle's nominee, J.D. Scholten, is considering another run next year after coming within 3.3 points of unseating King.
While there are too many variables in play and it is far too early to project how the 2020 cycle will play out, there is certainly more than a hypothetical chance that Iowa could be entirely represented in the 117th Congress by one party in the U.S. House and another in the U.S. Senate for the first time in state history.
On the U.S. House side, Democrats hope the (anti-Trump) enthusiasm that propelled them to pick up two congressional districts in 2018 (and knock Auditor Mary Mosiman out of office) will be sustained in the presidential election cycle to help freshmen Abby Finkenauer and Cynthia Axne hold their 1st and 3rd CDs respectively. [Presuming neither is recruited to run for U.S. Senate, that is].
Finkenauer defeated two-term incumbent Rod Blum by 5.1 points in 2018 while Axne ousted two-term GOPer David Young by 2.2 points.
Seven-term 2nd CD Democrat Dave Loebsack will be expected to hold his seat and the party will be crossing its fingers that Scholten runs again – and that King holds enough of his base to make it onto the general election ballot.
On the U.S. Senate side, once-targeted first-term Republican Joni Ernst appears to head into the next 20 months with all the momentum on her side.
Ernst is enjoying high approval ratings and recently received news that her most formidable Democratic challenger – former governor and U.S. Agriculture Secretary Tom Vilsack – will not be running for her seat.
And so, should Democrats be able to pull off a sweep of the state's four U.S. House districts and Ernst holds her seat, Iowa would be wholly represented by two different parties in the nation's two legislative chambers for the first time in state history.
Ever since Republicans gained a foothold in Iowa politics in the mid-1850s the party has held at least one U.S. House seat.
That streak has been maintained even during the few brief periods during which Iowa had a Democratic-only U.S. Senate delegation:
1937-1943 (Guy Gillette and Clyde Herring): Republicans held between four and eight of the state's nine congressional districts
1973-1975 (Harold Hughes and Dick Clark): The GOP held three of six seats
1975-1979 (Dick Clark and John Culver): Republicans controlled one seat from 1975-1977 and two seats from 1977-1979
[Democrats also controlled both U.S. Senate seats after statehood beginning with the 30th Congress while simultaneously holding at least one U.S. House seat through the end of the 33rd Congress in March 1855].
Across the many decades during the 19th and 20th Centuries in which Republicans controlled both U.S. Senate seats, Democrats have never been able to sweep elections to the U.S. House.
In fact, Democrats have only managed to capture more than half of the state's congressional districts three times while the GOP held both U.S. Senate seats (including last cycle):
1890: Winning six of 11seats
1964: Winning six of seven seats
2018: Winning three of four seats
[Note: Democrats also won six of nine seats during the Election of 1932 when Republicans Smith Brookhart and L.J. Dickinson were in office, but Brookhart lost his seat that cycle to Democrat Richard Murphy. Brookhart lost the GOP nomination to Henry Field earlier that year and ran as a Progressive in the general election].
There is currently no state in the nation in which one party controls both of its U.S. Senate seats while another owns a monopoly on the U.S. House delegation.
Follow Smart Politics on Twitter.