O'Rourke, Abrams, and Gillum: Who Had the Most Impressive Loss of 2018?
Beto Envy (or fatigue?) may be causing some journalists and potential Democratic presidential candidates to stretch the truth about the 2018 midterms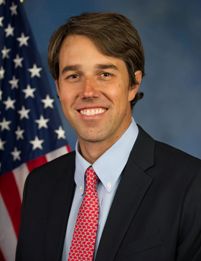 The 2020 Democratic presidential field is currently a mix of well-established officeholders (Bernie Sanders, Kirsten Gillibrand, Amy Klobuchar, Elizabeth Warren, John Hickenlooper, Jay Inslee), oft-called rising (i.e. young) stars (Kamala Harris, Julian Castro, Cory Booker, Beto O'Rourke), and relatively little-known politicians (Pete Buttigieg, John Delaney, Tulsi Gabbard, Wayne Messam).
However, only one of these candidates lost their last election – failed Texas 2018 U.S. Senate nominee Beto O'Rourke.
The large field is expected to grow even more in the coming weeks and months, with another 2018 candidate who lost their race teasing a White House run: Georgia gubernatorial Democratic nominee Stacey Abrams.
Abrams, O'Rourke, and 2018 Florida gubernatorial nominee Andrew Gillum (who announced he would not run for president just a few weeks ago) were perhaps the most three notable Democratic losers of the 2018 cycle – candidates who lost close races in southern states but nonetheless ended up with all-star status.
O'Rourke, who shattered fundraising records in his campaign to unseat Texas Republican Ted Cruz, launched his presidential campaign on March 14th and Abrams is currently making the rounds with the release of a new book.
The former Georgia state legislator appeared on MSNBC's Andrea Mitchell Reports last week to promote her book and the issue was brought up as to whether O'Rourke was getting an inordinate amount of media attention vis-à-vis Abrams and Gillum.
Mitchell: You and Andrew Gillum came way closer to winning your races than Beto O'Rourke did. How do you feel about all the publicity the campaign that Beto O'Rouke has gained – by the listening tour, cooking at home, going to the dentist, his online presence, his fundraising – why Beto O'Rourke and not Andrew Gillum and not Stacey Abrams as, you know, the darling of the media?

Abrams: I don't think that success is zero sum so I don't want to disparage or take away from the reaction and the legitimate response people have to his campaign. But I do want to call to question – there is no distinction with a difference between what he accomplished and what Andrew and I accomplished. And I would challenge people to consider why we were not lifted up in the same way. I think race plays a part. I think region plays a part. And I also think phenotype plays a part. My responsibility then is to credibly investigate running for president because I want people to understand that I may not look like the typical candidate, but that does not diminish my capacity to possibly run for this job. And the same would be true for Andrew if that was something he was interested in.
But is this the case?
For starters, Abrams has received quite a bit of attention following her defeat. After all, she was provided the opportunity to give the high-profile Democratic response to President Trump's State of the Union address in early February in a speech Mitchell herself called "historic."
As for their respective elections in 2018, a case can be made that O'Rourke's performance was more impressive than Abrams' or Gillum's.
It is true that O'Rourke did have a slightly larger margin of loss – falling 2.56 points short of Cruz while Abrams lost by 1.39 points to Brian Kemp and Gillum lost to Ron DeSantis by 0.40 points.
One hurdle O'Rourke had to face that Gillum and Abrams did not, however, was an opponent who was an incumbent. Abrams and Gillum ran in open seat gubernatorial contests.
Secondly, O'Rourke had to overcome a much greater Republican tilt in his state than did Gillum in Florida and Abrams in Georgia.
Donald Trump won Texas by 9.0 points in 2016, compared to just 5.1 points in Georgia and a scant 1.2 points in Florida.
In other words, O'Rourke came 6.4 points closer to winning Texas than did Clinton whereas Abrams improved over Clinton by only 3.7 points and Gillum just 0.8 points.
O'Rourke also improved a staggering 24.6 points from his party's previous U.S. Senate nominee (David Alameel, who lost by 27.2 points to John Cornyn in 2014). Meanwhile, Abrams improved only 6.5 points over her party's 2014 gubernatorial nominee (state Senator Jason Carter lost by 7.9 points to Nathan Deal in 2014) and Gillum improved just 0.7 points from Charlie Crist's 1.1-point loss to Rick Scott in 2014.
Moreover, Georgia and Florida have seen Democratic candidates win statewide elections in far greater numbers than Texas over the last few decades.
Since 1994, when Democrats last won a statewide election in Texas (winning four races – Bob Bullock for lieutenant governor, Dan Morales for attorney general, John Sharp for comptroller, and Garry Marou for land commissioner), Republicans have rattled off 64 consecutive victories in the Lone Star State.
GOP nominees were victorious in Texas for the last 14 elections for railroad commissioner, eight races for U.S. Senate, and six each for president, governor, lieutenant governor, attorney general, comptroller, agriculture commissioner, and land commissioner.
Democrats in Georgia, meanwhile have won 18 statewide elections during this quarter-century span:
U.S. Senator: Max Cleland (1996) and Zell Miller (2000)
Governor: Roy Barnes (1998)
Lieutenant Governor: Mark Taylor (1998, 2002)
Secretary of State: Cathy Cox (1998, 2002)
Attorney General: Thurbert Baker (1998, 2002, 2006)
Agriculture Commissioner: Tommy Irvin (1998, 2002, 2006)
Labor Commissioner: Mike Thurmond (1998, 2002, 2006)
Public Service Commissioner: Bubba McDonald (1998), David Burgess (2000)
Since the last Democratic statewide victory in Georgia in 2006, Republicans have won the last 42 elections.
And, unlike in Texas and Georgia, Democratic nominees in Florida have carried the state this decade with Commissioner of Agriculture and Consumer Services nominee Nikki Fried doing so down the ballot from Gillum in 2018.
Since 1994, Democrats have won 11 statewide races in the Sunshine State:
President: Bill Clinton (1996) and Barack Obama (2008, 2012)
U.S. Senator: Bob Graham (1998) and Bill Nelson (2000, 2006, 2012)
Attorney General: Bob Butterworth (1998)
Chief Financial Officer: Alex Sink (2006)
Commissioner of Agriculture and Consumer Services: Bob Crawford (1998) and Nikki Fried (2018)
In short, while it may be true that none of these three candidates coming off a statewide loss had the electoral resume to run for president in 2020, the argument that the Democratic label next to O'Rourke's name in Texas did not make his road to a narrow loss more difficult than Abrams or Gillum seems difficult to sustain.
Follow Smart Politics on Twitter.