2020 Democratic Presidential Field Sets Record Number of Same-State Candidates
Four pairs of Democrats now have to defeat a candidate from their own state en route their party's nomination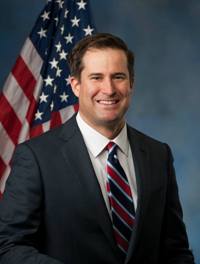 As another Northeasterner joined the 2020 presidential race this week – U.S. Representative Seth Moulton of Massachusetts – the largest field in the modern primary era set yet another record.
Moulton's entrance adds Massachusetts to a list that now tallies four states with more than one non-fringe candidate seeking a presidential nomination from the same party.
Congressman Moulton follows U.S. Senator Elizabeth Warren who announced her candidacy what seems like ages ago on February 9th.
The Bay State duo joins candidates from three other states needing to outlast a fellow resident from their home state in order to secure their party's nomination, in addition to nearly two-dozen other White House hopefuls.
Earlier this month, California was added to the list when U.S. Representative Eric Swalwell entered the race on April 8th joining U.S. Senator Kamala Harris. [Californian, author, and activist Marianne Williamson – who is rarely included in horserace polling – could also be added to this group].
New York also has two Democrats in the race. Andrew Yang – founder of Venture for America – was second only to John Delaney with his early-bird November 6, 2017 campaign launch. Yang's name is now being included in most surveys and the political novice has registered up to three percent in national polling. Yang is essentially polling as well as his fellow New Yorker – U.S. Senator Kirsten Gillibrand – who announced her campaign on March 17th.
A month ago, former U.S. Representative Beto O'Rourke's candidacy added Texas to this list, following former HUD Secretary and San Antonio Mayor Julian Castro – the first candidate to announce in 2019 (on January 12th).
The 2020 cycle now has the most pairs of same-state candidates seeking their party's nomination in the modern primary era.
Three previous cycles boasted three pairs:
1972: Democrats Shirley Chisholm and John Lindsay of New York, Democrats Hubert Humphrey and Eugene McCarthy of Minnesota, and Republicans Richard Nixon and Pete McCloskey of California
1980: Republicans Ronald Reagan and Ben Fernandez of California, John Anderson and Phil Crane of Illinois, and George H.W. Bush and John Connally of Texas
2016: Republicans Donald Trump and George Pataki of New York, Ted Cruz and Rick Perry of Texas, and Jeb Bush and Marco Rubio of Florida.
The 2012 cycle had two pairs (Republicans Tim Pawlenty and Michele Bachmann of Minnesota and Newt Gingrich and Herman Cain of Georgia) following three cycles without any same-state foes (2000, 2004, 2008).
The number of states with more than one candidate seeking the same party's presidential nomination could grow even higher in 2020.
U.S. Senator Michael Bennet had been eying a bid and an April launch from Colorado to join former Rocky Mountain State Governor John Hickenlooper. However, the lawmaker had to undergo prostrate surgery after he was diagnosed with cancer and his 2020 plans are still yet to be determined.
Follow Smart Politics on Twitter.