Which news outlets are omitting long-shot Democratic hopefuls from their 2020 candidate profiles?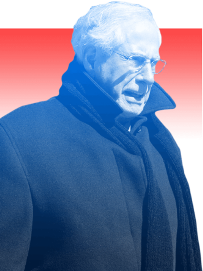 Correctly anticipating the large number of Democrats running for president this cycle, a few months ago the DNC capped the number of individuals to appear in the debates at 20.
Twenty-one candidates are already in the race, and the unwieldy field has seemingly been a challenge for graphics departments at television news outlets to fit head shots of all the men and women seeking their party's nomination on the screen at the same time – frequently omitting some of the lesser known players in the race.
Not surprisingly, the most commonly ignored presidential hopefuls have been a pair of candidates yet to hold political office (entrepreneur Andrew Yang and author Marianne Williamson), one who has been out of office for decades (former U.S. Senator Mike Gravel, pictured), and a heretofore little-known mayor of a moderately populated city (Wayne Messam of Miramar, Florida).
On news websites, however, space is less of an issue, and most of these 21 candidates are being mentioned and profiled among the remaining Democratic White House contenders.
But not always.
Smart Politics examined the updated 2020 candidate listings on the websites of more than a dozen news outlets and found that an average of 19.1 Democrats are currently profiled in recent articles summarizing the presidential field.
[News outlets under analysis were FiveThirtyEight, ABC, Associated Press, CBS, CNN, FOX, New York Times, POLITICO, Time, USA Today, Vox, Washington Post, and Yahoo].
Each of these news outlets were in agreement that the following 14 candidates should be included in their profiles: Joe Biden, Cory Booker, Pete Buttigieg, Julian Castro, John Delaney, Tulsi Gabbard, Kirsten Gillibrand, Kamala Harris, John Hickenlooper, Jay Inslee, Amy Klobuchar, Beto O'Rourke, Bernie Sanders, and Elizabeth Warren.
Each outlet also excluded one particular candidate – Gravel – who also sought the Democratic and Libertarian presidential nominations in 2008.
Gravel's 2020 candidacy has followed an unusual path (with teenagers serving as his campaign manager and chief of staff ) and has a stated goal of not winning the nomination but simply getting into the debates to use that platform to discuss policy issues that are important to him.
Although his campaign sounds somewhat whimsical, Gravel did file a statement of candidacy with the FEC on April 2nd, launched his campaign on April 8th, and has an official website.
Nonetheless, none of the outlets under analysis currently feature the former senator as a major presidential candidate.
[To its credit, FiveThirtyEight lays out specific details as to how they determine a 'major' presidential candidate – requiring a candidate to meet six of 10 criteria if they do not otherwise qualify for the debates as laid out by the DNC's fundraising and polling measurements. One such requirement is a measurement of how actively the candidate "Is running to win (not merely to draw attention to an issue)"].
Five news outlets also do not list Mayor Messam among the major Democratic candidates in the race – FiveThirtyEight, CBS, Time, Vox, and Yahoo.
It should be noted that Miramar's population as of the 2010 U.S. Census was actually 20 percent larger than Mayor Pete Buttigieg's city of South Bend, Indiana – 122,041 to 101,168 – but Buttigieg was a somewhat known political commodity heading into 2020, having run for DNC chair in 2017.
In addition to Gravel and Messam, Time also does not profile Yang and Williamson although all but Gravel are briefly mentioned in a postscript as also having "announced their intentions to seek the Democratic nomination in 2020."
Meanwhile, CBS News includes Yang in their candidate listing but excludes Williamson as well as three sitting U.S. Representatives – Swalwell, Ryan, and Moulton.
Yang has already qualified for the debates both through the DNC's grassroots fundraising and polling criteria.
Follow Smart Politics on Twitter.