Which States Have Had the Most Women Nominated to the US Senate?
Major parties in nine states have not nominated a woman to the U.S. Senate this century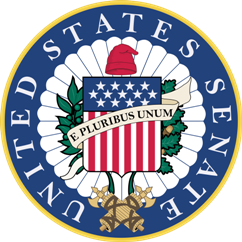 The 2020 cycle has seen a record number of women from a major party run for president – Democrats Kamala Harris, Tulsi Gabbard, Elizabeth Warren, Amy Klobuchar, Kirsten Gillibrand, and Marianne Williamson – although there are probably less than even odds that one of these candidates will become their party's nominee.
And, as a recent Smart Politics report noted last week, it may prove difficult in 2020 to equal or best the record 23 Democratic and Republican women who received U.S. Senate nominations last cycle.
Due in part to Republicans defending 22 of 34 seats in 2020, there will be far fewer women running to defend their seats next year (seven) compared to 2018 (13).
One of those women, GOPer Cindy Hyde-Smith, helped get Mississippi off the schneid in 2018 as it became the last state to see a woman who identified with a major political party make it to the general election ballot. [Note: Though Hyde-Smith was technically not a Republican nominee in Mississippi's 2018 non-partisan special election; the race resulted in a top-two runoff with Democrat Mike Espy, as no candidate received a majority of the vote on November 6th].
Eight other states have also done so only once: Idaho (Gracie Pfost, 1962), Virginia (Edie Harrison, 1984), Indiana (Jill Long, 1986), Vermont (Jan Backus, 1994), Ohio (Mary Boyle, 1998), Montana (Amanda Curtis, 2014), and Oklahoma (Connie Johnson, 2014).
Five other states have had major parties nominate women to the office just twice: South Dakota, Alabama, Georgia, Tennessee, and Utah.
In addition to Hyde-Smith, the other women in the U.S. Senate scheduled to defend their seats in 2020 are Republicans Martha McSally of Arizona, Joni Ernst of Iowa, Susan Collins of Maine, and Shelly Moore Capito of West Virginia plus Democrats Tina Smith of Minnesota and Jeanne Shaheen of New Hampshire.
It is a bit early to predict how many other women will emerge as nominees by next year, although the door seemingly swung open for Congresswoman Liz Cheney of Wyoming to graduate to the upper legislative chamber, with Senator Mike Enzi's retirement announcement last weekend.
Other possible nominees include three Democrats: former Columbus Mayor Teresa Tomlinson of Georgia, New Mexico Secretary of State Maggie Toulouse Oliver, and North Carolina state Senator Erica Smith.
Over the decades, the state with the largest number of women to receive major party U.S. Senate nominations is Maine with 18; Senator Collins hopes to add to that total next year.
California has produced 15 such nominees followed by New York and Washington with 11 each, Missouri with 10, and Hawaii, Maryland, and Michigan with eight.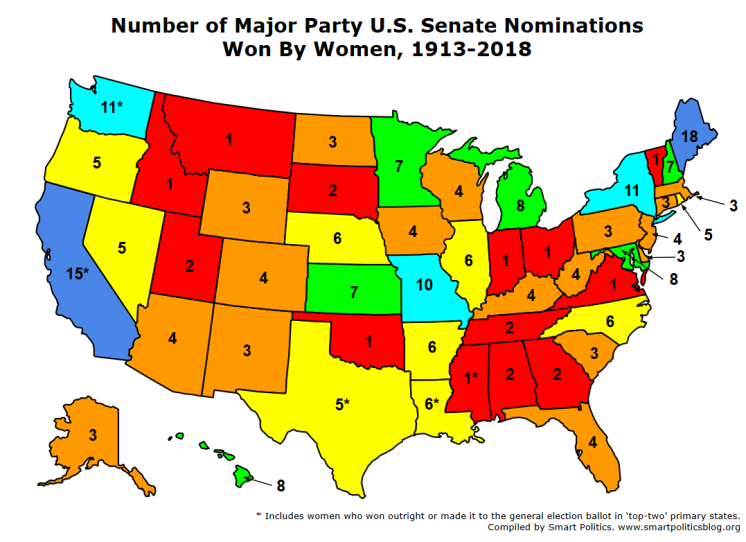 Democrats and Republicans in nine states have yet to nominate a woman to the U.S. Senate this century: Idaho (Gracie Pfost, 1962), Virginia (Edie Harrison, 1984), Indiana (Jill Long, 1986), New Jersey (Christine Todd Whitman, 1990), South Dakota (Charlene Haar, 1992), Vermont (Jan Backus, 1994), Rhode Island (Nancy Mayer, 1996), Colorado (Dottie Lamb, 1998), and Ohio (Mary Boyle, 1998).
Four additional states did not do so during the 2010s: Wyoming (Joyce Jansa Corcoran, 2002), Florida (Katherine Harris, 2006), Texas (Kay Bailey Hutchison, 2006), and Alabama (Vivian Figures, 2008).
In total, women have been nominated by major parties to the U.S. Senate 237 times during the direct election era.
Follow Smart Politics on Twitter.