Iowa GOP Seeks 1st Unseating of Freshman US Rep in More Than a Half-Century
Iowa freshmen U.S. Representatives have won their last 22 reelection bids since 1968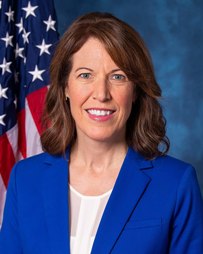 Former Iowa U.S. Representative David Young officially announced earlier this week that he would vie to take back his former congressional district in a rematch against Democrat Cindy Axne (pictured).
Axne unseated Young in the state's 3rd CD last year and will (presumably) be joined by freshman Democrat Abby Finkenauer from the 1st CD defending their seats on the 2020 ballot in two key races for their party to hold the chamber for the 117th Congress. [Axne has decided not to challenge U.S. Senator Joni Ernst while Finkenauer has not yet made such a declaration].
Congresswoman Axne represents a slightly more vulnerable district for the party among the two first-term U.S. Representatives in the state.
But although freshman lawmakers are generally more vulnerable at the ballot box to retain their seats, it has been quite some time since a first-term member of the U.S. House from Iowa has been defeated in their quest for reelection.
In fact, it's been more than half a century.
The 1966 cycle was the last time a freshman U.S. Representative from either party in Iowa lost their seat at the ballot box – in what was a disastrous cycle for Democrats in the state.
After picking off five GOP-held seats during the Democratic landslide of 1964, four of these five freshmen gave their seats right back to the GOP two years later – with two freshmen being vanquished by those they had just unseated:
1st CD: John Schmidhauser lost to former Rep. Fred Schwengel
4th CD: Bert Bandstra was defeated by former Rep. John Kyl
6th CD: Stanley Greigg lost to attorney Wiley Mayne
7th CD: John Hansen was beaten by state Representative William Scherle
Since the 1966 cycle, however, every freshman Democrat and Republican running for reelection to the U.S. House from Iowa has prevailed – notching a perfect record of 22-0.
Winners include Democrats Ed Mezvinsky (1974), Berkley Bedell (1976), Michael Blouin (1976), Tom Harkin (1976), David Nagle (1988), Leonard Boswell (1998), Bruce Braley (2008), and Dave Loebsack (2008) and Republicans Wiley Mayne (1968), William Scherle (1968), Chuck Grassley (1976), Jim Leach (1978), Tom Tauke (1980), Cooper Evans (1982), Jim Lightfoot (1986), Fred Grandy (1988), Jim Nussle (1992), Greg Ganske (1996), Tom Latham (1996), Steve King (2004), Rod Blum (2016), and David Young (2016).
The closest calls freshmen have faced during this span was Nussle's 1.1-point 2nd CD win over Congressman Nagle after reapportionment in 1992, Blouin's 1.2-point 2nd CD win against Tom Riley in 1976, and Ganske's 5.3-point 4th CD win over Connie McBurney in 1996.
Since the 1840s, Iowa freshmen have won 125 of 156 reelection bids (80.1 percent).
Republican freshmen have cruised to victory in 100 of 109 attempts (91.7 percent) while Democrats have won only 25 of 44 attempts (56.8 percent).
The last first-term Republican to lose their seat was Earl Vincent in 1928 after losing his renomination bid to Charles Swanson.
Only one other GOPer lost their first reelection bid since 1900, although technically the lawmaker was not a freshman at the time. George Scott simultaneously won special and general elections on November 5, 1912, serving the last four months of the 63rd Congress and the entirety of the 64th. In November 1914, however, he was defeated by Democrat Thomas Steele.
With two freshmen up for reelection, Democrat Dave Lobsack's retirement likely creating a competitive open 2nd CD, and Republican Steve King being heavily targeted by his own party in the 4th CD, the 2020 elections could produce significant turnover in Iowa's congressional delegation.
Follow Smart Politics on Twitter.