Which States Have Never Elected Lieutenant Governors to the Governorship?
Just six of the 43 states with stand-alone offices of lieutenant governor have yet to see a former or sitting lieutenant governor become governor at the ballot box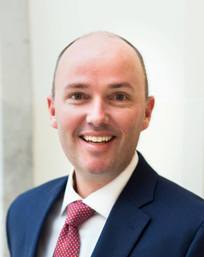 Utah's next governor may make the history books.
Former governor Jon Huntsman is reportedly still seriously considering a run for the office he held from 2005 to 2009 – a campaign that, if successful, would make him the first governor from Utah to serve nonconsecutive terms. [Only four other states share Utah's history: Hawaii, Kansas, Nevada, and Wyoming].
Meanwhile, Lieutenant Governor Spencer Cox (pictured) officially jumped into the state's 2020 race on Tuesday in hopes of becoming Utah's first sitting or ex-Lieutenant Governor to become governor via the ballot box.
The office of lieutenant governor did not exist in the Beehive State until 1975.
Republican Lieutenant Governors Olene Walker and Gary Hebert initially became governor via succession following the respective resignations of Michael Leavitt in 2003 and Huntsman in 2009.
Of the 43 states that currently have a stand-alone office of lieutenant governor, Utah is one of just six that has never seen a former or sitting lieutenant governor win a gubernatorial election, along with Alaska, Arkansas, Florida, Maryland, and New Jersey.
[Note: Arizona, Maine, New Hampshire, Oregon, and Wyoming do not have lieutenant governors. In Tennessee and West Virginia, the lieutenant governor is the president of the state senate].
Most of these six states have had long stretches in history during which there was no lieutenant governor.
Arkansas' constitution did not provide for a lieutenant governor from 1874-1927 with even longer gaps in Maryland (1868-1971) and Florida (1889-1969).
Lieutenant governors first took office in 1975 in Utah and in 2010 in New Jersey.
Alaska has had one former lieutenant governor become governor through succession – Republican Sean Parnell in 2009 after the resignation of Sarah Palin.
Arkansas has similarly had a pair of governors sworn into office via succession during the last quarter-century: Jim Guy Tucker in 1992 and Mike Huckabee in 1996 after the resignations of Bill Clinton and Tucker respectively.
Several states have seen sitting or ex-lieutenant governors win gubernatorial elections this century including California (Democrat Gavin Newsom, 2018), Delaware (Democrat John Carney, 2016), Idaho (Republican Brad Little, 2018), Louisiana (Democrat Kathleen Blanco, 2003), Mississippi (Republican Phil Bryant, 2011), Montana (Republican Judy Martz, 2000), North Carolina (Democrat Bev Perdue, 2008), Ohio (Republican Mike DeWine, 2018), Oklahoma (Republican Mary Fallin, 2010), South Dakota (Republican Dennis Daugaard, 2010), Vermont (Republican Phil Scott, 2016), and Virginia (Democrat Ralph Northam, 2017).
In some instances, the gap between winning elections for the two offices has been quite large.
For example, Mike DeWine won his election for lieutenant governor in 1990 and was not elected governor until 2018 (serving two terms in the U.S. Senate and two terms as state attorney general in the meantime).
Delaware Democrat John Carney (2004 and 2016) and Illinois Republican George Ryan (1982/86 and 1998) won elections 12 years apart to the two offices.
Additional sitting lieutenant governors who have announced or are seriously considering gubernatorial bids include Mississippi Republican Tate Reeves (2019) and North Carolina Republican Dan Forest (2020).
Follow Smart Politics on Twitter.