Bevin Records Narrowest Primary Victory by Kentucky Governor
Of the eight sitting governors to seek their party's nomination since the early 1900s, Bevin's 13.4-point win was the closest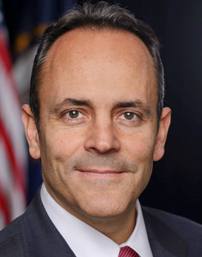 Although Kentucky Republican Matt Bevin entered Tuesday's primary with the lowest gubernatorial approval rating in the country (33 percent, according to Morning Consult), his victory against state Representative Robert Goforth was still closer than many analysts (and polling data) suggested.
With 100 percent of precincts reporting, Bevin's unofficial victory margin over Goforth totaled 13.4 points.
That marks the narrowest win by an incumbent in a Kentucky gubernatorial primary in state history.
Since the first state primary for the office in 1903, sitting Kentucky governors have landed on the primary ballot eight times (a smallish number due in large part to the fact that governors could not serve consecutive full terms until a little more than a quarter-century ago).
However, several lieutenant governors who became governor via succession after the resignation or death of an elected governor sought a subsequent full term and thus ran in their party's primary.
Each of these incumbents enjoyed stronger wins than Bevin on Tuesday:
In 1903, Democrat J.C.W. Beckham ran unopposed in the first state primary for his party, winning election to a full term that November. Beckham initially became governor after the assassination of Governor William Goebel in 1900.
In 1919, Democrat James Black defeated state Supreme Court Chief Justice John Carroll by 19.0 points. Black became governor following the resignation of Governor Augustus Stanley who was elected to the U.S. Senate. Black would lose the general election to attorney and 1915 GOP nominee Edwin Morrow.
In 1951, Democrat Lawrence Wetherby beat Covington attorney Howell Vincent by 53.0 points. Wetherby took office after the resignation of Governor Earle Clements in November 1950 to take his U.S. Senate seat.
In 1975, Democrat Julian Carroll defeated Jefferson County Judge Todd Hollenbach by 37.8 points. Carroll took office in December 1974 after Governor Wendell Ford resigned to be seated in the U.S. Senate.
Two other Democratic governors ran unopposed to secure their renomination bids: Paul Patton in 1999 and Steve Beshear in 2011.
Aside from Bevin, the only sitting Republican Kentucky governor to seek a second consecutive term was Ernie Fletcher in 2007.
Fletcher beat former U.S. Representative Anne Northrup by 13.6 points – only a slightly bigger cushion than Bevin's 13.4-point primary victory this week.
On the Democratic side Tuesday, state Attorney General Andy Beshear's 6.0-point victory over state Representative Rocky Adkins goes down as the eighth closest gubernatorial primary for the party in Kentucky history:
1923: U.S. Representative J.C. Cantrell beat fellow congressman Alben Barkley by 3.8 points
1935: Lieutenant Governor Happy Chandler defeated former state Treasurer Thomas Rhea in a runoff by 5.4 points (Rhea led Chandler by 3.0 points in the initial primary)
1955: Former Governor Chandler edged Kentucky Court of Appeals Judge (and future governor) Bert Combs by 3.6 points
1959: Combs defeated Lieutenant Governor and former House Speaker Harry Waterfield by 5.9 points
1979: Entrepreneur John Brown, Jr. beat former Louisville Mayor Harvey Sloane by 4.4 points in a nine-candidate field
1983: Lieutenant Governor Martha Collins nipped Sloane by 0.7 points
2003: State Attorney General Ben Chandler defeated state House Speaker Jody Richards by 3.7 points
The 27.9 percent won by former Auditor Adam Edelen behind Beshear and Adkins marks the second best showing for a third-place candidate from either party in a gubernatorial primary.
In 1983, Democratic physician and former state Human Resources Secretary Grady Stumbo won 30.3 percent en route to his bronze medal behind the aforementioned Collins (34.0 percent) and Sloane (33.3 percent).
Follow Smart Politics on Twitter.