How Many 1st Term US Senators Will Lose in 2020?
At least one first-term incumbent has been defeated in 49 of the 53 election cycles during the direct election era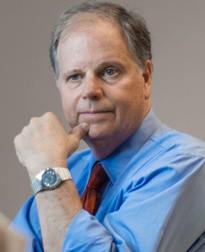 Just as Democrats were forced to defend an unusually high number of U.S. Senate seats in 2018, so too will Republicans in 2020 with 22 of the 34 seats on the ballot currently held by the GOP.
A majority of those 22 seats – 13 – are held by first-term incumbents: Dan Sullivan (Alaska), Martha McSally (Arizona), Tom Cotton (Arkansas), Cory Gardner (Colorado), David Perdue (Georgia), Joni Ernst (Iowa), Bill Cassidy (Louisiana), Cindy Hyde-Smith (Mississippi), Steve Daines (Montana), Ben Sasse (Nebraska), Thom Tillis (North Carolina), Mike Rounds (South Dakota), and Shelley Moore Capito (West Virginia).
By contrast, just a quarter of the Democratic seats are held by senators in their first term: Doug Jones (Alabama, pictured), Gary Peters (Michigan), and Tina Smith (Minnesota).
Over the decades, first-term U.S. Senators usually account for much less than half of the number of incumbents on a given cycle's ballot, but not surprisingly have the most difficult time holding onto their seats.
Since 1914, over 52 percent of U.S. Senators who lost their seats were in their first term.
And it is almost a certainty that at least one such senator will be defeated in 2020.
Smart Politics reviewed the more than 1,900 U.S. Senate elections conducted since 1914 and found that at least one first term U.S. Senator was defeated in 49 of the 53 election cycles.
Overall, 364 U.S. Senators have been defeated during the last 53 cycles after the passage of the 17th Amendment.
Of these 364 incumbents, 191 were in their first-term, or 52.5 percent of those who fell in defeat at either the nomination or general election phase.
[Note: This tally does not include an additional 11 U.S. Senators who were elected to one term, were then appointed just a few days or weeks prior to the start date of that term, and were then defeated when seeking what was technically a third term, not a second. This practice (to boost seniority over fellow classmates) is no longer permitted in the chamber.]
Over the past century-plus, an average of 3.6 first-term U.S. Senators have gone down to defeat per cycle.
The only cycles during which a first-term incumbent did not suffer such a defeat were in 1960, 1990, 2004, and 2010 – cycles in which there was a relatively low number of those seeking reelection for the first time: just seven in 1960, eight in 1990, six in 2004, and eight in 2010.
By contrast, there were a dozen first-term U.S. Senators seeking reelection in 2012, 14 in 2014, 15 in 2016, 14 in 2018, and the aforementioned 15 are expected to do so in 2020.
Over the decades, there has been a notable change in the number of U.S. Senators who have been defeated at the ballot box. For the first 50 years of direct elections from 1914 through 1964, a total of 232 U.S. Senators were defeated in their quest for another term, or 8.9 per cycle. Over the last 52 years since 1966, that number has dropped to 4.9 per cycle (132 senators).
The cycle with the largest number of defeated incumbents came after the Great Depression during the Democratic landslide of 1932 when 14 U.S. Senators failed to win another term. Four of those were in their first term: Democrat Walter Walker of Colorado and Republicans John Thomas of Idaho, Otis Glenn of Illinois, and John Blaine of Wisconsin.
The most first-term incumbents to suffer defeat came in 1918 with 10: Republican John Weeks of Massachusetts and Democrats John Shafroth of Colorado, Willard Saulsbury of Delaware, Thomas Hardwick of Georgia, J. Hamilton Lewis of Illinois, William Thompson of Kansas, James Vardaman of Mississippi, Xenophon Wilfley of Missouri, Henry Hollis of New Hampshire, and Christie Benet of South Carolina.
Nine lost in 1916 and 1926 with eight in 1930, and seven in 1922, 1938, 1942, and 1946.
No more than five first-term incumbents have lost in any election cycle since the 1950s.
Since 1992, the number of first-term senators who lost their seats has been fairly evenly divided between the Republicans (14) and Democrats (10):
1992: Georgia Democrat Wyche Fowler and California Republican John Seymour
1994: Pennsylvania Democrat Harris Wofford
1996: Kansas Republican Sheila Frahm
1998: Illinois Democrat Carol Mosely-Braun and North Carolina Republican Lauch Faircloth
2000: Republicans Spence Abraham of Michigan, John Ashcroft of Missouri, and Rod Grams of Minnesota
2002: Arkansas Republican Tim Hutchinson, Georgia Democrat Max Cleland, and Missouri Democrat Jean Carnahan
2006: Republicans Jim Talent of Missouri and George Allen of Virginia
2008: Republicans Norm Coleman of Minnesota, John Sununu of New Hampshire, and Elizabeth Dole of North Carolina
2012: Massachusetts Republican Scott Brown
2014: Democrats Mark Begich of Alaska, Kay Hagan of North Carolina, and Mark Udall of Colorado
2016: New Hampshire Republican Kelly Ayotte
2018: Democrats Joe Donnelly of Indiana and Heidi Heitkamp of North Dakota
Could 2020 see as many as five first term senators lose their seats?
Probably not, although there are four particularly vulnerable senators in this group: Democrat Doug Jones of Alabama and Republicans Martha McSally of Arizona, Cory Gardner of Colorado, and Thom Tillis of North Carolina.
A strong Democratic cycle at the top of the ticket could also put the seats of Iowa's Joni Ernst and Georgia's David Perdue in jeopardy, although top-tier candidate recruitment has so far eluded the party to date.
Follow Smart Politics on Twitter.