Greg Gianforte and a Brief History of Montana US Reps Running for Governor
Gianforte is just the second sitting U.S. Representative from Montana to seek the governorship in state history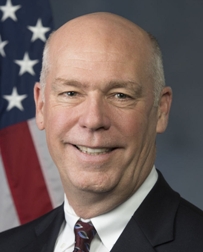 After a short stint in Congress, two-term Montana Republican U.S. Representative Greg Gianforte has decided to make a second run at the governorship, following his 3.9-point loss to Governor Steve Bullock in 2016.
The GOP field is slated to be a who's who in Montana politics with Secretary of State Corey Stapleton, state Attorney General Tim Fox, state Senator Al Olszewski, and former state Senator Gary Perry already in the race.
Only one sitting U.S. Representative from the Treasure State has ever been elected governor – and Gianforte is just the second to even make such an attempt.
In 1936, Democrat Roy Ayers was a two-term congressman who defeated incumbent Governor William Holt in the July primary. [Holt, president of the state Senate, became governor after the death of Frank Cooney in 1935. Lieutenant Governor Cooney had succeeded Governor John Erickson who resigned his seat after an appointment to the U.S. Senate in 1933].
Ayers then defeated former Lieutenant Governor Frank Hazelbaker in the general election and would serve one term before losing his 1940 reelection bid.
Ayers actually lost three gubernatorial races during his political career, having already been defeated during the Democratic primaries of 1924 and 1928 by Erickson while serving as a judge of the tenth judicial district of Montana.
No other sitting U.S. Representative has appeared on a Montana primary or general election gubernatorial ballot – although five ex-U.S. Representatives have made such bids.
In 1920, former two-term U.S. House member Joseph Dixon (1903-1907) won a crowded GOP primary and then defeated former state legislator and future U.S. Senator Burton Wheeler that November by 19.5 points.
Dixon had also served one term in the U.S. Senate in the interim (1907-1913).
In 1944, former one-term Republican Jacob Thorkelson (1939-1941) was crushed in his party's primary by Governor Sam Ford. Ford clobbered the physician and 1942 U.S. Senate candidate by 76.4 points.
The 1960 cycle saw former five-term U.S. Representative Wesley D'Ewart (1945-1955) run for governor.
Like Thorkelson, D'Ewart also cut his U.S. House tenure short with a failed U.S. Senate bid (in 1954) and then came up just 0.8 points shy of winning the GOP nomination for governor in 1960 to former state Senator Donald Nutter.
In 1968, former two-term Democratic U.S. Representative LeRoy Anderson (1957-1961) made a gubernatorial bid, but placed a distant third in his party's primary with just 16.2 percent – 22.2 points behind victor former state legislator, state Supreme Court justice, and sitting state Attorney General Forrest Anderson. Anderson also ended his U.S. House career by opting to run for the U.S. Senate in 1960 (and failed).
The last gubernatorial candidate to have previously served in the U.S. House was Republican Rick Hill.
Hill served two terms in the chamber (1997-2001) but waited 12 years to launch a run for the governor's office in 2012.
Hill won the GOP nomination by 16.3 points over 2020 candidate Corey Stapleton but Bullock defeated him that November by 1.6 points.
It should be noted that a sitting U.S. Delegate from Montana did win the state's inaugural gubernatorial election.
In 1889, Democrat Joseph Toole – who had served two terms as a territorial delegate (1885-1889) – edged banker and future U.S. Senator Thomas Power by 1.9 points. Toole would later win the gubernatorial elections of 1900 and 1904.
Gianforte enters the 2020 race following two close statewide electoral victories to Montana's at-large U.S. House seat, beating musician Rob Quist by 5.6 points in 2017's special election and state Representative Kathleen Williams by 4.6 points last year.
If Gianforte survives his party's primary next year he will try to avoid being the first major party nominee to lose two consecutive gubernatorial elections in Montana since Frank Hazelbaker in 1932 and 1936.
State House Minority Leader Casey Schreiner and former state Representative Reilly Neill are seeking the Democratic nomination.
Follow Smart Politics on Twitter.