Justin Amash and a Review of Non-Major Party Michigan US House Candidacies
Only two third party or independent candidates to the chamber have won 10 percent of the vote over the last 100 years from the Wolverine State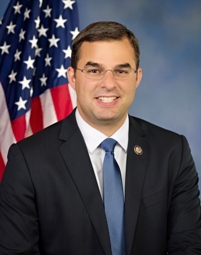 Republican-turned-independent lawmaker Justin Amash has not completely ruled out a 2020 presidential bid, but for the time being is planning on running for reelection to a sixth term from Michigan's 3rd Congressional District.
Amash purposefully and explicitly declared his independence from the GOP on July 4th after breaking from his party last month by declaring President Donald Trump should be brought up on impeachment charges.
His departure also was timed as a growing field of bona fide candidates were lining up to challenge him in what would have been a difficult primary battle – including state Representatives James Mower and Lynn Afendoulis.
Should Amash still see it through and run for reelection, he will be assured of setting the best mark for an independent candidacy for a U.S. House election in Michigan history.
Since statehood over 180 years ago, only two independents have received at least five percent of the vote in a Michigan U.S. House race.
In 1993's 3rd CD special election to fill the vacancy created by the death of Republican Paul Henry, attorney, political novice, and Ross Perot-backer Dawn Krupp received 10.2 percent in a race won by GOP state Senator Vernon Ehlers.
The only other independent to reach the five percent mark was Sam Johnson in 1984's 7th CD race won by incumbent Democrat Dale Kilee (6.9 percent). However, no Republican was on the ballot in that contest.
Over the last 100 years, Krupp is one of only two independent or third-party candidates to reach double digits in a Michigan U.S. House race with two major party nominees on the ballot.
The other to do so was independent Republican Grant Hudson in 1932's 6th CD contest. Hudson, a former four-term GOP U.S. Representative (1923-1931), was not on the ballot but still won 12.5 percent as a write-in candidate.
Amash, who will assuredly appear on the ballot if he runs, should fare well north of that mark.
Only two non-major party candidates have ever been elected to the U.S. House across the approximately 1,200 general and special elections that have been held in the state since the 1830s.
[Note: While the Republican Party was not a major national party during the Election of 1854 when it captured three U.S. House seats in Michigan, the Whig Party in Michigan had completely fused to the GOP by the autumn of 1854 and thus the Republican Party became the second major party in the state].
In 1912, Progressive Roy Woodruff of the 10th CD narrowly unseated five-term Republican George Loud with 35.1 percent – serving only one term before losing a 1914 rematch to Loud by 18.7 points.
Also in 1912, Progressive William MacDonald saw his initial 215-vote loss to five-term Republican H. Olin Young turn into a 243-vote victory after successfully contesting the race – taking his seat in August 1913. MacDonald also served only one term, losing to Republican William James in 1914 by 18.1 points.
Michigan has generally been a haven for third party candidates over the last few decades with Libertarian, Green, U.S. Taxpayers, and Natural Law nominees frequently appearing on the ballot.
Overall, there have been 1,547 third party or independent candidates on the ballot across the nearly 1,200 Michigan U.S. House contests since statehood.
Of these, just 109 candidates reached five percent of the vote (7.0 percent) and only 41 won double-digit support (2.7 percent).
Progressives dominate the Top 10 on this list although the largest percentage of the vote ever recorded by a non-major party candidate was by 1878 Greenback nominee Charles Comstock in the 5th CD (43.7 percent).
People's nominee Thomas Barkworth won 40.6 percent in 1894's 2nd CD race, followed by the aforementioned MacDonald's 39.3 percent in 1912 and Greenback nominee John Dawson's 35.8 percent in the 1878 3rd CD race.
In addition to the previously mentioned Woodruff's 35.1 percent in 1912, Progressive nominees topped the 30 percent mark six other times in 1912 and 1914.
Twelve third parties have run nominees who captured at least five percent of the U.S. House vote in the state:
Free Soil (three times)
Greenback (14)
Industrial (one)
Libertarian (seven)
Liberty (eight)
People's (13)
Progressive (24)
Prohibition (30)
Socialist (one)
Third (three)
U.S. Taxpayers (one)
Working Class (one)
It should be noted that only one Libertarian nominee who reached the five percent mark did so with two major party candidates on the ballot: Clint Foster in 2002's 5th CD (5.4 percent).
In fact, of the 11 U.S. House candidates who have won five percent of the vote in Michigan since 1940, only Foster and the aforementioned independent Dawn Krupp did so with both Democrats and Republicans in the race.
Follow Smart Politics on Twitter.