Will Trump Pass Carter and Bush 41 for 1st Term Cabinet Exits?
With Acosta's forthcoming exit, Trump has tied Jimmy Carter and George H.W. Bush with eight exits by original department heads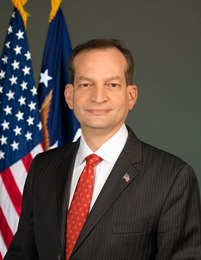 With Alex Acosta's recent announcement that he would resign from his post on July 19th as U.S. Secretary of Labor, yet another Donald Trump cabinet secretary is out during the president's first term.
Acosta's departure now means in less than two and one-half years since Trump took office, more than half Trump's initial 15 department heads have left due to policy disagreements with the president, scandal/controversy, or other administrative reasons: John Kelly (Homeland Security), Tom Price (Health and Human Services), David Shulkin (Veterans Affairs), Rex Tillerson (State), Jeff Sessions (Justice), Jim Mathis (Defense), Ryan Zinke (Interior), and Acosta (Labor).
[Note: A second non-acting department head has also exited from one of these aforementioned departments – Kirstjen Nielsen of Homeland Security].
Despite all of these resignations, however, Trump has not yet eclipsed two modern presidents on this metric.
George H.W. Bush also saw eight of his initial department heads leave before the end of his four years in office: Clayton Yuetter (Agriculture), Dick Thornburgh (Attorney General, holdover from Ronald Reagan's administration), Robert Mosbacher (Commerce), Laura Cavazos (Education, holdover from Reagan), Elizabeth Dole (Labor), James Baker (State), Samuel Skinner (Transportation), and Edward Derwinski (Veterans Affairs).
[Note: Technically, Jack Kemp (HUD) and Nicholas Brady (Treasury) also left office a few days before the end of Bush's term].
Jimmy Carter also saw eight original department heads leave their position before his four years at the White House came to an end: Griffin Bell (Attorney General), Juanita Creps (Commerce), Joseph Califano (Health, Education, and Welfare), James Schlesinger (Energy), Patricia Harris (HUD, who shifted over to head HEW), Cyrus Vance (State), Brock Adams (Transportation), and W. Michael Blumenthal (Treasury).
It should be noted there were fewer departments during both the presidencies of Carter (no Veterans Affairs or Homeland Security) and Bush 41 (no Homeland Security) than Trump's.
The revolving door in Trump's cabinet is in stark contrast to the stability seen during the first term of the last two presidents.
Barack Obama saw all but two initial department heads last through at least the end of his first term.
The two exceptions were Commerce Secretary Gary Locke (2 years, 4 months, 7 days) and Defense Secretary Robert Gates (a George W. Bush administration holdover who left 2 years, 5 months, 11 days after Obama took office).
In other words, Trump had seven department heads leave office before the first such departure during President Obama's first term.
Likewise, George W. Bush only replaced two of his initial cabinet heads during his first term: the Treasury's Paul O'Neill (after 1 year, 11 months, 2 days) and Mel Martinez of Housing and Urban Development (2 years, 10 months, 19 days).
Bill Clinton lost four department heads during his first four years in office: Mike Espy (Agriculture), Ron Brown (Commerce, died), Les Aspin (Defense), and Lloyd Bentsen (Treasury).
[Note: An additional three Clinton cabinet members left a few days before the end of the president's first term in January 1997 – Henry Cisneros (HUD), Robert Reich (Labor), and Warren Christopher (State)].
Reagan replaced five such administration officials during his first term: James Edwards (Energy), Richard Schweiker (HHS), James Watt (Interior), Alexander Haig (State), and Drew Lewis (Transportation).
Of the eight original department heads who have left during Trump's administration, a few set records along the way.
Price served for 7 months, 20 days which marked the shortest tenure in HHS history (or its predecessor Health, Education, and Welfare).
Kelly lasted 6 months, 12 days – also the shortest tenure in the (brief) history of the Department of Homeland Security.
Shulkin remained on the job in Veterans Affairs for 1 year, 1 month, 15 days – well short of Derwinski's previous low water mark for a first presidential pick in the department's history (3 years, 6 months, 12 days).
The remaining seven original Trump department heads are Sonny Perdue (Agriculture), Wilbur Ross (Commerce), Betsy DeVos (Education), Rick Perry (Energy), Ben Carson (HUD), Elaine Chao (Transportation), and Steven Mnuchin (Treasury).
Follow Smart Politics on Twitter.