How Many States Will Trump Carry With 60+ Percent in 2020?
Just two winning presidential candidates have never hit the 60 percent mark in a single state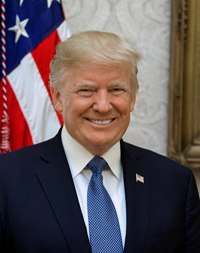 Although there were plenty of close contests in the 2016 presidential election – with 11 states decided by less than five points – there was also an even larger number of states hosting true blow-outs (with 19 states decided by more than 20 points).
As partisan polarization continues to heighten in this country, it seems the red states are getting redder and the blue states bluer.
Smart Politics has previously documented over the last few presidential election cycles the large number of states with record Democratic or Republican presidential winning streaks (and thus the relative low number of states that are flipping from cycle to cycle).
Republicans currently have record winning streaks in 21 states with Democrats in 15.
In recent decades, the GOP also has had a much greater hold on blow-out states.
Over the last 11 elections cycles since 1976 (during which the GOP won the White House six times and the Democrats five), Republican presidential candidates have carried 86 states with 60+ percent of the vote with Democrats winning just 27. [Note: The District of Columbia is not included in the analysis for this study].
In 2016, Donald Trump reached the 60 percent mark in nine states (Alabama, Arkansas, Kentucky, North Dakota, Oklahoma, South Dakota, Tennessee, West Virginia, Wyoming) with Hillary Clinton doing so in only four (California, Hawaii, Massachusetts, Maryland).
Win or lose, unless a notable third party candidate emerges in the 2020 race, Trump is likely to replicate his success in most of these nine states and perhaps add a few others to the list like Idaho, Louisiana, and Nebraska – where he was just shy of 60 percent.
But hitting the 60 percent threshold has not been a necessary condition for electoral success, nor has tallying more such states than one's opponent been a sufficient one.
There have been two cycles during which the winning presidential candidate failed to win a single state with 60 percent of the vote: Richard Nixon in 1968 (with a high water mark of 59.8 percent in Nebraska) and, excluding D.C., Bill Clinton in 1992 (Arkansas, 53.2 percent).
Meanwhile, seven presidential nominees who won the White House carried fewer states with 60 percent of the vote than their chief opponent – although that feat has only occurred twice during the last century.
In 2012, Mitt Romney reached 60 percent in eight states (Alabama, Arkansas, Idaho, Kentucky, Oklahoma, Utah, West Virginia, Wyoming) with Barack Obama doing so in seven (California, Hawaii, Maryland, Massachusetts, New York, Rhode Island, Vermont).
Nixon's aforementioned 1968 campaign saw Hubert Humphrey win 60 percent in Massachusetts and Rhode Island while George Wallace did so in Alabama and Mississippi.
The remaining five are:
1876: Democrat Samuel Tilden with four (Georgia, Kentucky, Mississippi, Texas) versus Rutherford Hayes with three (Kansas, Nebraska, Vermont)
1880: Democrat Winfield Hancock with six (Georgia, Louisiana, Mississippi, South Carolina, Texas, Virginia) versus James Garfield with five (Kansas, Minnesota, Nebraska, Rhode Island, Vermont)
1896: Democrat William Jennings Bryan with 12 (Alabama, Arkansas, Colorado, Florida, Idaho, Louisiana, Mississippi, Montana, Nevada, South Carolina, Texas, Utah) versus William McKinley with seven (Connecticut, Maine, Massachusetts, New Hampshire, Pennsylvania, Rhode Island, Vermont)
1900: Bryan with nine (Alabama, Arkansas, Florida, Georgia, Louisiana, Mississippi, Nevada, South Carolina, Texas) versus McKinley with six (Maine, Minnesota, North Dakota, Pennsylvania, Vermont, Wisconsin)
1908: Bryan with seven (Alabama, Florida, Louisiana, Mississippi, South Carolina, Texas, Virginia) and William Taft with five (Maine, Michigan, North Dakota, Rhode Island, Vermont)
The high water mark for the number of 60+ percent states won in a cycle is 32, by Richard Nixon in 1972. Franklin Roosevelt and Ronald Reagan each carried 30 with 60 percent in 1936 and 1984 respectively.
It bears noting that although Democrats have virtually no chance of being competitive in the race for president in the 'Trump 9' states, they are generally low population states and only tally 55 Electoral College votes collectively.
The 'Clinton 4' states meanwhile, pack a bigger punch, boasting 79 Electoral College votes.
Follow Smart Politics on Twitter.