How Many US Representatives Will Win Senate Seats in 2020?
Fourteen have been elected to the senate during the last three cycles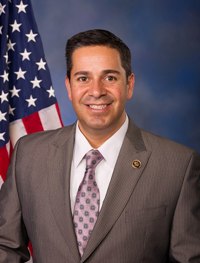 As is customarily the case each cycle, several sitting and former U.S. Representatives are lining up for a run at the nation's upper legislative chamber in 2020.
Republican Bradley Byrne of Alabama and Democrat Ben Ray Luján of New Mexico (pictured) have already announced their campaigns along with former GOP U.S. House members Scott Taylor (Virginia) and Cynthia Lummis (Wyoming) and ex-Democratic members Nancy Boyda (Kansas), Mike Espy (Mississippi), and Chris Bell (Texas).
More are expected to be added to that list, including current Wyoming at-large U.S. House member Liz Cheney.
While the majority of these bids fail, more than a dozen states have elected sitting U.S. Representatives to the senate over the last three cycles: Arizona (Kyrsten Sinema), Arkansas (Tom Cotton), Colorado (Cory Gardner), Illinois (Tammy Duckworth), Indiana (Todd Young), Louisiana (Bill Cassidy), Maryland (Chris Van Hollen), Michigan (Gary Peters), Montana (Steve Daines), Nevada (Jacky Rosen), North Dakota (Kevin Cramer), Oklahoma (James Lankford), Tennessee (Marsha Blackburn), and West Virginia (Shelly Moore Capito).
There are currently 48 U.S. Senators who formerly served in the house – a high number historically, but the lowest since the Election of 1998 when there were 44 in the 106th Congress.
That number peaked at 54 senators during the 114th Congress (2015-2017) and fell to 51 at the start of the 115th.
Rosen made history in 2018 when she unseated Dean Heller to become the first freshman woman in the U.S. House to be elected or appointed to a U.S. Senate seat.
There have been more than 600 U.S. Senators who previously served in the lower chamber, and, prior to Rosen, all 36 who were sitting freshmen at the time of their election or appointment were men.
A total of 20 of these 36 took their seats during the direct election era with three currently serving in the 116th Congress with Rosen: Republicans Tim Scott of South Carolina, Steve Daines of Montana, and Tom Cotton of Arkansas.
[Note: Washington Democrat Maria Cantwell had a six-year gap between her lone term in the house and her election to the senate in 2000].
Scott was appointed to his Senate seat one day before the end of his first term in January 2013 and had been reelected to a second term in the lower chamber two months prior.
Only five other freshmen have won a senate seat over the last 55 years:
1970: Maryland Republican J. Glenn Beall, Jr.
1970: Connecticut Republican Lowell Weicker
1972: South Dakota Democrat James Abourezk
1994: Minnesota Republican Rod Grams
1996: Kansas Republican Sam Brownback
The remaining sitting freshmen who won election to the U.S. Senate since the adoption of the 17th Amendment are:
● 1918: Illinois Republican Joseph McCormick
● 1920: Oklahoma Republican John Harreld
● 1931: Louisiana Democrat John Overton
● 1932: Illinois Democrat William Dieterich
● 1934: Connecticut Democrat Francis Maloney
● 1934: Nebraska Democrat Edward Burke
● 1936: Iowa Democrat Guy Gillette
● 1936: Oklahoma Democrat Joshua Lee
● 1944: Arkansas Democrat J. William Fulbright
● 1954: Nebraska Republican Roman Hruska
● 1960: North Dakota Democrat Quentin Burdick
● 1962: Colorado Republican Peter Dominick
The aforementioned 2020 bids by Taylor in Virginia (2017-2019) and Bell in Texas (2003-2005) seem to be historic as well as political long shots.
Aside from Cantwell, only one other former one-term U.S. House member has won a senate seat over the last 65 years: Virginia Republican George Allen. Allen served just 14 months in the House from November 1991 to January 1993 and did not seek a second term, choosing instead to run for governor. He was elected to the U.S. Senate in 2000.
Just five others have done so since 1914:
1916: Rhode Island Democrat Peter Gerry (two-year gap)
1920: George Democrat Thomas Watson (28 years)
1928: Missouri Republican Roscoe Patterson (six years)
1944: North Carolina Democrat Clyde Hoey (24 years)
1954: North Carolina Democrat Sam Ervin (six years, appointed)
Follow Smart Politics on Twitter.