A Brief History of US Representatives Winning Governorships
Utah is one of three states never to elect a sitting or former U.S. Representative to the office of governor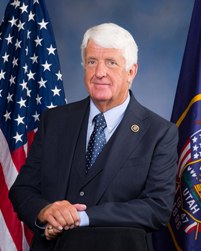 Rob Bishop's announcement late last month that he would not seek a 10th term in the U.S. House next year was accompanied by speculation – not squashed by the 68-year old lawmaker – that he may be eying a gubernatorial bid instead.
Bishop would be the second sitting U.S. Representative to seek a governorship in the 2020 cycle – joining Montana Republican Greg Gianforte.
Utah's 1st Congressional District lawmaker and former state house speaker has not faced a competitive legislative election across his long career that has spanned parts of five decades. [Bishop has won more than 60 percent of the vote in each of his nine terms].
That could change, of course, if he sought the governorship, with Lieutenant Governor Spencer Cox already in the race and former Governor Jon Huntsman inching closer to a bid by resigning as U.S. Ambassador to Russia on Tuesday.
If Bishop runs and wins he would make history in the Beehive State – no sitting or former member of the U.S. House has ever won the office of governor in Utah history.
Only two other states share this electoral history: Alaska and Arizona.
Ten additional states have never had a sitting U.S. Representative win a gubernatorial election, although ex-members have been successful. The most recent examples follow:
Florida, 2018: Republican Ron Desantis (2013-2018; resigned September 2018)
Hawaii, 2010: Democrat Neil Abercrombie (1986-1987; 1991-2010; resigned February 2010)
Iowa, 1920: Republican Nathan Kendall (1909-1913)
Missouri, 1928: Republican Henry Caulfield (1907-1909)
New Hampshire, 1948: Republican Sherman Adams (1945-1947)
Oregon, 1870: Democrat LaFayette Grover (1859)
Rhode Island, 1838: Whig William Sprague (1835-1837)
Vermont, 1843: Whig John Mattocks (1821-1823; 1841-1843)
Washington, 2012: Democrat Jay Inslee (1993-1995; 1999-2012; resigned March 2012)
Wisconsin, 1900: Republican Robert LaFollette (1885-1891)
There have already been 17 sitting U.S. Representatives who won governorships this century including four during the 2018 cycle:
West Virginia (2000): Democrat Bob Wise (1983-2001)
Alabama (2002): Republican Bob Riley (1997-2003)
Illinois (2002): Democrat Rod Blagojevich (1997-2003)
Maine (2002): Democrat John Baldacci (1995-2003)
Maryland (2002): Republican Bob Ehrlich (1995-2003)
Kentucky (2003): Republican Ernie Fletcher (1993-2003)
Idaho (2006): Republican Butch Otter (2001-2007)
Nevada (2006): Republican Jim Gibbons (1997-2006)
Ohio (2006): Democrat Ted Strickland (1993-1995; 1997-2007)
Louisiana (2007): Republican Bobby Jindal (2005-2008)
Oklahoma (2010): Republican Mary Fallin (2007-2011)
Indiana (2012): Republican Mike Pence (2001-2013)
Delaware (2016): Democrat John Carney (2011-2017)
Colorado (2018): Democrat Jared Polis (2009-2019)
Minnesota (2018): DFLer Tim Walz (2017-2019)
New Mexico (2018): Democrat Michelle Lujan Grisham (2013-2018)
South Dakota (2018): Republican Kristi Noem (2011-2019)
These aforementioned U.S. Representatives served an average of slightly more than four terms in the chamber prior to their gubernatorial wins and only one – Rep. Wise of West Virginia – was a fixture in the U.S. House as long as Bishop (nine terms). [Note: Nathan Deal of Georgia in 2010 and Rep. Abercrombie had served longer – 10 and 11 terms respectively – but technically were not sitting members of the U.S. House on Election Day, retiring some months prior].
Across history, there have been some freshmen U.S. Representatives who launched successful gubernatorial bids, such as North Dakota Democrat Arthur Link in 1972 and Indiana Republican Alvin Hovey in 1888.
Follow Smart Politics on Twitter.