Kennedy Eyes Unseating Markey In Rare Democratic Primary Ousting
Since 1982, incumbent Democratic U.S. Senators have won 263 of 266 nomination bids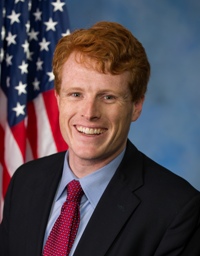 News that four-term Massachusetts U.S. Representative Joe Kennedy III may launch a 2020 challenge to U.S. Senator Ed Markey seems to be gaining momentum – setting up a Democratic nomination fight that could result in a rare defeat of an incumbent.
Republicans have seen their fair share of high profile U.S. Senators lose their party's nomination this decade, or come close to doing so.
Coming up short were Alaska's Lisa Murkowski in 2010 (to Joe Miller), Utah's Bob Bennett in 2010 (to Mike Lee), Indiana's Dick Lugar in 2012 (to Richard Mourdock), and Alabama's Luther Strange (in a runoff to Roy Moore).
Others came within single digits of losing their party's primary during this period such as Kansas' Pat Roberts in 2014 (to Milton Wolf), Tennessee's Lamar Alexander in 2014 (to Joe Carr) and Mississippi's Thad Cochran in 2014 (pushed to a runoff with Chris McDaniel).
On the Democratic side, each of the last 62 incumbents have won their party's nomination since 2012. And the last such loss in 2010 comes with an asterisk.
In April 2009, long-serving Pennsylvania Republican U.S. Senator Arlen Specter switched his political affiliation to Democratic – eying a formidable primary rematch 13 months later against the less ideologically moderate Pat Toomey who came within 1.6 points of winning the GOP primary against him six years prior in 2004.
Specter subsequently lost the May 2010 Democratic primary to two-term U.S. Representative Joe Sestak by 7.7 points.
Specter is one of only two sitting Democratic senators to lose their party's nomination over the last quarter century out of 178 bids.
In 2006, Joe Lieberman's too-close-for-comfort ties to President George W. Bush's foreign policy agenda helped spur Connecticut primary voters to back Ned Lamont by 3.5 points.
Lieberman (like the aforementioned Murkowksi) would nonetheless retain his seat in the general election.
Over the last 19 cycles since 1982, nearly 99 percent of Democratic U.S. Senators were victorious in their party's primary – 263 out of 266 attempts.
Two-term Illinois U.S. Senator Alan Dixon is the only other senator to get dumped by his party in the primary – losing by 3.7 points to former state legislator Carol Moseley Braun in a competitive three-way 1992 contest along with attorney Albert Hofeld.
By contrast, 11 Democrats lost their party's nomination from 1970 through 1980:
Connecticut (1970): Thomas Dodd (to Joseph Duffy; Sen. Dodd withdrew from the party nomination process and ran as an independent in the general election)
Texas (1970): Ralph Yarborough (to Lloyd Bentsen)
Georgia (1972): David Gambrell (to Sam Nunn, in both the special and general primaries)
North Carolina (1972): B. Everett Jordan (to Nick Galifianakis)
Arkansas (1974): William Fulbright (to Dale Bumpers)
Ohio (1974): Howard Metzenbaum (to John Glenn)
Alabama (1978): Maryon Allen (to Donald Stewart)
Montana (1978): Paul Hatfield (to Max Baucus)
Alabama (1980): Donald Stewart (to Jim Folsom)
Alaska (1980): Mike Gravel (to Clark Gruening)
Florida (1980): Richard Stone (in a runoff to Bill Gunter)
One thing that distinguishes Senator Markey from most of the 14 fellow party members mentioned above who have fallen in primaries over the last half-century is his extremely long record of service in D.C. as a Democrat – continuous for the last 42.75 years.
Fulbright came closest at 32 years on Capitol Hill followed by Lieberman (24), Dodd (16 interrupted years), Jordan (14), Yarborough (13), Gravel (12), Dixon (12), Stone (six), Stewart (two), and appointed senators Gambrell, Metzenbaum, Allen, and Hatfield all serving between a few months and less than two years as a Democrat (as well as Specter).
When Markey won a 2013 special election to take his senate seat he broke the record for the longest prior U.S. House service for a U.S. Senator: 36 years, 8 months, 14 days.
Markey bested a mark that had been held for 88 years, when one of his predecessors to the Bay State's Class II Senate seat graduated from the nation's lower to upper chamber during the Calvin Coolidge administration. Republican Frederick Gillett served 16 full terms (32 years, or 11,687 days) from March 4, 1893 to March 3, 1925 in the House of Representatives from Massachusetts' 2nd congressional district.
Follow Smart Politics on Twitter.