Sean Duffy Becomes 1st Wisconsin US Rep to Resign for Non-Political Reasons
Each of the previous four members of the U.S. House from Wisconsin quit after being elected or appointed to higher political office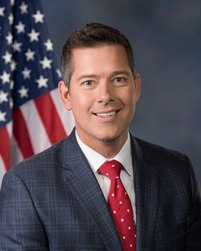 Wisconsin GOP U.S. Representative Sean Duffy announced on Monday that he would resign from his 7th Congressional District seat mid-way through his fifth term in the chamber.
Duffy stated the reason for his abrupt departure from Congress was to spend more time with his family, particularly because of health complications for his expected ninth child due later this year.
The abrupt resignation announcement seemed to take Wisconsinites and Washington D.C. by surprise – as well it should.
For of the more than 180 men and women to serve in the U.S. House from Wisconsin since statehood, only Duffy has resigned for personal reasons.
Prior to Duffy, only four of these U.S. Representatives cut their terms in office short via resignation: Democrat John Mitchell (1893), Republican Irvine Lenroot (1918), Republican Melvin Laird (1969), and Democrat Les Aspin (1993). All did so to take on a more prestigious political office.
[Note: To be technical, two other representatives cut their terms short by resigning. With just three days left in the 93rd Congress, seven-term Republican Vernon Thompson and GOPer Glenn Davis, who was finishing his 10th nonconsecutive term, both resigned on December 31, 1974. Thompson had just lost his reelection bid by 3.7 points to Alvin Baldus that November while Davis had lost his party's nomination earlier in the year to state Senator Bob Kasten].
Democrat John Mitchell was a freshman serving the 4th CD and had just been reelected to a second term in the U.S. House in November 1892. However, Mitchell then prevailed in the election to take retiring Philetus Sawyer's U.S. Senate seat in early 1893.
Mitchell subsequently resigned his House seat and took his U.S. Senate seat on the first day of the 53rd Congress – March 3, 1893.
Twenty-five years later, five-term Republican Irvine Lenroot of the 11th CD was a candidate for Wisconsin's vacant U.S. Senate seat caused by the death of Democrat Paul Husting in 1918.
Lenroot narrowly won the March 1918 GOP primary – defeating La Crosse attorney James Thompson (the Robert La Follette-backed progressive) by 1.7 points.
He then survived the April special election with a 3.6-point victory against former Federal Trade Commission Chair Joseph Davies in a competitive race with former fellow congressional delegation member Socialist Victor Berger winning north of 26 percent.
Lenroot resigned his U.S. House seat on April 17, 1918 to begin his near decade-long service in the nation's upper legislative chamber.
The next resignation from a Wisconsin U.S. House delegation would not occur until more than 50 years later.
On January 21, 1969, nine-term Republican Melvin Laird stepped down to become Secretary of Defense under Richard Nixon.
Laird had never faced a competitive election bid – winning at least 59 percent of the vote in his 7th CD during each of his nine victories.
Nearly a quarter-century later, 12-term Democrat Les Aspin also resigned to become Secretary of Defense on January 20, 1993 during Bill Clinton's first term.
In 1970, Aspin knocked incumbent Representative Henry Schadeberg out of office with a 21.9-point win and coasted to double-digit reelection victories to the 1st CD in 10 of the next 11 cycles. [Excepting only Aspin's 9.0-point victory in 1978 over Waterford attorney and UW-Parkside professor Bill Petrie in a rematch of the 1976 contest].
A special election will be held for the vacancy created by Duffy's resignation.
Wisconsin has not held a special U.S. House election since Peter Barca's razor-thin 1993 victory over Mark Neumann in the 1st CD following Aspin's resignation, but has conducted 20 for the office since statehood including 13 since the turn of the 20th Century.
Follow Smart Politics on Twitter.