Michelle Fischbach and a Brief History of Minnesota LGs Running for US House
Six sitting or former lieutenant governors from the Gopher State have later appeared on the ballot for a U.S. House seat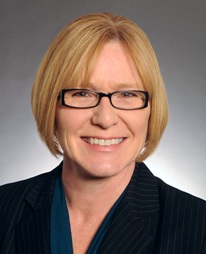 On Monday, former Republican state Senator and Lieutenant Governor Michelle Fischbach announced her candidacy for Minnesota's 7th Congressional District seat held by long-serving DFLer Collin Peterson.
Fischbach served more than 18 years in the Minnesota Senate (1996-2018) before becoming lieutenant governor following the appointment of Tina Smith to fill the vacancy caused by U.S. Senator Al Franken's resignation.
Although Peterson represents the most conservative district in the state, he remains personally popular among his constituency and has thwarted every GOP attempt to unseat him, although winning by only single digits in each of the last three cycles.
If nominated, Fischbach would be the most prominent opponent Peterson has faced since he defeated incumbent Arlan Stangeland in 1990.
Most ex- or sitting lieutenant governors from the state who have traveled down this political path have found some success.
Republican Ignatius Donnelly, the state's second lieutenant governor (1860-1863), was elected to the first of three terms in 1862 in the state's 2nd CD by 16.2 points over Democrat William Cullen.
Donnelly served in congress from 1863 to 1869, also winning by double digits in 1864 and 1866 before a disastrous 1868 campaign for the GOP. Donnelly controversially lost his party's nomination to Christopher Andrews and then ran as an independent Republican without party endorsement.
Donnelly and Andrews split the Republican vote with the incumbent placing second with 33.7 percent, enabling Democratic Minneapolis attorney Eugene Wilson to pick up the seat with 40.4 percent – marking the first Democratic win for the office in six cycles.
Donnelly lost four more U.S. House races: as a Democrat in 1870, a Greenback in 1876, the Democratic-Greenback nominee in 1878, and as a Democrat again in 1884.
Republican James Wakefield, an attorney from Blue Earth, also served two terms as lieutenant governor (1876-1880) but was out of office for two years when he coasted to a 38.6-point win in the state's 2nd CD in 1882 against Democrat F.A. Bohrer.
Wakefield would serve two terms (1883-1887) before retiring from public office.
Republican William Nolan (1925-1929) was in his third term as lieutenant governor when he ran in the June 1929 5th CD special election caused by the resignation of Walter Newton who had been appointed secretary to President Herbert Hoover.
Nolan defeated Democrat Einar Hoidale by 6.8 points.
A year later, in June 1930, Nolan narrowly won his party's nomination – edging W.W. Heffelfinger by 3.0 points in a four-way race – and then handily won reelection that November.
Nolan's political luck ran out in 1932, however, when he placed 11th in the state's race for nine at-large U.S. House seats.
Nolan subsequently failed to win his party's nomination to the 5th CD seat in 1934 (to former Governor Theodore Christianson), 1936 (to former Congressman Walter Newton), and 1938 (to Minneapolis attorney Oscar Youngdahl).
Farmer-Laborite Henry Arens (1931-1933) had launched one failed bid to the U.S. House (in 1928's 3rd CD race, placing third with 17.6 percent) when he won one of the nine aforementioned at-large seats in 1932.
The sitting lieutenant governor won the third most votes of the more than 30 candidates competing in the race.
However, Arens would lose his seat after just one term, falling by 5.1 points to Democrat and South St. Paul city attorney Elmer Ryan in 1934's 2nd CD contest as well as in the 1936 rematch (by 6.7 points).
Republican Ancher Nelsen briefly served as lieutenant governor in 1953 before resigning to become the administrator of the Rural Electrification Administration Program.
Nelsen won the state's open 2nd CD seat in 1958 and would go on to serve eight terms before his retirement at the end of the 93rd Congress.
The one through line for Donnelly, Wakefield, Nolan, Arens, and Nelsen, however, is that they were each elected to the office of lieutenant governor.
One lieutenant governor who was unsuccessful in his bid for a U.S. House seat was not.
Republican newspaper publisher and state Senator Frank Day became lieutenant governor in January 1895 after Governor Knute Nelson was elected to the U.S. Senate and Lieutenant Governor David Clough took his seat.
Day served in the position through the remainder of the two-year term and ran for the state's 2nd CD seat in 1896 as the Democratic-People's nominee.
Incumbent Republican James McCleary defeated Day by 16.2 points.
Minnesota has also had a handful of politicians who ran for the U.S. House prior to serving as the state's lieutenant governor:
Republican Henry Swift (1863-1864) placed last out of six candidates for what ended up being two at-large U.S. House seats in the inaugural election for the office in 1857
Republican William Richardson (1936-1937) lost the 1st CD primary in 1916 to Congressman Sydney Anderson
DFLer Karl Rolvaag (1955-1963) was his party's failed nominee three times – in 1946 (losing by 36.8 points to 1st CD incumbent August Andresen), 1948 (losing by 22.8 points to Andresen), and 1952 (losing by 18.4 points in the 5th CD to Rep. Walter Judd)
DFLer Alec Olson (1976-1979) served two terms in the U.S. House (1963-1967) before losing his 1966 reelection bid to John Zwach
Peterson, meanwhile, is currently the fourth oldest Minnesotan to serve in the U.S. House at 75 years, 2 months, 7 days as of September 4th.
At the end of this term – his 15th – Peterson will pass Republican Charles Davis (1903-1925) and DFLer Jim Oberstar (1975-2011) for second on the all-time list behind only Farmer-Laborite Richard Thompson Buckler (1935-1943) who served until the age of 77 years, 2 months, 7 days.
Follow Smart Politics on Twitter.