Will Kentucky Host a Rare Competitive Gubernatorial Election in 2019?
The GOP is trying to win back-to-back races in the Bluegrass State for the first time in 120 years – more than doubling the next longest drought in the nation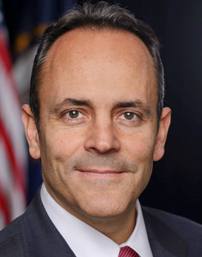 With less than six weeks until Election Day, the governor's race in Kentucky is still deemed to be a 'toss-up' by most prognosticators with Democratic Attorney General Andy Beshear challenging Governor Matt Bevin along with Libertarian nominee John Hicks.
Bevin currently owns one of the lowest gubernatorial approval ratings in the country (rock bottom 32 percent according to the most recent Morning Consult survey) but scant success at the ballot box by Kentucky Democrats in recent cycles suggests this race could still go down to the wire.
If it does, it will be a rarity in modern Kentucky electoral history.
Over the last half-century, only one Kentucky gubernatorial race has proven to be very competitive come Election Day – decided by less than five percentage points.
Of the twelve elections for the office held since 1968, only the 1995 race between Lieutenant Governor Paul Patton and attorney (and 1991 gubernatorial candidate) Larry Forgy was narrowly decided.
Patton defeated Forgy by 2.2 points that cycle.
Since 1968, Kentucky is one of just five states that have not hosted at least two gubernatorial races with victory margins of less than five points.
The other four are:
Indiana (2012): Republican U.S. Representative Mike Pence defeated Democrat and former state House Speaker John Gregg by 2.9 points
North Dakota (1972): Democrat U.S. Representative Arthur Link beat GOP Lieutenant Governor Richard Larsen by 2.1 points
Tennessee (2002): Democrat and former Nashville Mayor Phil Bredesen defeated Republican U.S. Representative Van Hilleary by 3.1 points
Utah (1988): GOP Governor Norman Bangerter beat Democrat and former Salt Lake City Mayor Ted Wilson by 1.7 points, thanks in part to the strong third-party candidacy of conservative Merrill Cook
Kentucky's 24-year drought since its last competitive race ranks just outside of the Top 10 in the nation at #11.
Delaware (1972), North Dakota (1972), New Mexico (1978), Arkansas (1980), Idaho (1986), Pennsylvania (1986), Utah (1988), Nebraska (1990), Texas (1990), and New York (1994) have all seen more time pass since hosting a nail-biter in races for the state's top elected office.
Kentucky Republicans are looking to win back-to-back elections for governor for the first time since 1895 and 1899 when William Bradley and William Taylor eked out narrow victories over their Democratic challengers respectively.
That is by far the longest streak in the country – with the GOP rattling off at least two gubernatorial wins in a row at least once in every other state during the last half-century.
West Virginia Republicans last did so in 1968 and 1972 (Arch Moore) as did the Washington GOP with Governor Dan Evans winning his second and third terms during those same cycles.
Oregon Republicans had their last back-to-back wins in 1978/1982 with Victor Atiyeh.
The remaining 46 states have each seen the GOP come out on top in at least two consecutive races since the 1980s.
Follow Smart Politics on Twitter.