Could New York Democrats Sweep the State's 27 US House Seats in 2020?
The GOP won six of the state's CDs in 2018 – but five by single digits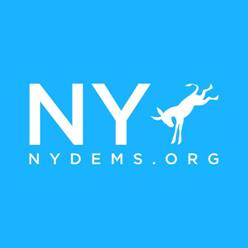 The Democratic Party has ambitious goals for the 2020 cycle – not only winning the presidency and control of the U.S. Senate but also to hold the gains made in the U.S. House during the 2018 cycle and increase their advantage in the chamber.
Even after making substantial gains in the U.S. House last November, the electoral map is still ripe for Democrats to pick up more seats with approximately four-dozen GOP-held districts carried by single digits in 2018.
Five of those districts are located in New York, where Democrats currently control 21 of 27 seats (with the state's 27th CD recently vacated by scandal-plagued GOPer Chris Collins who resigned earlier this month).
No one is yet projecting the kind of national landslide it would take for Democrats to run the table in New York and unseat popular purple-district Republicans such as Peter King (NY-02) and Tom Reed (NY-23).
The 77.8 percent of seats currently held by Democrats in New York is already tied for the second largest since the founding of the Republican Party in the mid-1850s.
Democrats reached a high-water mark of controlling 89.7 percent of New York's congressional districts (26 of 29) following the 2008 election – buoyed by Barack Obama's 62.9 percent showing at the top of the ticket (the second best performance by a Democratic presidential nominee in the state behind only Lyndon Johnson's 68.6 percent in 1964).
New York Democrats also won 21 of 27 seats during the 2012 election.
It has been a long time since a political party in a state with as many seats as New York has pulled off a sweep in an election cycle.
In fact, it's only happened once in U.S. history: in Pennsylvania during the Election of 1924.
Republicans had long dominated the Keystone State's U.S. House delegation – winning a majority of its seats for a 29-cycle stretch from the Elections of 1876 through 1932.
In 1924, Republicans won all 36 of Pennsylvania's districts – flipping each of the six seats Democrats carried during the 1922 midterms.
The only other partisan sweeps to occur in states with at least 20 U.S. House seats over the decades were in:
Illinois (1894): Republicans carried all 22 districts after eventually winning election contests to the 3rd and 16th CDs (to which Democrats had initially been seated)
Ohio (1920): Republicans won all 22 seats
Texas (1932 through 1950): Democrats won all 21 districts (later giving back a seat in a 1950 special election)
Texas (1952): Democrats won all 22 seats
Texas (1964): Democrats won all 23 seats
So how improbable would it be for New York Democrats to pick up the remaining six seats in 2020?
On the one hand, Democrats have already won three of these seats since redistricting in 2010.
Democrats carried the 1st CD (held by three-term Republican Lee Zeldin) in 2012. In that cycle, five-term incumbent Tim Bishop was victorious in the eastern Long Island district by 5.0 points.
State Senator Zeldin unseated Bishop by 8.9 points in 2014, won by 16.4 points in 2016, but was victorious in 2018 by just 4.1 points against businessman Perry Gershon.
Gershon is seeking a rematch in 2020 in the +5 GOP district.
Democrats also won the 21st CD (currently held by three-term GOPer Elise Stefanik) in 2012. Conservative Democrat Bill Owens won the large northeastern district by 2.0 points that cycle.
Stefanik has won the district by double-digits during each of the last three cycles, although the 21st CD only has a +4-point partisan tilt in favor of her party.
Stefanik's 2018 opponent, former state legislator Tedra Cobb, is seeking a rematch in 2020.
The 2012 cycle also found Democrats winning the Syracuse-based 24th CD when former Congressman Dan Maffei won a rematch against freshman Ann Marie Buerkle by 5.5 points.
Maffei was then trounced in 2014 by 19.2 points by former federal prosecutor John Katko. Following a 21.1-point win in 2016, Katko defeated university professor Dana Balter by only 5.3 points in 2018.
The 24th CD has a +3-point Democratic tilt and Balter is running for renomination again in 2020.
Long Island-based lawmaker Peter King in the 2nd CD would seem to be one of the last Republicans to fall in a Democratic-wave election.
The long-serving congressman has been in the U.S. House since 1993 and has won reelection by double-digits in every cycle…except in 2018.
Last November, King had the closest race of his congressional career since his 1992 open seat victory. King defeated community organizer Liuba Grechen Shirley by just 6.2 points in the +3 GOP district.
Tom Reed has carried his Ithaca-based southwestern 23rd CD by single-digits twice: for his first reelection bid in 2012 (3.8 points) and in 2018 by 8.5 points over Tracy Miltrano – slicing his 15.2-point win nearly in half from two years prior.
Miltrano is looking for a second chance to take on Reed next year in a district with a +6 GOP tilt.
The best shot Democrats had to carry the western 27th CD was to hope embattled Republican Chris Collins remained the GOP nominee in 2020. Collins escaped with a 0.4-point win while under indictment in 2018 against Grand Island Supervisor Nate McMurray, but resigned after pleading guilty to insider trading at the beginning of the month.
McMurray is seeking renomination in the +11 GOP district, but the date for a special election to fill the seat for the remainder of the 116th Congress has yet to be set.
With Democratic nominees running again this cycle in five of the six districts the party lost in 2018, the name-recognition hurdle will not be as steep for Democrats next year.
But ultimately the most telling variable as to how many seats Democrats pick up in 2020 – or how many they yield back to the GOP (Democrats also carried three districts by single digits last year) – may be which candidate is nominated for president at the top of the ticket.
Follow Smart Politics on Twitter.