Will a Majority of Louisiana Voters Back John Bel Edwards?
Four of the five first-place Louisiana primary gubernatorial election winners whose party's collective primary vote did not reach 50 percent still went on to win the general election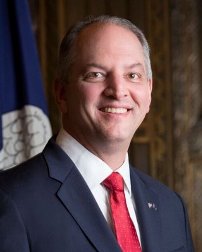 Louisiana Governor John Bel Edwards not only fell shy of winning a majority in last Saturday's jungle primary – thus requiring a runoff – but the total vote for all non-Republican candidates in the race fell short of the 50 percent mark.
Edwards won 46.6 percent while Democrat Omar Dantzler and Louisiana Independent candidate Gary Landrieu collectively received just 1.6 percent of the vote.
At first blush, it would appear Governor Edwards has more work to do to win a majority of the vote in the November general election than Eddie Rispone, who placed second with 27.4 percent but whose party received 51.8 percent across its three candidates.
However, Edwards maintains an above-water approval rating and can point to several examples in Louisiana history that suggests he may not face quite so high of an electoral hurdle.
Since the first jungle primary without a majority winner for the office in 1979, there have been five first-place plurality-winning candidates whose party collectively captured less than 50 percent of the primary vote.
Four of those five candidates still ended up winning the general election.
In 1979, U.S. Representative David Treen, the only Republican on the ballot, won 21.8 percent of the primary vote with seven Democratic hopefuls receiving 77.9 percent.
Nonetheless, Treen eked out a 0.7-point victory in the general against state Public Service Commissioner Louis Lambert.
In 1991, former Governor Edwin Edwards received 33.8 percent of the primary vote with the six Democratic candidates on the ballot collectively receiving only 35.5 percent.
However, controversial second-place finisher David Duke would only receive 38.8 percent of the general election vote despite he and three other Republicans taking 63.8 percent in the primary. Edwards was thus elected to a fourth nonconsecutive term.
In 1995, Democratic-turned-Republican state Senator Mike Foster accounted for 26.1 percent of the 44.1 percent collective vote for three GOP primary candidates while seven Democratic candidates received 53.8 percent.
Foster then went on to crush his general election opponent, U.S. Representative Cleo Fields, with 63.5 percent of the vote.
Just four years ago, John Bel Edwards pulled off this feat in his own right – winning 39.9 percent of the primary vote with Democrats receiving just 41.6 percent overall.
A few months later, the state legislator cruised to a 12.2-point victory against Republican U.S. Senator David Vitter in the general election.
The only gubernatorial candidate in the same shoes as Edwards to fall short was Bobby Jindal in 2003.
Jindal led the primary field with 32.5 percent as three Republican candidates tallied 39.3 percent.
Jindal managed to get 48.1 percent of the general election vote – coming up 3.9 points shy of defeating Democratic Lieutenant Governor Kathleen Blanco.
The general election showdown between Governor Edwards and Rispone will take place on November 16th.
Follow Smart Politics on Twitter.