Beshear Wins 2nd Closest Gubernatorial Election in Kentucky History
Beshear is the first governor of Kentucky to win without a majority in more than 100 years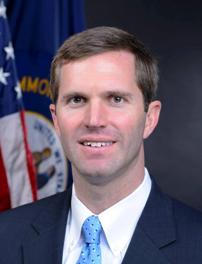 With all precincts reporting, Kentucky Attorney General Andy Beshear eked out a victory against GOP Governor Matt Bevin by less than 6,000 votes.
The unofficial results show Beshear placing first with a plurality of 49.2 percent ahead of Bevin at 48.8 percent and Libertarian John Hicks at 2.0 percent.
Beshear is the first candidate to win a gubernatorial election without majority support in the Bluegrass State in over a century. In 1915, Democratic U.S. Representative Augustus Stanley was elected with 49.1 percent against Republican attorney Edwin Morrow.
The 0.36-point margin in the 2019 gubernatorial contest goes down in the Kentucky history books as the second closest race out of the 58 direct elections for the office since statehood.
Only the aforementioned 1915 contest between Stanley and Morrow had a more narrow margin with Stanley winning by just 0.08 points.
Kentucky has had several other gubernatorial races go down to the wire over the last few centuries with five other elections decided by less than a percentage point:
1820: Former Jeffersonian-Republican state legislator and state house speaker John Adair defeated former U.S. Senator William Logan by 0.87 points
1828: Five-term U.S. Representative John Metcalfe beat Jacksonian and former U.S. Senator William Barry by 0.92 points
1851: Former state legislator and 1848 Democratic gubernatorial nominee Lazarus Powell defeated former Whig Lieutenant Governor Archibald Dixon by 0.71 points
1899: Former GOP state Attorney General and incumbent Governor William Taylor seemingly beat Democratic state Senator William Goebel by 0.59 points (in a controversial race that led to an investigation of the election, Goebel getting shot by an assassin, the legislature declaring Goeble the winner shortly before his death, and Taylor subsequently fleeing the state).
1900 (special): Democratic Governor John Beckham beat Republican attorney (and future I.R.S. Commissioner) John Yerkes by 0.80 points
Bevin did not concede the race Tuesday evening, but outgoing Democratic Secretary of State Alison Lundergan Grimes declared Beshear the unofficial winner.
There have been nine plurality winners of gubernatorial elections in Kentucky history: Jeffersonian Republican James Garrard in 1800 (39.4 percent), Jeffersonian-Republican John Adair in 1820 (32.8 percent), Democrat Lazarus Powell in 1851 (48.8 percent), Democrat John Brown in 1891 (49.9 percent), Republican William Bradley in 1895 (47.7 percent), Republican William Taylor in 1899 (47.8 percent), Democrat John Beckham in 1900 (49.9 percent), Democrat Augustus Stanley in 1915 (49.1 percent), and Andy Beshear in 2019 (49.2 percent).
Follow Smart Politics on Twitter.