Deval Patrick: Late to the Party?
Over the last dozen election cycles, only one candidate who was the last to enter the race won the Democratic or Republican Party nomination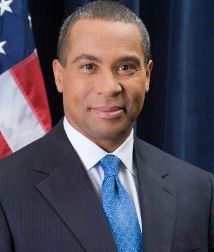 Former Massachusetts Governor Deval Patrick had long been a rumored 2020 presidential candidate, but he waited until November 14, 2019 to launch a campaign – nearly a year after stating he would not run for the White House in December 2018.
Patrick's delayed entrance into the race will not only make it difficult for him to qualify for the upcoming Democratic debates, but it also puts him on an unusual track to win his party's nomination.
The last time a presidential candidate ventured into a race this late in the cycle was Pat Buchanan's first bid for the office during the 1992 cycle.
The populist conservative launched his GOP challenge against President George H.W. Bush on December 10, 1991. Buchanan's candidacy forced Bush to spend resources during many contested primaries, but he never won any contests.
Only a couple of other candidates since the 1980 cycle have ventured into the race as late as Governor Patrick:
1980: Mississippi Democrat Cliff Finch (December 24, 1979)
1988: Ohio Democrats James Traficant (November 15, 1987) and Doug Applegate (November 27, 1987)
Finch's candidacy lasted only 101 days and registered more than one percent in just three primaries: Louisiana (3.1 percent), Arkansas (4.3 percent), and New Mexico (2.8 percent) – each taking place after he had dropped out of the race in early April.
Applegate ran a favorite son campaign in Ohio, where he received 1.8 percent of the primary vote while Traficant only appeared on the Ohio (2.2 percent) and West Virginia (0.3 percent) ballots during his 171-day campaign.
It is not a certainty that Patrick will be the last Democrat to enter the race, though history suggests whoever receives that designation will have a difficult road ahead to advance to the general election next November.
Since 1972, only one non-incumbent who was the last to enter the presidential race won his or her party's nomination – Ronald Reagan in 1980 (November 13, 1979).
All other candidates across these last dozen cycles failed:
1972: North Carolina Democrat Terry Sanford (March 8, 1972)
1972: Ohio Republican John Ashbrook (December 29, 1971)
1976: Idaho Democrat Frank Church (March 18, 1976)
1976: California Republican Ronald Reagan (November 20, 1975)
1980: Mississippi Democrat Cliff Finch (December 24, 1979)
1984: Illinois Democrat Jesse Jackson (November 3, 1983)
1988: Kansas Republican Bob Dole (November 9, 1987)
1988: Ohio Democrat Doug Applegate (November 27, 1987)
1992: California Democrat Jerry Brown (October 21, 1991)
1992: Virginia Republican Pat Buchanan (December 10, 1991)
1996: New York Republican Steve Forbes (September 22, 1995)
2000: Arizona Republican John McCain (September 27, 1999)
2000: New Jersey Democrat Bill Bradley (September 8, 1999)
2004: Ohio Democrat Dennis Kucinich (October 13, 2003)
2008: Maryland Republican Alan Keyes (September 14, 2007)
2008: New Mexico Democrat Bill Richardson (May 21, 2007)
2012: Texas Republican Rick Perry (August 13, 2011)
2016: Virginia Republican Jim Gilmore (July 30, 2015)
2016: Virginia Democrat Jim Webb (July 2, 2015)
Reagan, Jackson, and Brown did achieve some success during those aforementioned cycles – tallying hundreds of convention delegates – but all fell short of winning the nomination.
It could be argued, however, that Patrick's bid is not to win the presidential nomination, but to raise his national profile so he becomes a serious contender for the eventual nominee's running-mate.
Follow Smart Politics on Twitter.