Early Bird 2020 White House Hopefuls Still In The Hunt
Eight of the 11 candidates to jump in the race before March are still on the campaign trail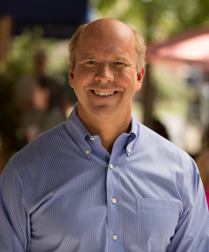 With Julian Castro's exit on Thursday, less than half of the 29 major Democratic presidential candidates who entered the 2020 race – 14 – now remain.
Two candidates, Deval Patrick and Michael Bloomberg, entered the race more than 27 months after John Delaney's (pictured) first-in-the-field announcement on July 28, 2017.
Thus far, however, the cycle has been more kind to those candidates who jumped into the race early versus the latecomers.
Of the 11 candidates who launched their candidacies before March 2019, eight still are technically in the hunt: Delaney, Andew Yang (November 6, 2017), Marianne Williamson (January 28, 2019), Cory Booker (February 1st), Tulsi Gabbard (February 2nd), Elizabeth Warren (February 9th), Amy Klobuchar (February 10th), and Bernie Sanders (February 19th).
Only former West Virginia state Senator Richard Ojeda, Castro, and Kamala Harris have suspended their campaigns.
However, of the 17 White House hopefuls who entered the race since March – only six remain.
Other than latecomers Patrick and Bloomberg, the only other candidates to last until the New Year are Pete Buttigieg (April 14th), Joe Biden (April 25th), Michael Bennet (May 2nd), and Tom Steyer (July 9th).
A few of these aforementioned candidates will likely last deeper into the calendar than any presidential candidate from their state during the modern primary era (1972+).
Biden only has to make it past February 18th to eclipse Republican Pete DuPont's candidacy in 1988 for the modern mark in Delaware. [Note: DuPont also started much earlier than Biden – a 521-day campaign that began in mid-September 1986]. Biden's 1988 campaign was suspended on September 23, 1987 and his 2008 bid ended on January 3rd of that year.
If Buttigieg's campaign is still afloat by March 27th he will have surpassed Vance Hartke's 1972 campaign for the modern Indiana record. Birch Bayh made it to March 4th in 1976, Dick Lugar March 6th in 1996, and Dan Quayle exited in late September 1999 more than a year before the election.
Long-shot Cory Booker has a slim chance to eclipse fellow New Jersey U.S. Senator Bill Bradley's exit date of March 9th in 2000.
Hawaii Congresswoman Tulsi Gabbard would need her campaign to last until May 25th to pass up Patsy Mink, although Gabbard is running much more of a national campaign than did her predecessor who appeared on only a few primary ballots.
All of the remaining 2020 Democratic and GOP challengers come from states which have either produced Democrat or Republican nominees in the modern primary era or candidates who did not suspend their campaign until after their party's national convention.
Follow Smart Politics on Twitter.