Amy Klobuchar's Historic Experience in Elected Office
No woman running for president in the modern primary era has served longer in elected office than the Minnesota U.S. Senator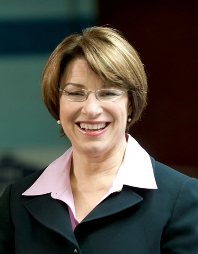 Democratic White House hopeful Amy Klobuchar is eying her first primary victory on Super Tuesday – in her home state of Minnesota.
While strong debate performances and at times explicit appeals to moderates might be part of the reason the Gopher State U.S. Senator has outlasted many of her current and former colleagues in congress in the 2020 presidential race, one consistent theme of Klobuchar's campaign is her experience.
And, by at least one measure, Klobuchar is the most experienced woman ever to seek the presidency in the modern primary era – holding the most years in elected office.
Looking back at the more than one dozen women who have launched presidential campaigns since 1972, Klobuchar has the edge by this metric.
Klobuchar is currently in her 22nd (consecutive) year of elected office – serving eight years (two terms) as Hennepin County Attorney and 13+ years as a U.S. Senator.
The Minnesotan barely beats out Illinois Democrat Carol Moseley Braun who had 20 years under her belt as a state Representative (1979-1988), Cook County Recorder of Deeds (1988-1992), and U.S. Senator (1993-1999) when she ran for president in 2004.
California Democrat Kamala Harris is next with 16 years from her time as San Francisco District Attorney (2004-2011), state Attorney General (2011-2017), and U.S. Senator (2017-).
Democrats Patsy Mink of Hawaii and Kirsten Gillibrand of New York each served 13+ years in elected office at the time of their presidential campaigns.
Mink was a member of the Hawaii territorial House (1956-1958), territorial Senate (1958-1959), state Senate (1962-1964), and U.S. House (1965-) as she made her bid in 1972.
Gillibrand served in the U.S. House (2007-2009) and U.S. Senate (2009-).
Two other women running for president had more than a decade of experience in elected office.
Republican Michele Bachmann had served 11 years in the Minnesota state Senate (2001-2007) and U.S. House (2007-) when she ran for the White House during the 2012 cycle.
Klobuchar's fellow 2020 Democratic candidate Tulsi Gabbard has recorded 10+ years of service in the Hawaii state House (2002-2004), Honolulu City Council (2011-2012), and U.S. House (2013-).
New York Democrat Shirley Chisholm served eight-plus years in the state Assembly (1964-1968) and U.S. House (1969-) at the time of her 1972 bid.
And fellow Empire State Democrat Hillary Clinton had seven-plus years of experience in the U.S. Senate (2001-) during her 2008 campaign and eight full years in the chamber during her second bid in 2016.
Lastly, Massachusetts Democrat Elizabeth Warren has served seven-plus years in the U.S. Senate (2013-).
A few women running for president for a major party over the decades did not previously have any experience in elected office: anti-abortion Democrat Ellen McCormack of New York in 1976, Republican Elizabeth Dole in 2000, Republican Carly Fiorina in 2016, and Democrat Marianne Williamson in 2020.
It should be noted that Klobuchar doesn't hold the all-time record of experience in elected office by a woman running for president.
That mark is owned by Maine Republican Margaret Chase Smith who became the first woman to have her name placed into nomination at a major political party convention during her 1964 campaign. At the time of her campaign she had served 24.5 years in the U.S. House (1940-1949) and U.S. Senate (1949-).
Smith only appeared on four of the 16 primary ballots held during that cycle (New Hampshire, Illinois, Texas, Oregon).
Follow Smart Politics on Twitter.