1918: The Year 7 US Senators Died in Office
Though none of these seven deaths were attributed to Spanish flu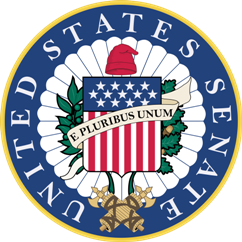 A handful of members of Congress have thus far been diagnosed with COVID-19 and that number is expected to grow in the coming weeks.
Kentucky Republican Rand Paul is currently the only U.S. Senator to test positive for the virus.
COVID-19 has frequently drawn comparisons to the Spanish flu outbreak of 1918 which killed millions of people worldwide.
The largest number of U.S. Senators to pass away in office also occurred in 1918 – but none of these lawmakers perished from the Spanish flu.
Seven sitting U.S. Senators died during a seven and one-half month span that year – the most in U.S. history.
Six members in the chamber died in 1954 with five each passing away in 1908, 1925, 1936, 1941, and 1945.
The 1918 outbreak hit Washington, D.C. hard during the fall of that year. An article on the U.S. House website states:
"(M)ost sources attribute approximately 675,000 deaths in the U.S. alone to the Spanish flu. Washington, D.C., swollen by an influx of government workers during the First World War, was particularly hard hit. Medical facilities were stretched beyond capacity. Four hundred deaths were reported in the District of Columbia during the second week of October; 730 were reported the following week."
No U.S. Senators died during the flu's peak, and those members of the upper legislative chamber who did die in 1918 were reported to have passed away for other medical reasons:
Idaho Republican James Brady (January 13, 1918): Died at the age of 55 from a heart attack
New Jersey Democrat William Hughes (January 30, 1918): Died at the age of 45 after a year-long illness from septic poisoning (in his teeth) and bronchial pneumonia
Louisiana Democrat Robert Broussard (April 12, 1918): Broussard was ill for several years and died due to complications from multiple diseases at the age of 53
Missouri Democrat William Stone (April 14, 1918): Had a cerebral hemorrhage which paralyzed his left side and died one week later at the age of 69
South Carolina Democrat Benjamin Tillman (July 3, 1918): Tillman also had a cerebral hemorrhage at the end of June and died one week later at the age of 70
New Hampshire Republican Jacob Gallinger (August 17, 1918): Gallinger was the oldest member of the U.S. Senate and died at the age of 81 from arteriosclerosis
Kentucky Democrat Ollie James (August 28, 1918): James had been hospitalized since April and died at the age of 47 from Bright's Disease
There was a 5 year, 2 month, 22 day gap between the last two deaths to occur in the U.S. Senate: New Jersey Democrat Frank Lautenberg (June 3, 2013) and Arizona Republican John McCain (August 25, 2018).
That marked the third longest stretch without a sitting U.S. Senator dying in office in the history of the chamber.
There was 7 years, 1 month, and 17 days between the passing of North Dakota Democrat Quentin Burdick (September 8, 1992) and Rhode Island Republican John Chafee (October 24, 1999) and a 5 year, 3 month, 1 day gap from the death of Alabama Democrat James Allen (June 1, 1978) and Washington Democrat Henry Jackson (September 1, 1983).
Follow Smart Politics on Twitter.