Ilhan Omar's Unusually Large Pool of Primary Challengers
It's been more than 85 years since a Minnesota U.S. Representative has drawn four primary challengers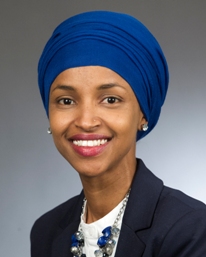 For a first-term U.S. Representative, DFLer Ilhan Omar of Minnesota's 5th Congressional District seems to have received outsized attention and media coverage during her first 16+ months in office.
That coverage, in part a result of her public spats with President Donald Trump, has not only brought Omar's campaign millions of dollars from across the nation this cycle, but it also appears to have rankled a near record number of constituents who want to pry the DFL nomination from the Minneapolis-based legislator.
To date, four challengers are poised to take on Rep. Omar in August's primary: attorney Antone Melton-Meaux, diversity and inclusion advocate John Mason, Uber driver and former Minnesota Department of Revenue employee Haji Yussuf, and underinsured health care community clinic co-founder Leila Shukri Adan.
While it remains to be seen if all four candidates will carry their campaign through the primary (or if any other candidate jumps into the race at the 11th hour), as it now stands Omar has inspired an unusual number of contenders in the DFL 5th CD race.
[Note: The filing deadline for the August 11th primary is less than a month away (June 2nd). Only five states have later deadlines: Connecticut (June 9th), New Hampshire (June 12th), Rhode Island (June 24th), Delaware (July 14th), and Louisiana (July 17th)].
For starters, it has been more than 85 years since the last time an incumbent U.S. Representative from Minnesota faced four primary challengers.
In fact, there have only been five instances in which as many as three candidates squared off against an incumbent since the DFL merger in 1944:
1952 (2nd CD): Six-term Republican Joseph O'Hara won by 16.9 points with 55.7 percent
1968 (5th CD): Three-term DFLer Don Fraser won by 69.5 points with 81.3 percent
1972 (8th CD): Thirteen-term DFLer John Blatnik won by 58.2 points with 75.6 percent
1984 (8th CD): Five-term DFLer Jim Oberstar won by 31.9 points with 65.1 percent
1992 (6th CD): Five-term DFLer Gerry Sikorski won by just 2.9 points with 49.3 percent over former state legislator Tad Jude
In 2020, the 5th Congressional District is poised to host a primary with more than three challengers to a sitting Minnesota U.S. Representative for just the fourth time since primary elections began for the office in the state in 1902.
The circumstances surrounding the most recent example in 1934 were unique. In 1932, the state could not agree on a redistricting plan, so all nine U.S. Representatives were elected at-large that November.
New lines were drawn for the 1934 cycle, which resulted in two freshman Republicans squaring off in the Hennepin County-based 5th CD: former Governor Theodore Christianson and former Auditor Ray Chase.
Four other Republicans jumped into the race including former two-term U.S. Representative William Nolan, who lost his seat during the chaotic 1932 election (which had 32 candidates in the general election race for nine seats).
In the end, Christianson won out – defeating Chase by 16.3 points with 42.5 percent of the vote.
The all-time record for the largest number of primary challengers faced by a Minnesota U.S. Representative is five, set in 1926.
Freshman Republican Godfrey Goodwin saw three challengers reach double-digit support against him (Arthur Fruen, J.E. Meyers, and Mrs. W.W. Remington) but still won by 24.0 points with 44.5 percent of the vote.
One other incumbent in Gopher State history has faced more than three primary opponents. In 1918, progressive freshman Republican Ernest Lundeen lost by 4.1 points to assistant Hennepin County prosecuting attorney Walter Newton with all five candidates in double-digits.
Since 1944, a total of 203 of 290 incumbents have run unopposed for their party's nomination and just 26 have faced multiple opponents.
One reason it is so rare for multiple challengers to line up against a sitting Minnesota U.S. Representative is because incumbents rarely lose.
Incumbents have been victorious in 203 consecutive renomination bids for the office in Minnesota since 1964 and 289 of 290 attempts since the DFL merger in 1944.
The only incumbent to lose during this span was 12-term Republican H. Carl Andersen in 1962.
In that cycle, reapportionment caused Minnesota to lose a seat and redistricting prompted Andersen to run in a district in which he lost eight of the 19 counties he had represented and gained eight new ones.
As a result, challenger Robert Odegard handily defeated Andersen by 27.4 points.
Overall, incumbents have won all but 15 of the nearly 475 renomination attempts since the first primaries in 1902 with 14 of these defeated prior to 1944: Republicans Clarence Buckman (1906), J. Adam Bede (1908), James Tawney (1910), George Smith (1916), Ernest Lundeen (1918), Charles Davis (1924), Oscar Keller (1926), Allen Furlow (1928), Godfrey Goodwin (1932), Victor Christgau (1932), Melvin Maas (1932), Ray Chase (1934), John Alexander (1940), and Oscar Youngdahl (1942).
No Democrat or DFL incumbent (or Farmer-Laborite) has lost a primary during this span.
Follow Smart Politics on Twitter.