Wisconsin's Unusually Long 7th CD Vacancy
The seven-plus month vacancy caused by Sean Duffy's resignation is the fourth longest in the history of the state due to resignation or death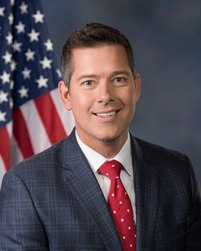 The election of Republican state legislator Tom Tiffany over Wausau School Board president Tricia Zunker on Tuesday puts an end to the long drought without representation in the U.S. House for residents of Wisconsin's 7th Congressional District.
Five-term Republican Sean Duffy (pictured) resigned on September 23rd of last year resulting in a vacancy that lasted 7 months and 20 days until this week's special election.
Tiffany is expected to take his seat next week in what has been one of the longest vacancies for a Wisconsin U.S. House seat in state history.
Over the last 170+ years since statehood, Wisconsinites have endured two dozen vacancies in the nation's lower legislative chamber due to death (17) or resignations (seven).
The Duffy vacancy will end at approximately 240 days next week depending on when congressman-elect Tiffany is sworn in next week.
Each of the three other longer vacancies in Wisconsin resulted from the deaths of U.S. Representatives – with no special election called to fill the seat. As such, the vacancy continued throughout the remainder of the respective Congress.
The longest such vacancy occurred after the passing of 3rd CD GOP freshman Harry Griswold on July 4, 1939.
Griswold's seat remained vacant for the following 18 months (550 days) until  Republican William Stevenson was sworn in on January 3, 1941 at the start of the 77th Congress.
Likewise, no special election was called after the death of nine-term Republican Lawrence Smith on January 22, 1958. Democrat Gerald Flynn filled the seat 11 months, 13 days (347 days) later when the 86th Congress convened in January 1959.
Presumably Tiffany will take his seat next week. If the congressman-elect does not take the oath of office for two weeks, the Duffy vacancy will approach the 250-day vacancy (8 months, 6 days) that occurred following the death of seven-term Republican Reid Murray on April 29, 1952.
That vacancy also continued through the remainder of the Congress, with Republican Melvin Laird sworn in for the 83rd Congress in January 1953.
Two other vacancies have lasted more than 200 days in the Badger State.
There was a 7 month, 13 day gap between the death of 18-term Republican Henry Cooper on March 1, 1931 and Republican Thomas Amlie's special election win on October 13, 1931.
A total of 203 days passed (6 months, 20 days) after GOPer Irvine Lenroot resigned to become U.S. Senator on April 17, 1918 and Republican Adolphus Nelson won a special election on November 5th of that year.
The quickest a special election has been held to fill a U.S. House vacancy in Wisconsin is 44 days – happening twice in the 19th Century following the deaths of Democrat Joseph Rankin (January 24, 1886) and Republican William Price (December 6, 1886).
Technically, the shortest vacancy the state has endured is four days following the resignations of Republicans Vernon Thompson and Glenn Davis on December 31, 1974. Thompson had lost the general election and Davis had lost his party's nomination earlier that year. Their successors who were victorious in the November 1974 general election took their seats a few days later.
Follow Smart Politics on Twitter.