Is Biden Consolidating Democratic Voters?
The former vice president is shedding a significant percentage of the vote in the low-profile primaries held during the last two months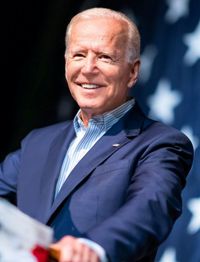 Joe Biden became the presumptive Democratic nominee on April 8th – a day after the Wisconsin primary when Senator Bernie Sanders dropped out of the race.
Since then, more than a half-dozen states have held their primaries – mostly via mail-in ballots.
The results of these elections have not received much attention due largely to COVID-19 crowding out most other news and because Biden's nomination is now a formality with no other candidates remaining in the Democratic field.
But despite his inevitability status, Biden is not exactly sprinting to the finish.
In the seven primaries held since Wisconsin, Biden has received the support of three quarters of voters just twice – in Kansas on May 2nd (76.9 percent) and Nebraska on May 12th (76.9 percent). [Note: With the exception of Nebraska, election dates refer to the last day of mail-in voting].
Twice he has failed to win two-thirds of the vote: in Alaska on April 10th (55.3 percent) and in the most recent party-run primary in Hawaii on May 22nd (63.2 percent).
In Oregon, Biden won just 67.6 percent and nearly saw two former opponents receive double-digit support with Sanders at 20.8 percent and Elizabeth Warren receiving 9.8 percent.
But the notable vote still coming in for Sanders is not simply a protest vote against the former Vice President.
Due to rule changes made this cycle, Sanders is still able to receive a substantial number of delegates. [In Sanders' exit speech he specifically noted he would keep his name on the ballot for the remaining primaries to collect as many delegates as possible and leave a bigger footprint when the party platform is being created at the Democratic National Convention].
For example, it is estimated Sanders won nearly half of the delegates in Alaska (7 of 15), one-third of the delegates in Hawaii (eight of 24) and about a quarter of the delegates in Wyoming (4 of 14), Kansas (10 of 39), and Oregon (15 of 61).
In sum, Sanders has been awarded just shy of one-fifth of the 300+ delegates up for grabs since he dropped out of the race.
Whether some primary voters are strategically backing Sanders for delegates or simply voting against Biden, it is not unusual for presumptive nominees to fall short of the 80 or even 70 percent mark in late-stage primaries conducted after all other challengers have exited the race.
For example, after John Kasich's withdrawal on May 4th during the 2016 cycle, Donald Trump won less than 70 percent of the Republican primary vote in Nebraska (61.5 percent, May 10th), Oregon (64.2 percent, May 17th), and South Dakota (67.1 percent, June 7th).
Trump only reached the 80 percent mark  in one of the nine states holding primaries after Kasich's exit (New Jersey, 80.4 percent, June 7th).
Similarly, Mitt Romney received less than 70 percent of the vote in five of the 11 states holding primaries after Ron Paul stopped campaigning on May 14th: Arkansas (68.4 percent, May 22nd), Kentucky (66.8 percent, May 22nd), Texas (69.1 percent, May 29th), Montana (68.4 percent, June 5th), and South Dakota (66.2 percent, June 5th).
With more than a dozen states yet to hold their presidential primaries, Sanders will easily sail past the 1,000 delegate mark as Biden quietly loses at least a quarter of the vote in many of these contests.
As a result, the question dogging Biden this election cycle remains: will enough of these progressive Democrats backing Sanders (and Warren) end up voting for Biden in November to carry him across the finish line?
Follow Smart Politics on Twitter.